For those interested, below is a list of the 40 best and worst performing stocks in the S&P 500 year to date. Just one stock in the S&P 500 is up more than 100% YTD -- Cabot Oil & Gas (NYSE:COG) at 120.98%. El Paso (EP) ranks second with a gain of 81.40%, followed by Biogen (NASDAQ:BIIB), Intuitive Surgical (NASDAQ:ISRG), Mastercard (NYSE:MA), Range Resources (NYSE:RRC) and Chipotle Mexican Grill (NYSE:CMG). Other notables on the list of winners include Starbucks (NASDAQ:SBUX), Whole Foods (NASDAQ:WFM), CBS and priceline.com (NASDAQ:PCLN).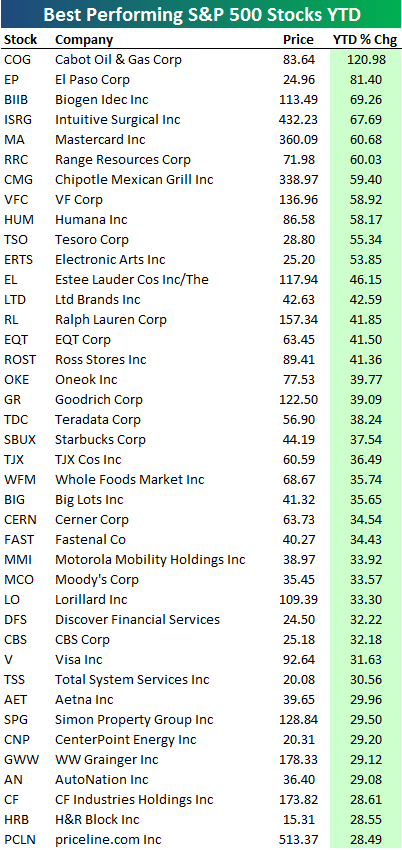 First Solar (NASDAQ:FSLR) leads the list of 2011 losers with a year-to-date decline of 61.89%. Monster Worldwide (NYSE:MWW) is just behind FSLR with a decline of 61.02%.
There are 8 stocks in the S&P 500 that are down more than 50% year to date, including US Steel (NYSE:X), Bank of America (NYSE:BAC) and AIG. Netflix (NASDAQ:NFLX) is another big name that's down big as well. Other notables on the list of losers include Morgan Stanley (NYSE:MS), Goldman Sachs (NYSE:GS), Citigroup (NYSE:C), Hewlett-Packard (NYSE:HPQ) and Ford (NYSE:F).