For those interested, below is a list of the 40 best and worst performing stocks in the S&P 500 year to date. Just one stock in the S&P 500 is up more than 100% YTD -- Cabot Oil & Gas (COG) at 120.98%. El Paso (EP) ranks second with a gain of 81.40%, followed by Biogen (BIIB), Intuitive Surgical (ISRG), Mastercard (MA), Range Resources (RRC) and Chipotle Mexican Grill (CMG). Other notables on the list of winners include Starbucks (SBUX), Whole Foods (WFM), CBS and priceline.com (PCLN).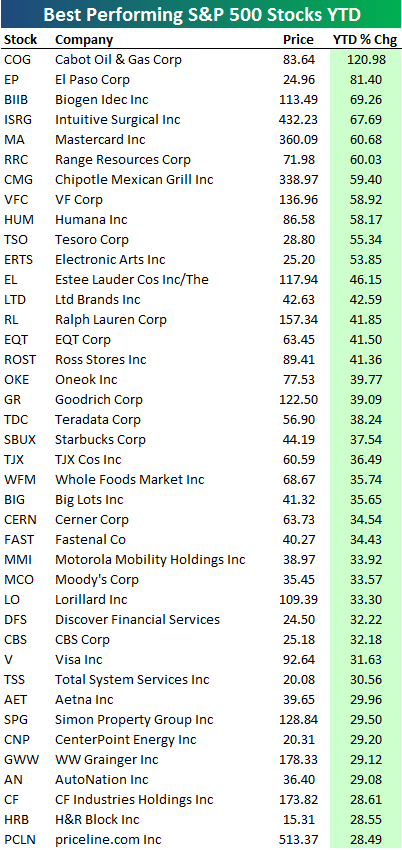 First Solar (FSLR) leads the list of 2011 losers with a year-to-date decline of 61.89%. Monster Worldwide (MWW) is just behind FSLR with a decline of 61.02%.
There are 8 stocks in the S&P 500 that are down more than 50% year to date, including US Steel (X), Bank of America (BAC) and AIG. Netflix (NFLX) is another big name that's down big as well. Other notables on the list of losers include Morgan Stanley (MS), Goldman Sachs (GS), Citigroup (C), Hewlett-Packard (HPQ) and Ford (F).