For investors fearful about a double dip, the diversified utilities industry offers a few safe stocks to help ease concerns. CenterPoint Energy (NYSE:CNP) has a dividend yield of 3.9% and a beta of 0.66, while South Carolina-based SCANA Corporation (NYSE:SCG) has a dividend yield of 4.6% and a beta of 0.54. At the same time, both firms are heavily leveraged with net debt representing almost all of market capitalization - although CenterPoint's $1.7B cash injection from a settlement with the Public Utility Commission of Texas will put the company on better financial footing.
From a multiples perspective, SCANA is the more undervalued investment. It trades at only at a respective 14.4x and 13.4x past and forward earnings; CenterPoint trades at a respective 16.9x and 16.7x past and forward earnings. As measured from the last year and five year periods, CenterPoint has appreciated by a considerable margin over SCANA to result in the present-day premium.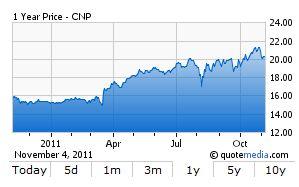 Over the last twelve months, for example, CNP shares are up by 22.6% while SCG shares are up by only 3.6%. Partially due to this exaggerated discount, SCG shares are currently rated more towards a "buy" than what is the case for CNP shares.
At the the recent third quarter earnings call, CenterPoint's CEO David McClanahan noted strong strong performance and the resolution of its true-up proceeding:
This past quarter was a very good one for the company. We had a strong quarter from an earnings standpoint, and after 7 years, we resolved the long-standing issues associated with our true-up proceeding…

Houston Electric had an outstanding quarter, and it's having a really good year. This past summer was the hottest summer on record for Texas. This drove the largest part of Houston Electric's earnings gains. I was really pleased at how well our systems performed when faced with a stressed that the extreme heat placed on it. We've also taken the opportunity to invest more in system hardening and reliability, which benefits not only this year, but the years ahead as well. The future looks bright for this unit. While we can't count on repeating the weather-driven earnings we experienced this year, we can count on a solid and growing service territory. We have added more than 35,000 customers since this time last year, and believe we'll see a continuation of that pace of growth next year.
The focus on Texas is resulting in strong competitive growth and capital expenditures of upwards of $600M annual make me more confident about the company's fundamentals going forward. While rate changes in September will challenge volumes, I find that it will be beneficial for long-term value creation as the economy picks back up. Add a $1.7B cash-injection from the settlement of the true-up remand case and you have a company with tremendous opportunities in the near future.
When it comes to M&A, CenterPoint is likely to explore acquiring regulated utilities, as it mentioned in a previous call. A purchase actually occurring is much more likely, in my view, than a complete sale of the firm, since too high of a premium would need to be offered in order to justify the transaction. A simple share buyback program alone could result in as much as 30% accretion to EPS growth. In addition, the benefits gained from improving the pipeline with the $1.7B cash further make a sale preclusive, in my opinion.
In terms of growth potential, I am more bullish on CenterPoint than I am for SCANA. The focus on the Texas-region as opposed to the North and South Carolina regions provides a bigger catalyst for future scale expansion. With that said, I find that the market has already priced this into the stock, as it is immediately obvious to the market. Both firms are engaged in roughly the same markets: electricity and natural gas distribution / transmission. Since I believe that natural gas will become America's main energy source in the coming decade, I am hopeful that demand will pick up for these utility firms in the next few quarters.
Consensus estimates for CenterPoint's EPS are that it will increase by 15.5% to $1.12 in 2011 and then by an average of around 8.2% in the following two years. Using a conservative 2012 EPS estimate of $1.20, below consensus, and a multiple of 16, I find that the company is fairly valued at the present moment. Using the same rough conservatism for SCANA, I find its shares slightly underpriced. Accordingly, while I believe there is tremendous safety to be found in both stocks, I also believe that the reward is also somewhat limited currently for diversified utilities.
Disclosure: I have no positions in any stocks mentioned, and no plans to initiate any positions within the next 72 hours.