Actionable Items:
CEF Weekly Review: On average, the 13 closed-end fund (CEF) types registered a share price decrease of 0.7% for the week ending 11/4/11. The high-low spread (percentage price change difference between the highest and lowest fund types) registered this week was +1.7% versus +5.6% the previous week. On an aggregate unweighted basis, the weekly average price change for the 500 plus CEFs in the GrowthIncome database was down 0.3%.
The PowerShares CEF Income Composite (NYSEARCA:PCEF), an ETF that invests in taxable income CEFs, declined 1.2% for the week. S&P 500 dropped 2.5% this week replacing last week's positive YTD gains with a loss of 0.4%.
Trading Volume: While still elevated, the average daily volume for the S&P 500 (Pending:GSPC) decreased 7.4% this week to 4.6 billion shares. Volume surged on Tuesday to 5.6 billion shares as the S&P 500 declined 2.8% adding. (See, "Uptick, Downtick" below.)
(Click here for YTD CEF Performance. See, "Research" Menu; "CEF Weekly Information" tab.)
The Eqcome CEF Fear Index was slightly elevated for the week on the downside. The average CEF unweighted price decreased 0.3% while the average related NAV was 0.0%. After dropping 21.7% to 24.52 the previous week, the VIX increased 23% this week to register over 30 at 30.16.
Uptick, Downtick: Weekly money flow was off 2.3% for the Dow Jones U.S. Total Stock Market Sectors for the week ending November 4th. The Up/Down Ratio (share volume on price upticks versus downticks) was 0.99 indicating volume on the uptick was less than the downtick volume.
All 10 S&P 500 sectors experienced money outflow. Losing the least was Utilities with a 0.5% decline. It was last week's laggard and traditionally offers a safe haven for equity investors in time of turmoil. Financials took a beating with 3.0% decline in money flows.
CEF Weekly Fund Type Performance: This week's share price performance line-up was the reverse of last week's with fixed-income CEFs outperforming equity-oriented CEFs. SingleStMuniFnds and NatlMuniBndFnds led the gains with average price appreciation of 1.1% and 0.6%, respectively. The only other gainer for the week was InvGrdBndFnds, up 0.5%.
One curiosity was the performance of WrldIncFnds posting better that average result at a negative 0.1% in contrast to WrldEqFnds which slumped 2.6%. Given the heightened level of sovereign debt and related financial institutions concerns, one would have thought that the "baby would be thrown out with the bath water". The NAV of WrldEqFnds dropped as much as its price for the week.
click to enlarge image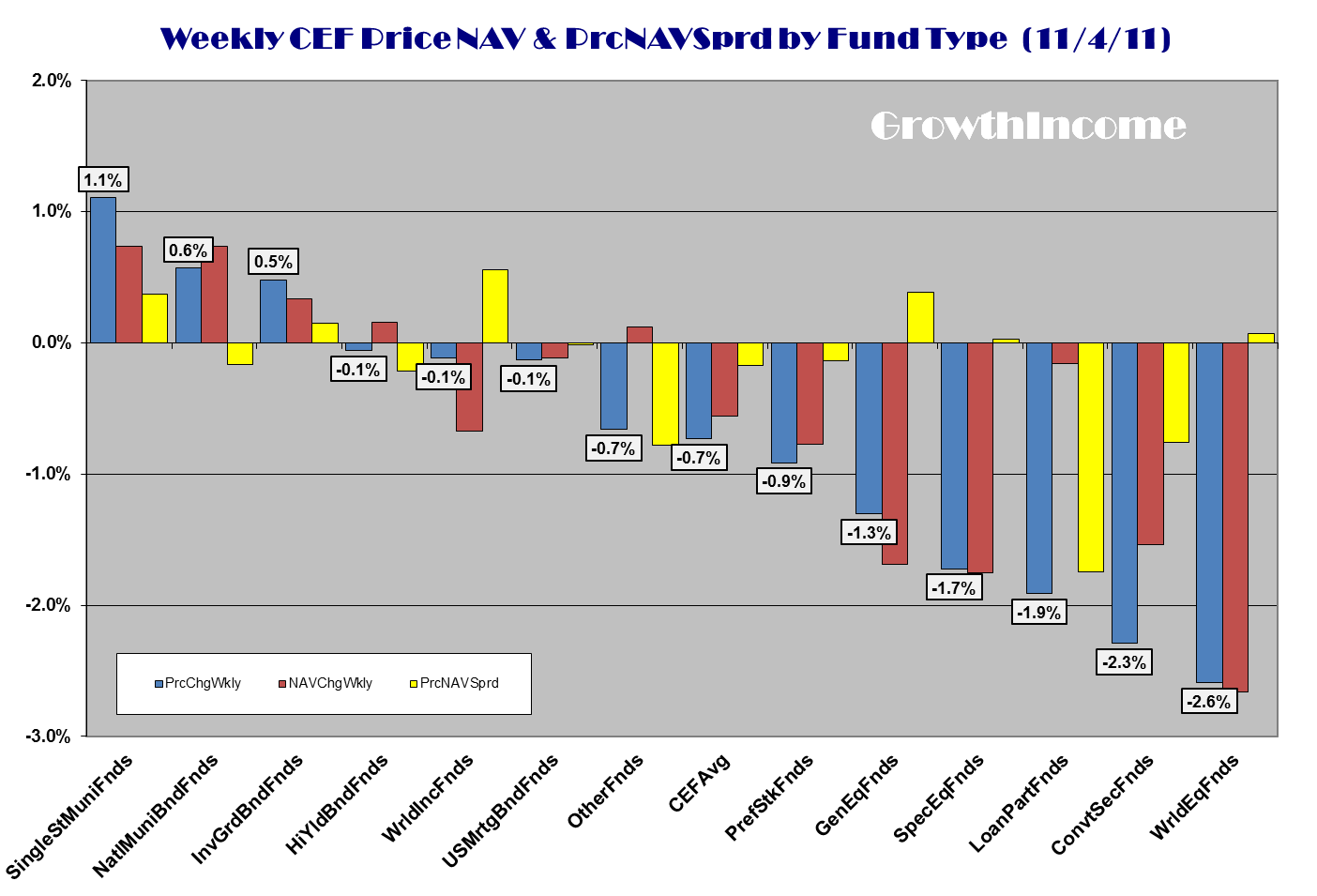 Judging from the difference in the change in share price and related NAV for the various CEF sectors, there was a degree of investors panic in the dumping of LoanPartFnds and ConvtSecFnds as the differences in their weekly drop in price versus NAV was 1.7% and 0.8% greater, respectively. This may be a function of illiquidity in the underlying assets impacting valuation discovery.
Weekly CEF Winners and Losers: One of the CEFs with the greatest positive PrcNAVSprd for the week was Cornerstone Strategic Value Fund (CLM). CLM's price increased 2.7% while its NAV decreased 2.3% generating a positive PrcNAVSprd* of 5.0%.
CLM announced its next 3 months distribution payment of $.1109 per share on Friday, a 13.2% decline from its previous monthly distribution rate of $.1278 per share. CLM distribution yield is 14.1% and it is now trading at a 48% premium to its NAV.
Too Good to be True: CLM essentially is paying out its capital to shareholders in the form of monthly distributions. So, CLM's advisor is being paid an annual fee and related expenses of 1.74% to give you your own money back.
This is great work if you can get it. When the "kitty" becomes low CLM issues a non-transferable rights' offering to the same misinformed investors who bought the stock in the first place. Thereby CLM raises additional funds that allow it to continue this legal distribution scheme.
Bye, Bye Capital: The following is the sequence of the annual October NAV per shares for CLM demonstrating the dissipation of shareholders capital: 2007: $19.80; 2008: $9.96; 2009: $8.28; 2010: $7.21; 2011: $6.34. So, the distribution isn't a return-on-capital it is a return-of-capital.
A CEF with the greatest negative PrcNAVSprd for the week was Cohen & Steers Dividend Majors Fund (DVM). DVM's price declined 5.4% while its NAV decreased 1.7% generating a negative PrcNAVSprd of 3.7%. The fund is small with only $173 million in total assets with no leverage.
DVM's current annualized quarterly yield is 7.5% and trades at a discount of 10.5% near its 52 week low. It invests in a diversified portfolio of the largest and highest quality real estate companies—mostly real estate investment trusts. Cohen and Steers is considered a premier manager in the real estate securities business.
While its distribution has a high component of return-of-capital, it is distinct from that of CLM noted above. This is because a real estate company's earnings are reduced by non-cash charge for depreciation.
Since depreciation is a non-cash expense, while reducing earnings, this cash is available to be distributed in the form of a cash distribution. The key for a real estate company is to retain enough cash for capital expenditure to keep the property at its current productive level.
Economic & Earnings Outlook: (Click here for next week's economic calendar; click here for earnings' announcements and estimates.)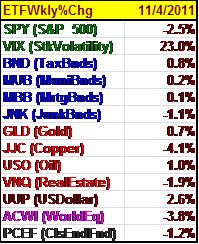 ETFs: For a more detailed EFT performance by sectors, click here—see, "Research" Menu; "ETF Weekly Information" tab.)
Insider Trading: There were only two insiders' trades reported in the first few days of November. Other than buy/sell trades in VKI executed by Merrill Lynch for reasons unclear, Stuart A. McFarland, director, purchased 1,580 shares of Helios High Yield Fund (HHY) at an average share price of $9.51 per share. As of 9/8/11, First Trust Portfolios LP owned 19.7% of HHY.
(Click here for a hyperlink to the Joe Eqcome's CEF Weekly Insider Report—see, "Research" Menu; "CEF Weekly Information" tab.)
CEF Distribution Announcements This Week: The following is a link to a table of CEF distribution announcements this week as well as the previous week's with yet expired ex-dividend dates. The list is not intended to be inclusive. (Click here for Joe Eqcome's Weekly CEF Distribution Announcements—see, "Research" Menu; "CEF Weekly Information" tab.)
Significant CEF Corporate Events: The Korea Fund (NYSE:KF) will repurchase shares of its common stock on the open market on any day that the fund's shares trade at an 8% discount to NAV the prior day or there is a daily average discount of 8% to NAV over the 5-day period ending the prior day. The fund will repurchase shares to the maximum extent permitted by law and deemed appropriate by the Fund's investment managers. The Fund is authorized to repurchase 10% of its common shares in each 12 month period ending in October 31st the prior year.
Nuveen Announces Investment Policy Changes for Several Insured Municipal Closed-End Funds: Due to the credit downgrade of municipal bond insurers over the past few years, only one insurer is currently insuring new municipal bonds. Each of the following CEFs will eliminate the investment policy requiring it to invest at least 80% of its managed assets with insured municipal securities. Each fund will continue to invest at least 80% of its managed assets in investment grade municipal securities. Funds include: NQI, NIO, NIF, NPX, NVG, NEA, NGX, NUN, NNF, NQN, NVN, NRO and NRK.
CEF Focus Stock(s) for the Week: Our focus stock this week is a repeat of two weeks ago: The Adams Express Company (ADX). We anticipate that ADX will declare its year-end distribution this week and the stock remains attractive for the following reasons:
ADX is an attractive year-end distribution we estimate at $0.44 per share along with its regularly scheduled distribution of $0.05 per share which will go ex-dividend in mid-November (See, "Why ADX Should Opt for a Managed Distribution Program" (9/13/11) in the "Free Research" tab under the "Research" Menu.);
ADX's focus is on large-cap stocks in this volatile market environment;
The current upward bias is in the equity markets.
A Good Entry Point: While it's never been our policy to chase periodic distributions, with ADX selling around $10 per share, an aggregate distribution of $0.49 per share would generate a 4.9% return in less than a month's holding period (ex-dividend in mid-November).
If there is a potential upward bias in the equity markets there may be less of a sell-off on the stock going ex-dividend and investors will be getting a "two-for" as ADX has a close correlation to the S&P 500.
Last Week's Focus Stock(s): Last week's Focus Stock was Templeton Emerging Markets (EMF). Our thesis was that if the equity markets had turned-the-corner investors would be shifting their focus to higher risk areas of the equity markets and those sectors that have lagged, such as WrldEqFnds.
EMF experienced the same roller coaster as the boarder equity markets as it reeled from the highs and lows of the Euro crisis. EMF declined 1.9% for the week versus 2.5% for the S&P 500 for the same period of time.
There is no more a lagging a CEF group than WrldEqFnds. EMF is currently off YTD approximately 20% and it is trading at a 7.4% discount close to its 52-week low. Like most CEFs' whose objective is capital appreciation, EMF pays a nominal annual distribution of less than 1%.
EMF's total assets are modest at $362 million with no leverage. The shares are somewhat thinly traded with 68,000 shares average trading volume. The expense ratio is reasonable at 1.6% for a WrldEqFnds.
Obviously, EMF is a "risk on" trade and would experience appreciation in rising equity markets. CEF investors should keep this stock on their "Watch List" and deploy it when there is a prospect of rising equity valuations.
---
[*] All things being equal, price and NAV should move in tandem. A price movement greater than the NAV generates a positive PrcNAVSprd and may be interpreted as negative on a near-term basis and indicate that the stock is overvalued relative to its NAV which in theory is the stock's intrinsic value. The opposite would be true for a negative PrcNAVSprd.

Disclosure: I am long ADX, PCEF, EMF, DVM. I own a diversified portfolio of CEFs and ETFs and amlong stocks in the CEFBig10™ and CEFMuni10™. The first is a balanced equity-income portfolio (CEFBig10™) and the second a tax-exempt income portfolio (CEFMuni10™).