In this article we will discuss the following stocks: GlaxoSmithKline plc (NYSE:GSK), Statoil ASA (NYSE:STO), Westpac Banking Corporation (NYSE:WBK), Banco Santander, S.A. (STD), Companhia de Bebidas Das Americas (AMBEV) (ABV), Eli Lilly & Co. (NYSE:LLY) and Bank of Montreal (NYSE:BMO).
Company Reviews
GlaxoSmithKline plc, together with its subsidiaries, engages in the discovery, development, manufacture, and marketing of pharmaceutical products, over the counter (OTC) medicines, and health-related consumer products worldwide. The company is trading below analysts' estimates. GlaxoSmithKline has a median price target of $50 by 2 brokers and a high target of $52. The last up/downgrade activity was on January 11, 2011, when Jefferies upgraded the company from Hold to Buy.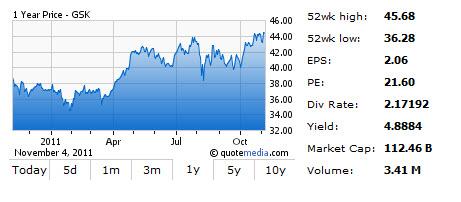 Statoil ASA engages in the exploration, production, transportation, refining, and marketing of petroleum and petroleum-derived products. The company is trading below analysts' estimates. Statoil has a median price target of $27 by 4 brokers and a high target of $29. The last up/downgrade activity was on August 30, 2011, when Howard Weil initiated coverage on the company with a Market Perform rating.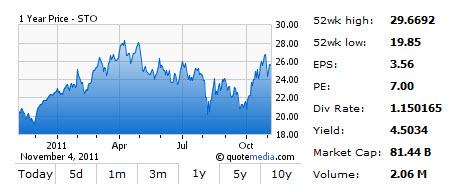 Westpac Banking Corporation provides a range of banking and financial services. It offers various financial services, including lending, deposit taking, payments, investment portfolio management and advice, unit trust and superannuation fund management, insurance, leasing, general finance, foreign exchange, and money market services. The company is trading significantly below analysts' estimates. Westpac has a median price target of $127 by 1 brokers and a high target of $127. The last up/downgrade activity was on October 12, 2009, when JP Morgan upgraded the company from Underweight to Neutral.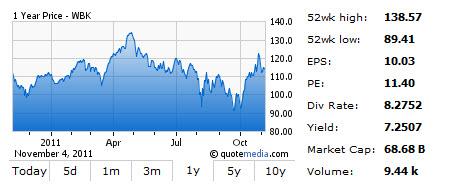 Banco Santander, S.A. provides a range of banking and financial products. It accepts customer demand, time, and notice deposits, and international and domestic interbank deposits, as well as offers auto financing, personal loans, and credit cards; and automated cash dispensers, savings books updaters, telephone banking services, and electronic and Internet banking services. The company also engages corporate banking, treasury, and investment banking activities. The company is trading below analysts' estimates. Banco Santander has a median price target of $10 by 1 brokers and a high target of $10. The last up/downgrade activity was on February 24, 2010, when Barclays Capital downgraded the company from Equal Weight to Underweight.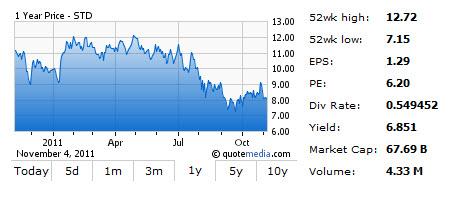 Companhia de Bebidas das Americas Ambev engages in the production, distribution, and sale of beer, draft beer, carbonated soft drinks, malt, and other non-alcoholic and non-carbonated products in the Americas. The company is trading below analysts' estimates. Ambev has a median price target of $35 by 7 brokers and a high target of $38. The last up/downgrade activity was on September 24, 2008, when Credit Suisse upgraded the company from Neutral to Outperform.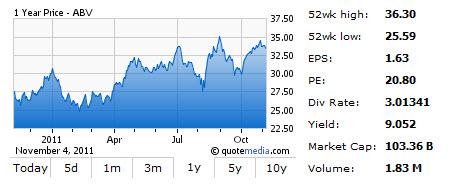 Eli Lilly and Co. develops, manufactures and sells pharmaceutical products worldwide. The company is trading on par with analysts' estimates. Eli Lilly has a median price target of $38 by 13 brokers and a high target of $43. The last up/downgrade activity was on August 10, when Argus (OTC:AGUS) upgraded the company from hold to buy.
Bank of Montreal, together with its subsidiaries, provides a range of retail banking, wealth management, and investment banking products and solutions in North America and internationally. The company is trading below analysts' estimates. Bank of Montreal has a median price target of $65 by 2 brokers and a high target of $67. The last up/downgrade activity was on July 8, 2011, when BMO Capital Markets upgraded the company from Market Perform to Outperform.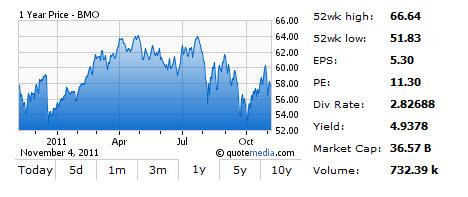 Compelling Fundamental Criteria
The stocks in this article have above industry average returns on equity and dividend payout ratios, as well as dividend yields of greater than 4.5 percent.
My Dividend Investing Approach
My dividend investing approach is based on constructing a portfolio of highly rated stocks with exceptional dividend yields that generate money throughout the year. Characteristically, dividend investing is popular among retirees and those who wish to live on their savings and are no longer able to work. One reason to invest in dividend-paying stocks now is due to the fact they will be the investment of choice to fund the retirement of many baby boomers, which will create enormous demand for these stocks.
Dividend-paying stocks have the potential for both capital gain and income production. Boomers will be looking for stocks that have a track record of increasing dividends, giving them yet another hedge against inflation. This combination will be necessary to fund the lengthening retirement that comes with a greater life expectancy. Combining these factors with the Fed's recent announcement that rates will remain at ultra-low levels for at least the next two years, we can see that fixed income instruments such as bonds and CDs provide little protection against inflation. Factor this in with the fact that historically, dividend-paying stocks have outperformed non-dividend-paying stocks, and you have a recipe for outstanding returns.
Dividend Payout Ratio
Dividend payout ratio is the fraction of net income a firm pays to its stockholders in dividends:

The part of the earnings not paid to investors is left for investment to provide for future earnings growth. Investors seeking high current income and limited capital growth prefer companies with high Dividend payout ratio. However investors seeking capital growth may prefer lower payout ratio because capital gains are taxed at a lower rate. High growth firms in early life generally have low or zero payout ratios. As they mature, they tend to return more of the earnings back to investors. Note that dividend payout ratio is calculated as EPS/DPS.
Return On Equity
Return on equity (ROE) measures the rate of return on the ownership interest (shareholders' equity) of the common stock owners. It measures a firm's efficiency at generating profits from every unit of shareholders' equity (also known as net assets or assets minus liabilities). ROE shows how well a company uses investment funds to generate earnings growth. ROEs between 15% and 20% are considered desirable.
High ROE yields no immediate benefit. Since stock prices are most strongly determined by earnings per share (EPS), you will be paying twice as much (in Price/Book terms) for a 20% ROE company as for a 10% ROE company. The benefit comes from the earnings reinvested in the company at a high ROE rate, which in turn gives the company a high growth rate. The benefit can also come as a dividend on common shares or as a combination of dividends and reinvestment in the company. ROE is presumably irrelevant if the earnings are not reinvested.
Moreover, most of these stocks are trading well below consensus analysts' estimates, have recent upgrades, positive analyst comments, and dividend yields of over 4.5%.Below are two tables with detailed statistics regarding each company's current summary and dividend and earnings information.
click to enlarge images

Summary Statistics

EPS and Dividend Detailed Statistics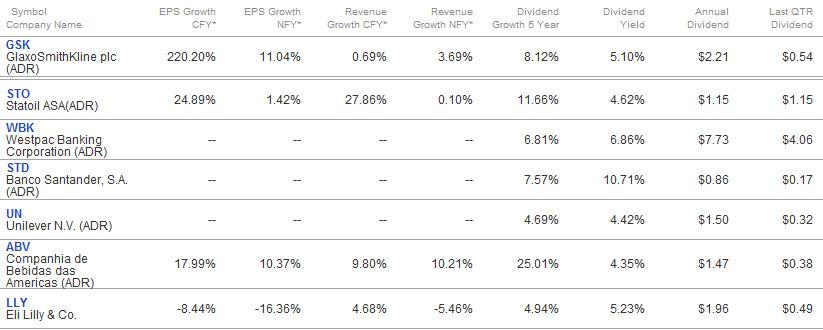 Market Backdrop
Greece's Prime Minister George Papandreou traumatized markets Tuesday with a call for a referendum on a European Union 130 billion euro bailout package. Papandreou gained the support of his cabinet on Wednesday, nevertheless eurozone leaders are certain to scold the leader of Greece for his flip-flop on a deal struck just last week. The despair didn't stop there due to business surveys displaying a downturn in eurozone manufacturing for October which was more drastic than expected. Things are definitely unsettled regarding the eurozone's disputes, despite Draghi's surprise 25 basis point rate cut Thursday morning, which worked in the markets favor as a eurozone signal of a new dovish stance underpinning equities.
The world has been focused on Greece for most of the past week, but, as the catastrophe nears an end point, it appears Italy's issues are now on the ECB's radar screen. "The whole stability of Europe depends on whether Italy gets its act together," Commerzbank Chief Financial Officer Eric Strutz told analysts in a conference call on Friday. Prime Minister Silvio Berlusconi's élan was persuaded to accept International Monetary Fund oversight of Italy fulfilling austerity measures at the G20 meeting in Cannes, France. While this soothed the market somewhat, the Italian dilemma is hardly over.
Answer this question: How many times has the stock market roared back after a correction? The fact is, every time. If you told someone in 1987 on Black Monday that the Dow would be almost ten-fold higher within 20 years' time, that person would have called you crazy, but you would have been correct. Who is to say how high the market can climb from here? Bespoke Investment Group is always digging up interesting statistics. Here is one I feel pertains to the current environment.
Bespoke Investment Group stated on CNBC's Street Signs:
Since 1928, S&P (NYSEARCA:SPY) averaged gain of 5.55% in quarter after a 10%+ down quarter and 17 of the last 21 economic indicators have come in better than expected indicating the fourth quarter could be a snap back quarter.
That is a powerful statistic. I believe the European sovereign debt issues are nearing resolution. The strangle hold they have had on the markets is soon to be released so we can go back to focusing on fundamentals. Also, 70% of companies in the S&P have beat estimates this earnings season. A statistic lost in the whirlwind of eurozone turmoil.
Conclusion
It is hard to think beyond the current state of affairs when negative preoccupations always seem to repeat themselves and you are stuck on a roller coaster ride of continual highs and lows, but the carousel ride inevitably ends, the storm clouds clear and you feel the first ray of hope shine down. The problem is that it's already too late to buy due to the fact all the savvy investors bought in and ran up the price while you were hiding in your storm cellar. Fortune favors the bold. Hopefully, you can take advantage of these amazing buying opportunities.
I'm not saying for you to buy in to a full position today, but this may be a good opportunity to start picking up some shares, maybe a tenth or a quarter at a time. There may be more volatility in front of us, even with the more than 10% drop in the market recently and the restructuring of Greek sovereign debt. Nevertheless, this may be a good point to start a position in buying opportunities.
Disclosure: I have no positions in any stocks mentioned, but may initiate a long position in GSK, STO, WBK, STD, ABV, LLY, BMO over the next 72 hours.
Disclaimer: This is only the first step in finding winners for your portfolio. Please use this as a starting point for your own due diligence.