Over the last eleven consecutive quarters, Freeport-McMoRan Copper & Gold (NYSE:FCX) has beat consensus estimates - a considerable feat that comes amidst unpredictable labor disruptions. With substantial cash growth and improvements in supply chain, Freeport has solid fundamentals that will generate high risk-adjusted returns with its beta of 2. In addition to mining copper and gold, the firm also mines molybdenum. Competitor Southern Copper Corporation (NYSE:SCCO) also produces copper and molybdenum, but is more diversified in silver and zinc.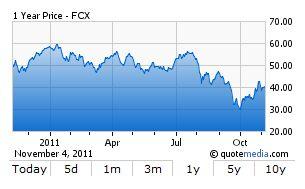 From a multiples perspective, Freeport is the more undervalued of the two investments. It trades at a respective 7x and 8.1x past and forward earnings; Southern Copper trades at 13.5x and 10.7x past and forward earnings. By almost any standard, Freeport's multiples would make it on any value investor's list of stocks to consider.
With that said, Southern Copper's 440 basis points-higher dividend yield of 6.93% does make me more hesitant in giving Freeport a higher "buy" rating. Analysts currently rate Southern Copper between a "hold" and a "buy", while Freeport receives a "strong buy". During the last twelve months, the stocks of both companies have fallen considerably - 23.1% for Freeport and 32.2% for Southern Copper. For comparison, during the same time period, the S&P grew by 2.2%.
Perhaps the biggest investor concern for Freeport is how it will manage the strike at Grasberg operations in Indonesia. This, however, should be weighed against the company's strong fundamentals - and recent performance should offer investors plenty of confidence that management can handle disruptions.
At the recent third quarter earnings call, CEO Richard Adkerson explained the impact of the Grasberg strike and how the firm plans to respond:
First, we -- our long-term mine plan, as our guidance in the second quarter reflected, provided that we would have been in a lower grade material in the Grasberg mine than we were a year ago, without the strike. So our guidance going into the third quarter before the strike situation projected lower numbers, and -- because of this grade issue. Now, as always, our team on the ground works to find ways of getting access to higher grade materials and adjusting the mine plan to optimize those plans. And that was part of the process that is reflected in this -- in the results that we achieved. The strike had a significant impact on us. As Kathleen said, both the work stoppage in early July and then the ongoing strike that started in mid-September reduced our third quarter copper production by 70 million pounds from what it otherwise would've been, and 100,000 ounces. So that is an adverse impact to us. It results in lower taxes and royalties to the government of Indonesia then there otherwise would've been because of that. And of course the workers who are on strike are not being paid. So all of us, all the stakeholders have a strong incentive to try to resolve this strike and we're committed to trying to do that on a fair basis.
While the impact of the strike is considerable and will likely result in 30m lbs worth of lost copper in the fourth quarter, I see great likelihood that it will be resolved within the next quarter or so in the favor of management given political concerns. Force majeure has already been issued on some shipments. Success in copper and gold in high grade ore zones has also more than offset these implications beyond expectations. A more longer-term concern is inflation in Indonesia, which may result in costs rising by as much as 15% next year.
In terms of fourth quarter sales, I anticipate 920M pounds for copper, 312K pounds for gold; and 18M pounds for molybdenum. The company is most vulnerable to copper prices and will benefit from accelerating production in the Tenke mineral district of the Congo.
With an extra $1B worth of capital expenditure planned for three new developments, management is indicating confidence and improving demand. Cash is likely to reach $9B by 2013 and should be deployed on more projects that will help diversify the business globally and minimize the impact of inflation.
Consensus estimates for EPS are that it will grow by 9.5% to $5.09, decline by 4.5% the following year, and then grow by 19.1% in 2013. Despite consensus being frequently wrong of late, roughly half of the estimates were revised downwards and half upwards. I model revenue growing by 11.2% to $21.1B in 2011 and then by an average of 9.7% in the following years. Assuming a a multiple 11x and a bear case 2012 EPS estimate of $4.80, the rough intrinsic value of the stock is $52.80, implying a 31% margin of safety.
Given its dividend yield of 2.5% and liquidity, I find that Freeport is both a safer investment that what meets the eye while being exposed to tremendous upside.
Disclosure: I have no positions in any stocks mentioned, and no plans to initiate any positions within the next 72 hours.