Each year, Interbrand releases its views on the 10 best global brand names. Below, we reveal our take on each of these companies' most recently-reported quarter (if applicable), as well as our views on their respective equity valuations (please be sure to click the images to enlarge them). In the spirit of transparency, we make available our 16-page reports on each of these companies on our website here.
#1 Coca-Cola (NYSE:KO)
Coca-Cola reported strong third-quarter results that showed solid revenue expansion, volume growth, and market share gains. Overall, we liked the performance in the quarter and are maintaining our $67 fair value estimate.
Thanks primarily to the acquisition of its bottler group (Coca-Cola Enterprises), net revenue advanced about 45% from the prior-year quarter. Even though the year-over-year comparisons weren't apples-to-apples, international volume growth was supurb, advancing 5% during the period – brand Coca-Cola led the charge outside of the US. Sparkling beverage volume grew 17% in India, 11% in Argentina, 7% in China and 6% in both Mexico and France. But even North America saw decent expansion, with organic volume growth of 1% in the period (and year-to-date).
Despite the decent revenue performance, we note that there was a 5% currency benefit in the period, which interestingly matched worldwide volume growth in the period. In other words, should currency move against Coca-Cola in future periods (which we expect to see as the US dollar strengthens), we could see a slight top-line miss in the current quarter, particularly in a scenario where volume slows from its current strong trajectory. That said, Coca-Cola possesses significant pricing power and can adjust according, particularly in North America, to mitigate any serious revenue shortfalls. For example, the company achieved 2% positive pricing to retailers in its third-quarter.
Coca-Cola's operating income jumped 21% on a comparable basis, and this too, benefited from a 6% currency benefit. The firm's comparable EPS jumped 12%, which management indicated was above its long-term target. The company also noted that productivity initiatives are well on track to exceed the upper end of its original target range -- $500 million in annualized savings. Such operating improvements should keep earnings on the right trajectory even if currency becomes a headwind in coming periods. Plus, free cash flow continues to be steller, with operating cash flow nearly $7 billion through the first three quarters of the year. Such strong performance prompted the soft-drink giant to increase its share buyback program to $3 billion by year's end at the high end (from $2.2 billion).
All things considered, we're big fans of Coca-Cola's defensive nature in this uncertain market and would consider adding the firm to the portfolio in our Best Ideas Newsletter if shares fell below $50 per share (the low end of our fair value estimate range).
click to enlarge images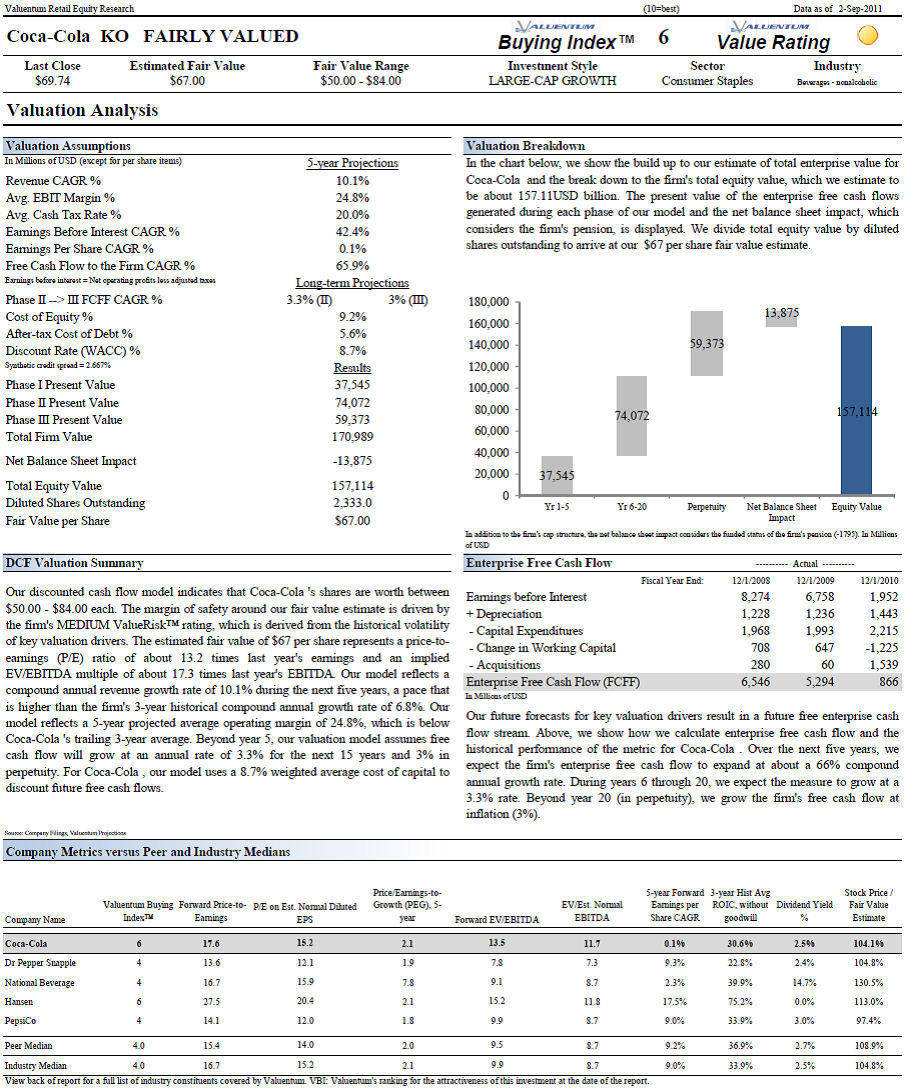 #2 International Business Machines (NYSE:IBM)
IBM reported mixed third-quarter results that showed strong earnings expansion but relatively weak top line growth. We had been expecting such performance and are maintaining our fair value estimate.
IBM's revenue nudged up 3% (8% including currency) thanks to growth in cloud-revenue (which has doubled year-to-date from last year's levels), software (up 8% constant currency), and in regions it considers to be growth markets (up 13% constant currency). Software revenue was aided by strength in the firm's middleware products—WebSphere (up over 50%), Information Management (up 12%), and Tivoli (up 8%).
Sales in BRIC countries—Brazil, Russia, India, China—increased 13%, matching aggregrate growth-market expansion. Services revenue, adjusted for currency, nudged higher 2%, and backlog related to the segment improved $2.4 billion, to $137 billion. Though services backlog declined sequentially, we think year-over-year performance is a better assessment of the underlying growth of the business (as it corrects for seasonality). On a geographic basis, strength was hit-or-miss, with revenue—adjusted for currency—increasing 6% in the Americas, but staying roughly flat in Europe/Middle East/Africa and in the Asia-Pacific (up about 1%).
Non-GAAP net operating earnings advanced 9% from the same period a year-ago as the firm benefited mainly from higher gross margins (up 1.5 percentage points). On a non-GAAP operating EPS basis, the firm benefited significantly from share buybacks during the period. All told, we were less impressed with this quarter than we were with the firm's second-quarter performance, but we maintain the firm's earnings growth was solid. IBM also raised its operating earnings-per-share guidance for 2011 to at least $13.35 from $13.25 previously, signaling continued momentum.
We'd be looking to pick up shares of IBM in our Best Ideas Newsletter on a pullback to below the low end of our fair value range (or under $150 per share).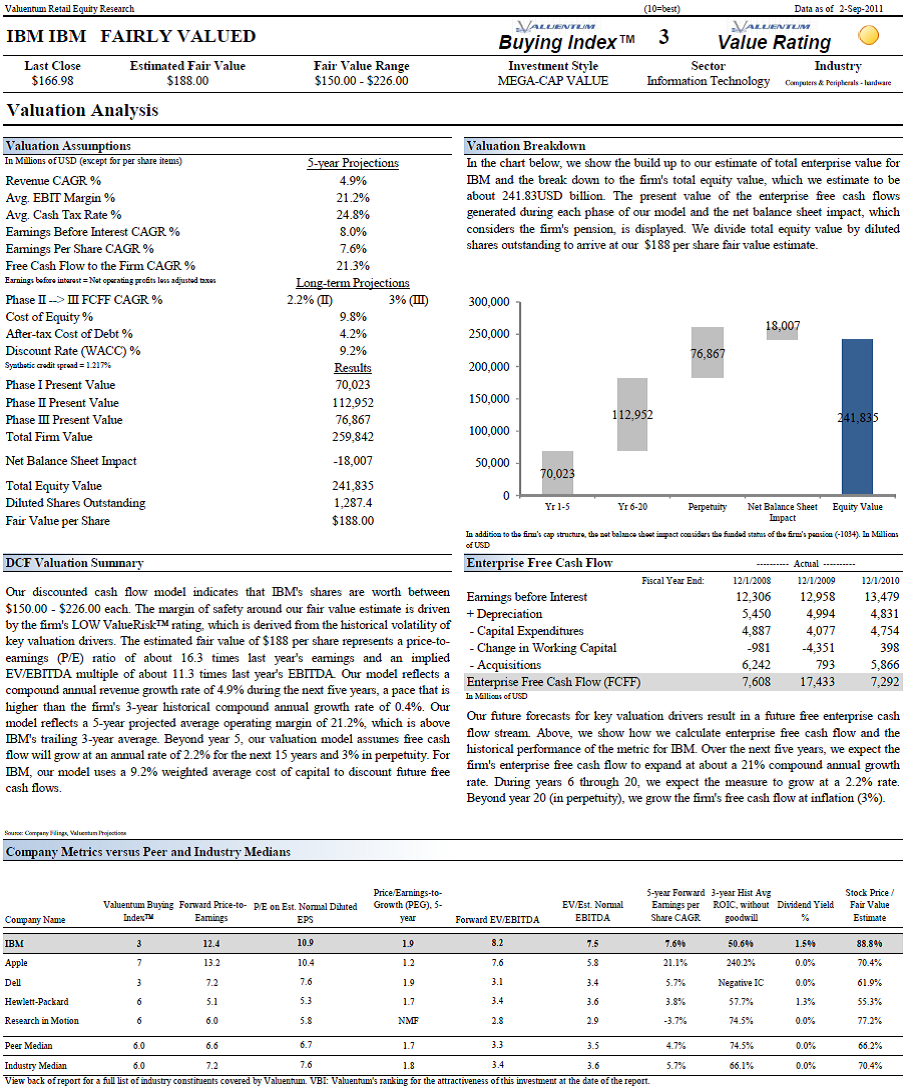 #3 Microsoft (NASDAQ:MSFT)
Microsoft reported in-line fiscal first-quarter results. We are maintaining our mid-$30s fair value estimate and think the firm would be a nice addition to our Best Ideas portfolio upon technical improvement. We're also not hurting for additional technology exposure, as we already hold eBay (NASDAQ:EBAY), Intel (NASDAQ:INTC), and Apple (NASDAQ:AAPL).
The software giant's revenue advanced 7% in its fiscal first quarter, while net income and diluted earnings per share jumped 6% and 10%, respectively (the bottom line number met consensus, but disappointed some). All major reporting segments—Windows, Server and Tools, Online Services, Microsoft Business, Entertainment and Devices—experienced top-line expansion, though only its Server and Tools (read "cloud"), Microsoft Business ("Office"), and Online Services divisions ("Bing") showed improvement in operating income, and its Online Services business remains in the red.
We think the Server and Tools segment will benefit from "Windows Server 8" in coming periods, while we expect continued growth in its Microsoft Business division from Lync, Sharepoint, and Exchange—which all grew double-digits in the third quarter. As for Windows, momentum slowed in the quarter with Windows 7, and the firm is looking forward to launching the next upgrade, "Windows 8," which it unveiled at the recent BUILD conference. However, much of Windows' growth will be dependent on underlying growth in personal computers, which are competing structurally with mobile and tablets. Bing continues to grow market share in the US, the Xbox remains the top-selling gaming console in the US, and the firm completed its acquisition of Skype.
All in all, it was business as usual at Microsoft, and the firm seemed quite enthusiastic about the holiday season: "With a great set of consumer products like Windows 7 PCs, Windows Phone 7.5, Xbox and Kinect, we are excited about the holiday buying season." We're growing much more interested in Microsoft given its recent dividend increase--the firm now boasts nearly a 3% yield.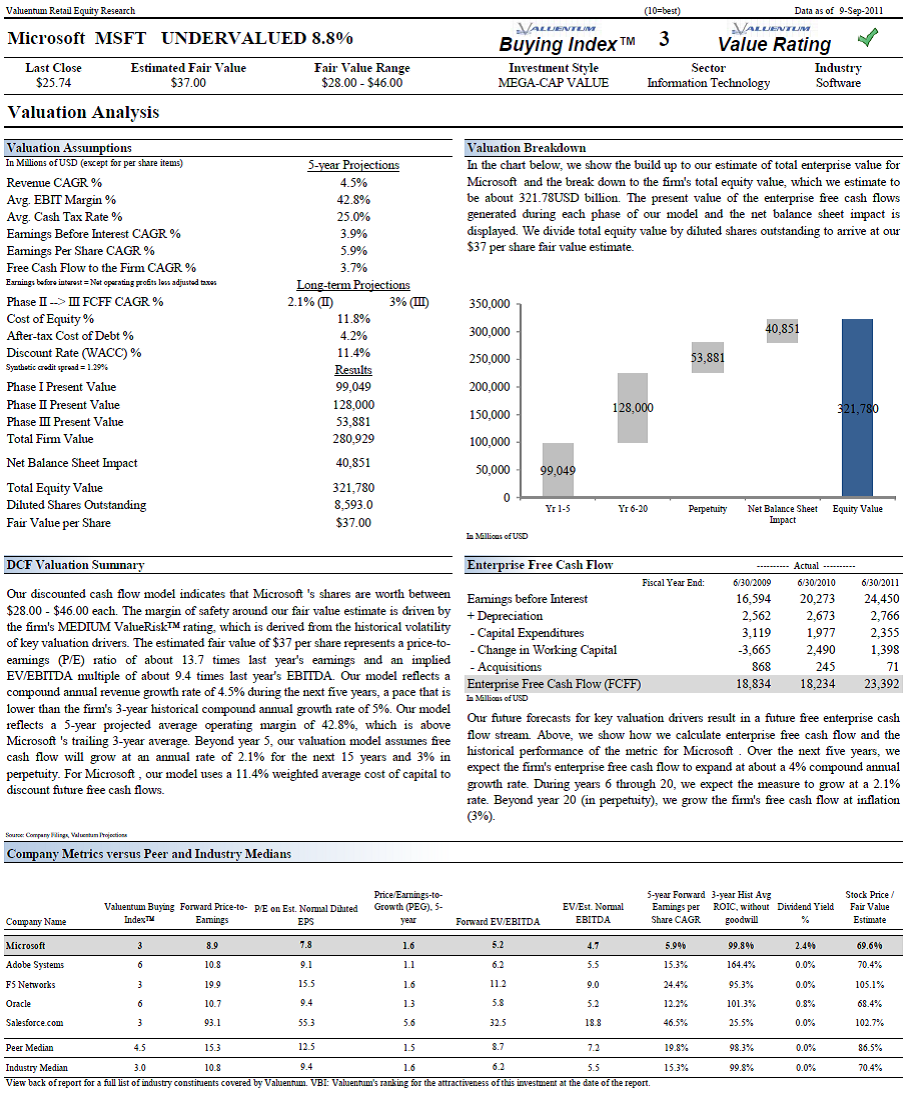 #4 Google (NASDAQ:GOOG)
Google announced fantastic third-quarter results. We had been expecting a strong showing and are maintaining our $700+ per share fair value estimate on the company. Google is trading up nearly 7% after hours. Our detailed financial report on Google can be found here.
Revenue growth accelerated to a whopping 33% thanks to nearly a 40% increase in Sites revenue, which represents 69% of the business. Network revenue (AdSense) – or revenue generated by Google's partner sites – jumped 18% and represented roughly 27% of consolidated revenue in the quarter. Aggregate paid clicks increased 28% over the third quarter of 2010 and 13% sequentially – solid performance. We were also pleased with the firm's mobile business (Android), which now powers roughly 190 million devices (up from under 140 million mid-year).
We were also very impressed with the performance of Google+ ("Google Plus") in the quarter, and, for the first time ever in our recollection, we saw an exclamation point in a company's earnings release. Perhaps needless to reiterate, management is extremely optimistic about the new social-networking endeavor:
"…Google+ is now open to everyone and we just passed the 40 million user mark (Facebook has 800 million). People are flocking into Google+ at an incredible rate and we are just getting started!"
Google's non-GAAP operating income advanced 24%, while non-GAAP net income jumped over 29% during the period. Non-GAAP EPS rose nearly 28%, to $9.72 from $7.64 in the prior-year quarter. The bottom line blew by consensus estimates (by almost a $1 per share), and we expect the Street to continue to migrate up to our long-term forecasts. Google continues to pull in cash at a rapid rate, with net cash from operating activities jumping nearly 37% in the period, to nearly $4 billion. Free cash flow conversion was fantastic as well, with the company raking in nearly $3.3 billion, or roughly 34% of revenues in the quarter – among the best in our coverage universe.
Google remains a legitimate contender against Apple (AAPL) in mobile and Facebook in social media, and will continue to hurt Yahoo (NASDAQ:YHOO) and AOL in the online ad business. We're waiting for a pull back to add the firm to the portfolio in our Best Ideas Newsletter.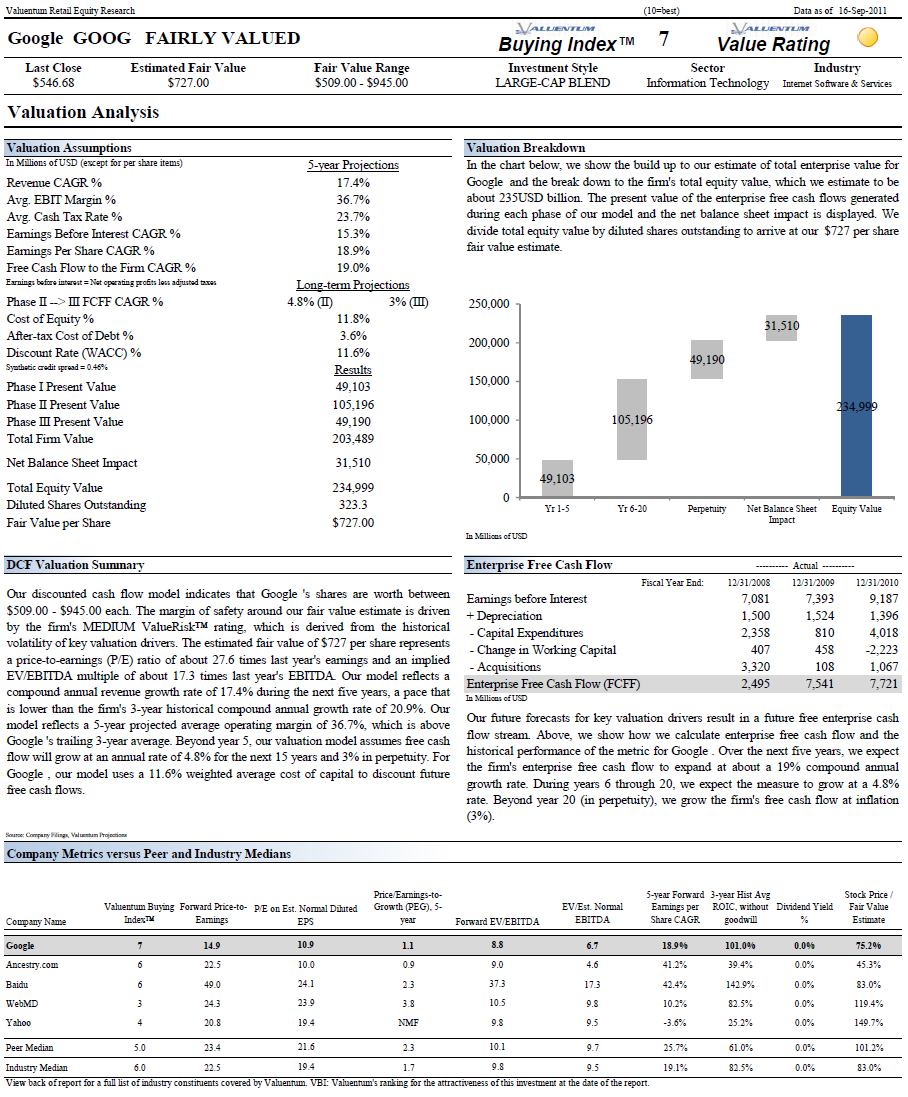 #5 General Electric (NYSE:GE)
General Electric (GE) posted solid third-quarter results that showed strength in industrial orders and improvement at GE Capital. We remain on the sidelines with respect to owning GE's shares, but we were encouraged by the quarterly performance.
The industrial giant's revenues expanded 12%, excluding certain items, led by a 19% increase in industrial segment sales (international industrial sales jumped 25%). The firm noted that industrial organic revenue growth accelerated and was a very strong 8% and that its industrial backlog reached a record $191 billion (up from $189 billion at the end of the second quarter) thanks to a 16% jump in industrial orders (the fourth straight quarter of double-digit growth). GE said it received over $3 billion in new customer wins across its energy business--with revenue in that segment expanding 30% in the quarter--and pointed to aerospace (sales of which jumped 10% during the period) and China (orders surged 65%) as sources of strength. Transportation was also a bright spot, with sales up 48% and operating profit nearly doubling. We view these data points as critical to our thesis that the US economy is not headed for recession anytime soon (we continue to be overweight aerospace in the portfolio of our Best Ideas Newsletter).
GE's operating earnings expanded 11% (excluding the impact of the redemption of preferred stock held by Buffett's Berkshire Hathaway), while net earnings per share (including discontinued operations) jumped 22%. The firm mentioned that this was the sixth consecutive quarter of double-digit earnings growth. GE Capital was a key driver in the quarter, with financial segment earnings at $1.5 billion (up 79%). We think GE Capital has improved significantly since the depths of the Great Recession, and we're not too worried about the segment's capital position—GECC/GECS Tier 1 Common Ratios were 11%/9.6%--fairly-well capitalized.
Though company-wide margins may face some pressure (wind pricing was a headwind this quarter), GE said that it expects margins to improve this quarter and that it is targeting double-digit operating earnings-per-share growth in 2012, levels we think are achievable (given its huge backlog). All things considered, we think GE's report is yet another data point suggesting US economic health and a not-so-unhealthy global stage. We'd consider picking up the firm's shares if its annual dividend yield reached 4.5% (it's currently at about 3.6%), which we believe is an adequate margin of safety given concerns in Europe and the implications on GE's financial segment.
#6 McDonald's (NYSE:MCD)
Another quarter is in the books for McDonald's (MCD), and the company has posted yet another blowout quarter. McDonald's continues to execute well on all fronts. After reassessing our short-term assumptions, we think the firm is fairly valued in the high-$80s per share.
Earnings per share surged 12% to $1.45, which blew past every estimate on the street. Margins came in higher than expected, as commodity prices fell off a cliff during the quarter, and incremental revenue gains were much higher than expected. However, with the company hedged, they were unable to experience the full extent of these cost savings.
Also on the income side, McDonald's continues to roll out new drink offerings in all of its markets, which drive not only new traffic, but also contributed to margin expansion. Additionally, earnings were boosted in both Europe and Asia by positive currency effects. Currency neutral income was up only 6%. We'll be watching closely for any reversals in currency, and its impact on the firm's fourth-quarter results.
CEO Jim Skinner cited excellent results from adding an additional four new sauces for Chicken McNuggets in the US, as well as the 1955 in the UK, and the Chicken and Cheese snack in Australia as some of the drivers of the impressive same store sales figures. However, management did warn that a lot of remodel projects in the United States were delayed during the summer, so franchisee restaurants could experience some weakness at the beginning of this quarter.
In spite of economic uncertainty, the combination of offering customers great value and new products help boost same store sales in Europe 4.9%. Unlike competitor Yum Brands (NYSE:YUM), which mentioned that they were experiencing some weakness in China, Skinner seemed encouraged that the company has maintained sales traction in China, and is still on pace to open new stores throughout 2012 and beyond.
Valuentum remains bullish on the US economy, and we think 2012 will be another great year for McDonald's, as they will be able to raise prices in their largest markets, while experiencing gains from decreased commodity pricing. Furthermore, we think a potentially slowing Chinese economy doesn't alter the long-term fast-serve secular growth story in the emerging world. Any short-term hiccups are overshadowed by the long-term shifts in wealth, diets, and lifestyles.
With an increased dividend and overall dedication to returning cash to shareholders, we think McDonald's, though fairly valued, is an excellent candidate for long-term dividend investors' portfolios--it has a 3% + dividend yield. Even during the market's wild swings, it has been relatively stable and seems protected from substantial downside risks and volatility.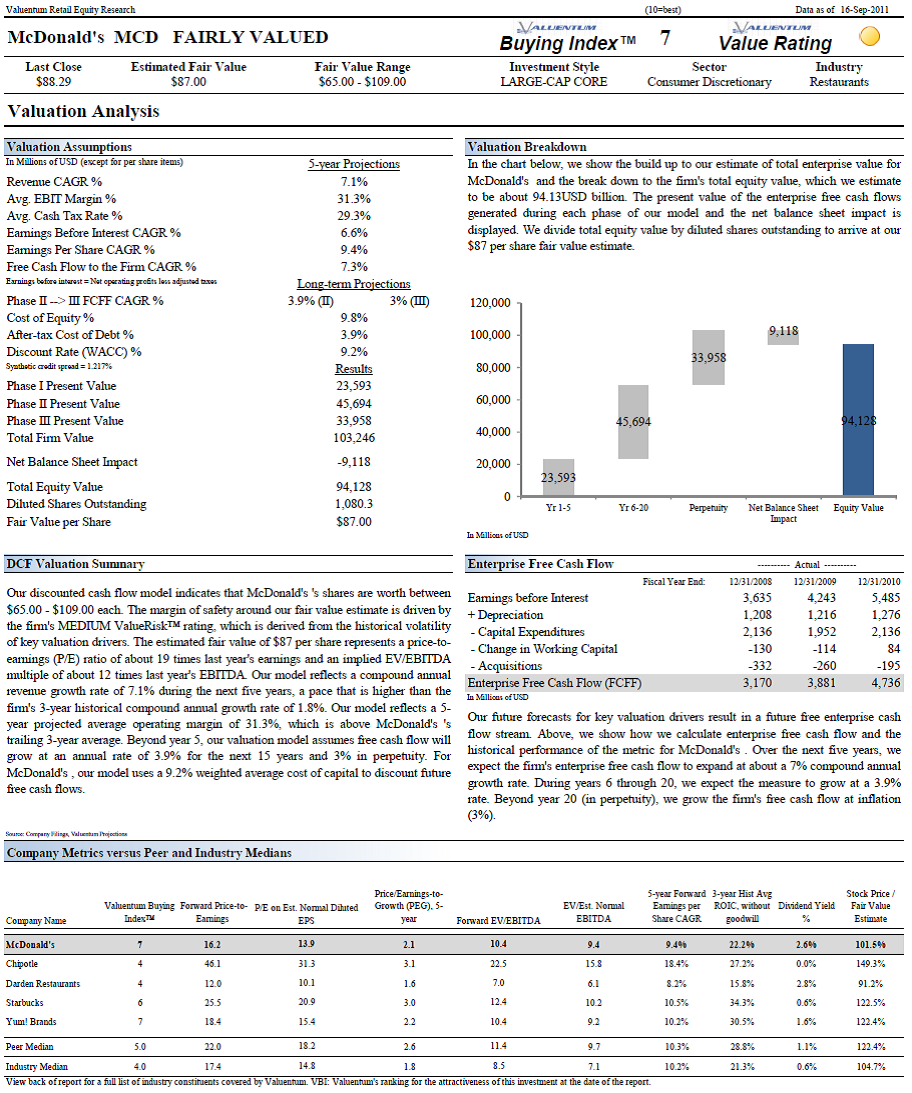 #7 Intel (INTC)
Intel (INTC) put up record third-quarter results. We maintain the firm is one of our best ideas at these levels and are considering adding to our position in the portfolio of our Best Ideas Newsletter. Our $36 fair value estimate, which remains significantly above current levels, is unchanged after the excellent report.
The first sentence of Intel's press release tells most of the story behind the quarter: "Intel…reported third-quarter results, setting new records for microprocessor units shipped, EPS, earnings and revenue, which was up 28 percent year-over-year." In fact, it's difficult to find much not to like in chip giant's performance during the period. As mentioned above, revenue hit $14.2 billion (an all-time record), operating income hit $4.8 billion (up 16% from the prior year's quarter and an all-time record), net income reached $3.5 billion (up 17% from last year's period and an all-time record), and earnings per share hit $0.65 (up 25% and also an all-time quarterly record).
Interestingly and perhaps surprisingly to onlookers, the chip maker indicated that it saw double-digit growth in notebook personal computers. Such performance was not expected broadly by the Street and reinforces our thesis that the PC is not dead (from mobile and tablet competition). Intel also noted strength in its data center group, which advanced 15% in the period, thanks to the proliferation of mobile and cloud computing.
The firm was an absolute cash cow during the period, raking in $6.3 billion in cash from operations, which it handed for the most part back to shareholders in the form of buybacks and cash dividends. Cash on the balance sheet increased by a staggering $3.7 billion in the third quarter to about $15.2 billion. Even after the expensive purchase of McAfee last year, and over $1 billion in dividends, Intel is reloaded with cash, and can pursue both organic growth and acquisitions. The firm's board also approved an increase in its share repurchase program by $10 billion, to $14.2 billion at the end of the quarter. Given that Intel's share price is significantly undervalued, we're huge fans of this buyback program and management's general capital allocation plans.
Aside from posting impressive numbers, and retaining its relatively bullish outlook on global PC sales, Intel provided some information on their 3-D processors that will ship in spring 2012, and the strength of the McAfee integration. In our last note to investors, we argued that adding the security company's revenue mix would be accretive to earnings and ultimately gross margins, which appears to be the case.
Intel's outlook for the remainder of the year was just as strong as its most recently reported results, guiding this quarter's revenue to $14.7 billion, which beat most analysts' expectations. Overall, we think the firm remains significantly undervalued at today's prices, and we think the large buyback and dividend will only help Intel outperform the broader market.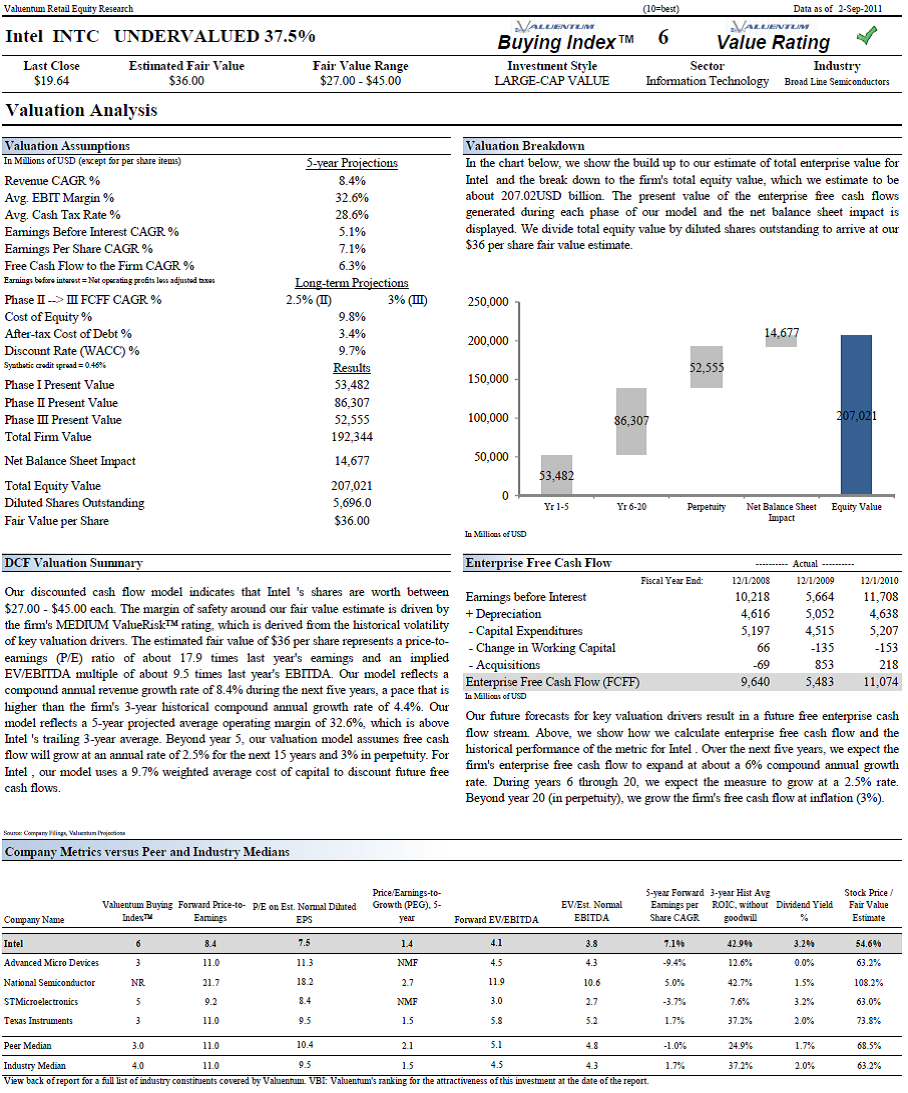 #8 Apple (AAPL)
Perhaps the most valuable thing investors can learn is that stock prices are determined by future (not past) expectations of a firm's business fundamentals, and by extension, its future free cash flow stream. The uncertainty of the future--and not the certainty of the past--is what drives stock prices and their volatility (after all, if the future were known with certainty, stocks would trade at precisely their known fair values).
This consideration is important as we evaluate Apple's (AAPL) fiscal fourth-quarter results, which came in lighter than what the Street had been expecting. Despite the miss, the iPhone-maker guided its fiscal first-quarter above consensus estimates, which should and always will trump any earnings miss as interpreted by the market in the previous quarter. Importantly, the last quarter (Apple's fiscal fourth quarter) is now behind us, and all that matters is what's ahead in the future for Apple. And, in Apple's case, the future is bright. We're maintaining our $531 fair value estimate.
The iPhone-maker posted quarterly revenue of $28.3 billion and quarterly net profit of $6.6 billion, or $7.05 per diluted share. Compared with last year's quarter, these numbers represent significant growth in the firm's top and bottom line. During the period, Apple sold over 17 million iPhones (21% growth), 11.12 million iPads (166% growth), and 4.89 million Macs (26% growth). Much of the disappointment in Apple's performance was due to a shortfall in iPhone sales which caused roughly a $0.25 bottom-line miss--the Street had been expecting several million more iPhones in terms of unit sales. However, the leak of the launch of the features behind the iPhone 4S ultimately swayed consumers to wait for the upgraded phone. And with Apple selling over 4 million units of the iPhone 4S in a three-to-four day period after the closing of the recently reported quarter, we're far from concerned about any slowdown in this key profit driver.
Apple's cash flow generation continues to be robust, and the firm now holds more than $81 billion in cash on its balance sheet. As mentioned above, Apple's guidance for the first quarter of fiscal 2012 also came in better than expectations, with revenue anticipated at $37 billion and diluted earnings per share of about $9.30. We fully expect Apple to deliver on its guidance for next quarter, but we are watching developments at smartphone makers powered by Google's Android, as well as developments in the tablet market, which will witness the release of Amazon's (NASDAQ:AMZN) new Kindle Fire in mid-November.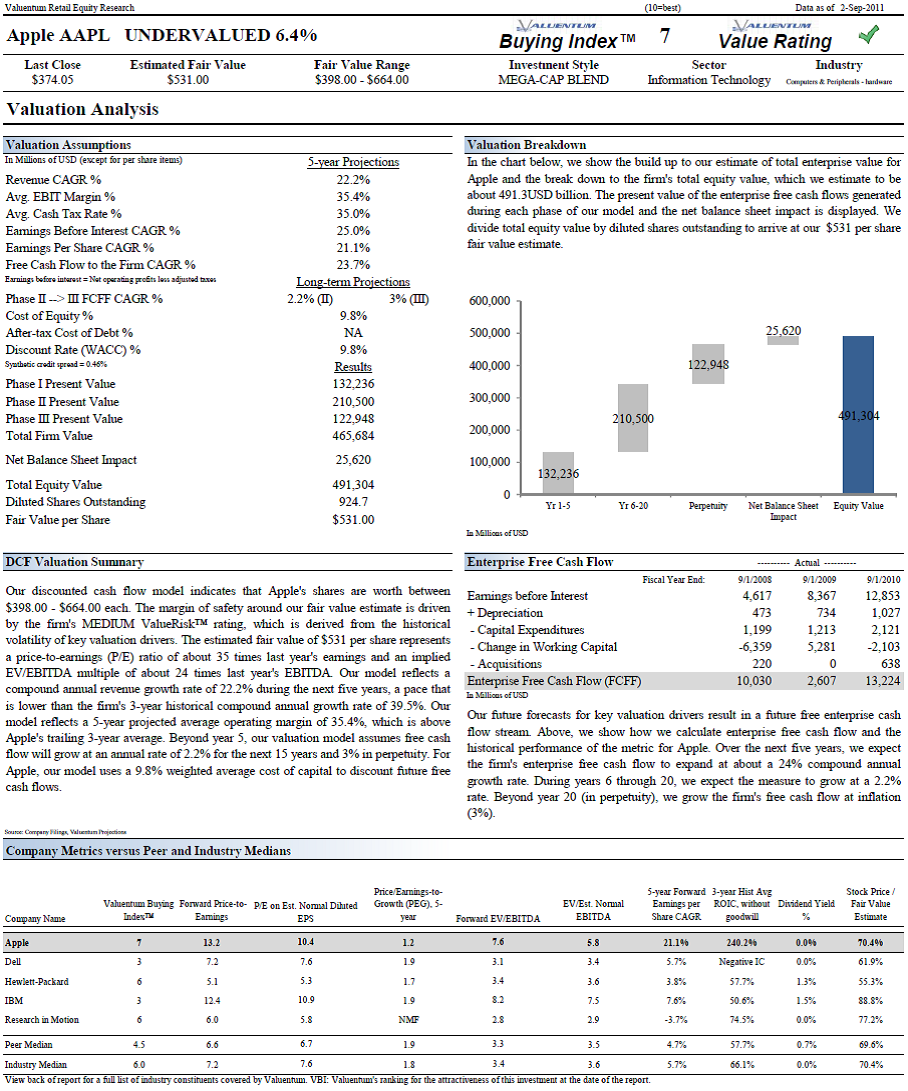 #9 Disney (NYSE:DIS)
Walt Disney reported decent fiscal third-quarter results Tuesday that showed revenue growth of 9% and solid net-income expansion of 11%. We like the strong brands at Disney and would consider adding it to our Best Ideas portfolio under $28 per share on the basis of our discounted cash-flow process.
The firm experienced solid sales growth from is Parks and Resorts (up 12%)—Disney Cruise Line and Hong Kong Disneyland Resort--and Consumer Products (up 13%)—Merchandising Licensing--segments. These two segments also led the charge with respect to operating income expansion, with Media Networks also posting nice double-digit growth thanks to strong performance from cable networks (specifically ESPN) and broadcasting (driven by lower programming and production costs). As it relates to the health of the consumer, the firm noted that it experienced higher guest spending and attendance at its domestic parks and resorts–-a source of strength and an interesting, positive data point regarding the US economy. Lagging performance was evident in the firm's Studio Entertainment segment, where sales were flat but operating income fell by more than half. The company blamed restructuring and impairment charges and the results of Cars 2 and Thor in the current quarter versus Toy Story 3 and Iron Man 2 in last year's quarter for the underperformance in the segment. Interactive Media, while showing strong top-line expansion, also fell meaningfully on the operating line. Cash from operations remained strong in the period, but free cash flow has faced some pressure so far this year due to purchases related to its new cruise ship, the Disney Dream, and domestic park and resort expansions.
Despite the share weakness following Disney's report, we think the firm put up a fine quarter and view it as a solid long-term holding. If the market puts the firm's shares on sale (under $28 per share), we'd consider adding it to our Best Ideas portfolio.
[Disney reports its fiscal fourth-quarter results on November 10.]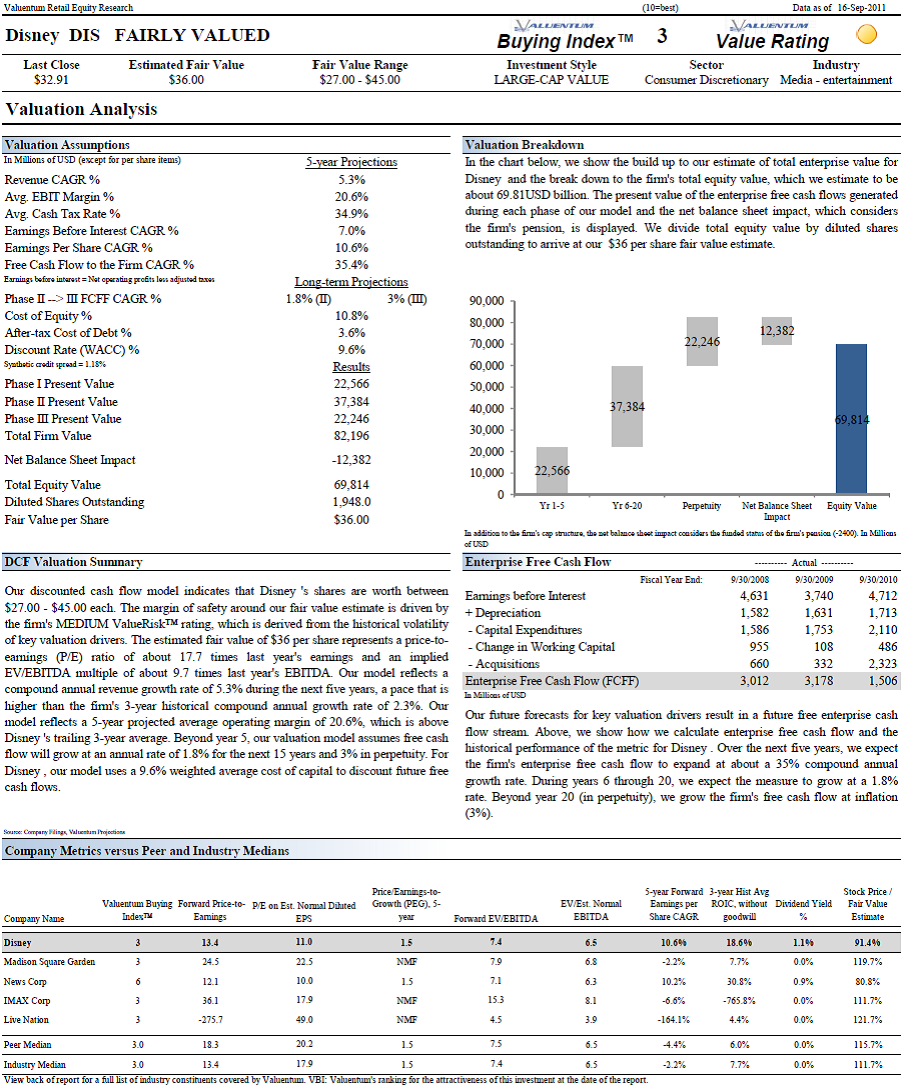 #10 Hewlett-Packard (NYSE:HPQ)
[HP has yet to announce when it will report its fiscal fourth-quarter.]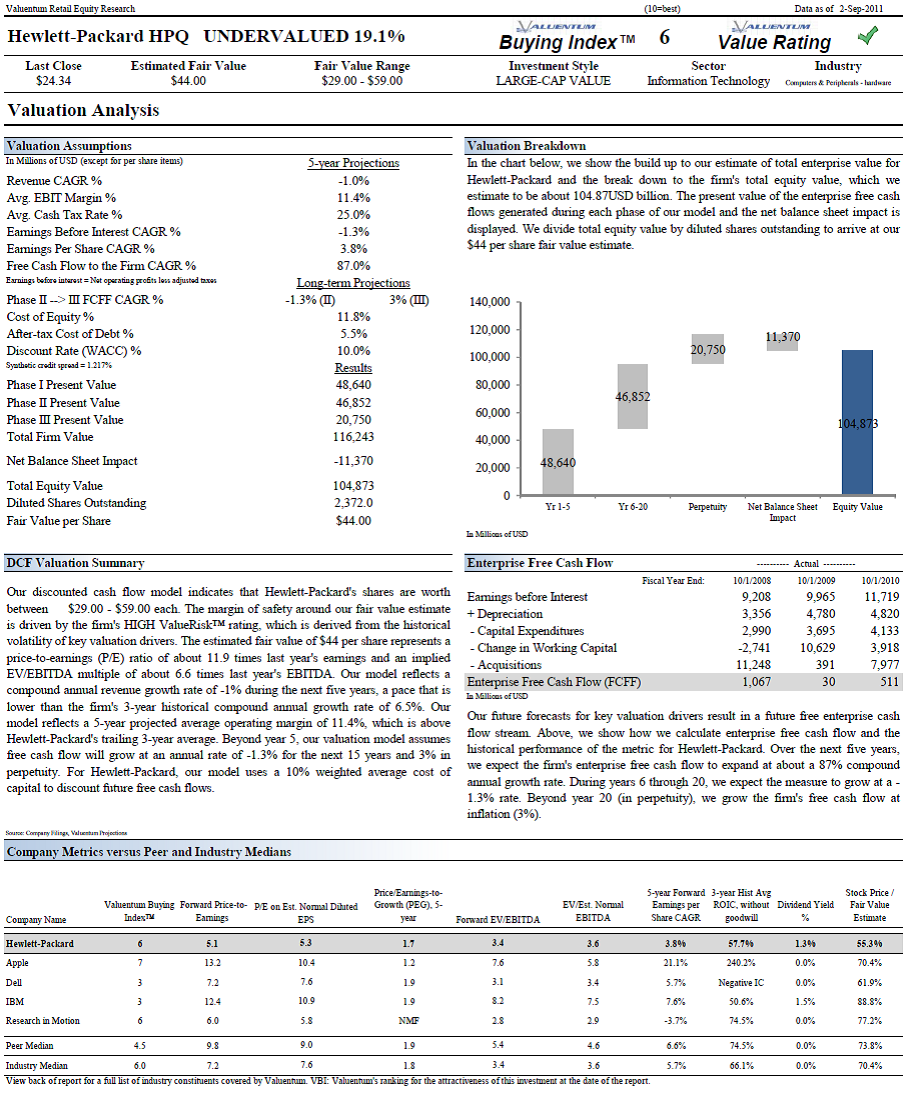 Disclosure: Apple and Intel are included in our Best Ideas Newsletter.