In my last article I stated that Marine Harvest ASA (OTCPK:MNHVF),(MNHVY.PK), would be profitable during the third quarter. This statement has now been proven to be correct. Marine Harvest's Q3 2011 results show that the company had third quarter operational income of NOK 457 million ($80.9 million). This is a decrease from the NOK 709 million earned in the prior year quarter. This decline in operational income was largely caused by the plunge in salmon spot prices that I have written about previously.
The company's revenues were quite similar to what the company had during the prior year quarter. Marine Harvest had Q3 revenues of NOK 3,636 million ($643.7 million) in the third quarter of 2011 compared to NOK 3,632 million in the third quarter of 2010. This can be partially attributed to the enormous increase in harvest volumes. Marine Harvest harvested 83,076 tonnes of product in Q3 2011 compared to 64,034 tonnes in the prior year quarter. This was above the company's expectations of 79,000 tonnes. In other words, Marine Harvest's production in the third quarter was higher than what the company expected.
In some industries this would be a good thing, and in some ways it is a good thing for Marine Harvest as well. But this is not entirely beneficial in this industry. Marine Harvest was not the only salmon producer with a bountiful harvest this quarter. Global supplies of salmon increased by 19% during the quarter. Due to the laws of supply and demand, when supply increases faster than demand, as is the case in salmon right now, then prices must necessarily fall. That is indeed what has been happening. While Marine Harvest's increased production did help to offset some of the adverse impact of lower prices, it was not enough in and of itself.
The company's debt increased 5.9% to NOK 6,142 million ($1,087 million) during the quarter which could be a concern, especially in the current market. The company expects salmon prices to stay depressed until at least the end of 2012. This is likely to keep revenues and profits at their most recent levels or lower for the next several quarters. Thus, the increasing debt will drive up interest expenses and leave less money available for other uses.
Marine Harvest has taken steps to maintain or increase their cash generation ability in consideration of the current difficulties affecting the industry. These steps include the following:
Reduction of smolt stocking by 3.8 million in 2011 and 7.5 million in 2012. Smolt is young salmon. Marine Harvest raises the smolt to maturity, at which point the salmon can be processed and sold. This action appears to be intended to reduce the costs of producing product (raising smolt to maturity), as well as to ultimately reduce the amount of salmon in the marketplace.
Initiation of an extensive cost reduction program targeting all costs that are not related to HSE and fish health. The goal of this program looks to minimize all unnecessary costs. Marine Harvest has excluded fish health from this program, and in so doing shows that the company realizes that maintaining the health of its fish is critically important to the production of a quality product, as well as avoiding even greater costs that could arise from contagions at its farming facilities. Marine Harvest's management also shows that they strongly believe in the company's commitment to its employees and to the environment.
Reduction of planned capital expenditures in 2012. The company originally planned to have 2012 CapEx of NOK 1,000 million ($177 million) in 2012. This has now been reduced to NOK 400 million ($70.8 million) in an effort to preserve the company's financial strength.
These are drastic steps to take, but they do show management's commitment towards navigating the company through the current weakness in the industry. It remains to be seen whether or not these steps will be enough to preserve the company's financial strength until salmon spot prices begin to rise once again. The effectiveness of these moves will partially depend on the length of the downturn and the price that salmon falls to. It is unlikely that these efforts will do any more than allow the company to muddle through the next year. At this time, I do not expect to see any significant growth in profit or operating cash flows until the market for salmon begins to turn.
Marine Harvest was previously quite optimistic about the prospect of announcing or paying a semi-annual dividend sometime around the end of this year. That now looks to be completely off of the table. Marine Harvest failed to meet the criteria for issuing a semi-annual dividend that is outlined in the company's div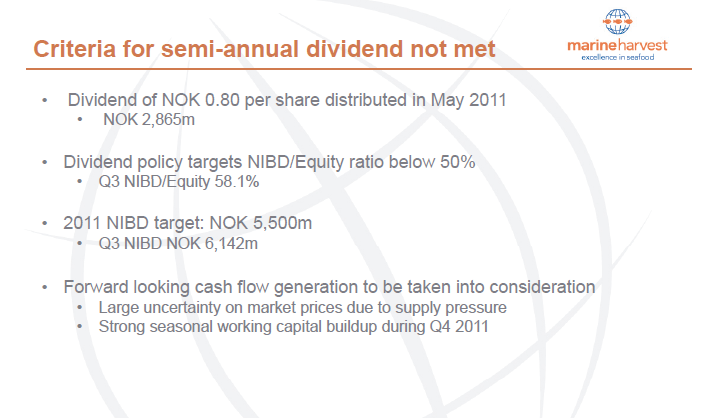 Source: Marine Harvest Q3 Results Presentation
Marine Harvest did not completely remove the possibility of paying another full-year dividend to investors next year, but that is dependent on the company's cash flow and financial situation at that time. Given projections for salmon prices over the next few quarters as well as the company's need to repay its debt, I predict that such a dividend, if offered, will be substantially less than the most recent NOK 0.80 ($0.142) per share annual dividend that was paid in May.
In previous articles, I have discussed how Marine Harvest's hedging strategy is likely to drive profits during this quarter. That does indeed appear to have been the case, and the company stated as much in its Q3 interim report. The company made most of its sales in the third quarter under forward contracts that were entered into prior to the collapse in salmon spot prices. The same is true in the fourth quarter, and this will help the company mitigate some of the damage caused by the salmon spot market. Beginning in 2012 though, the company will be unable to earn as much money off of its contracts as it could in the third and fourth quarters.
While the company is still selling a large percentage of its projected 2012 harvest under high priced forward contracts, it is still a lower percentage of the projected sales than in 2011. This will force Marine Harvest to sell more of its production at lower prices, thus lowering revenues. One of the responsibilities of the new Sales and Marketing organization is to use forward contracts to hedge against volatility in salmon spot prices and to derive a profit from these forward contracts whenever possible. The company is most likely making efforts to continue to develop its contract portfolio for 2012 and beyond. Unfortunately though, forward prices for any maturity date in the future are much lower now than they were a few months from now. This will serve as a drag on earnings going forward.
Marine Harvest has been by far the worst performing stock in my portfolio this year. For the moment, I am holding the stock while keeping an eye on the company and the industry. While this is a good and well run company, I see no signs of a turnaround anytime soon. Once salmon spot prices recover then the stock is likely to go up but that won't happen for at least a few more quarters. Potential investors may want to wait until more promising signs emerge and then buy the stock when the outlook appears more promising.
Disclosure: I am long OTCPK:MNHVF.