In a recent article several interesting points were raised regarding Sirius XM (SIRI). The discussion surrounds investors thirst to understand exactly what is wrong with the stock. Let's not mistake that for any perceived confusion or misconceptions about the company. Over the past several quarters and during three earnings announcements, investors have seen all the evidence needed to understand that the company is performing better than expected. But the stock has been an anomaly – it simply does not know what it wants to do, in other words, it lacks identity.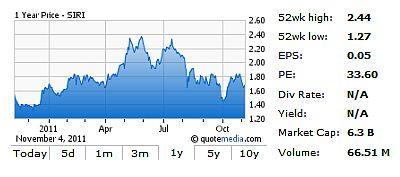 Sirius sort of reminds me of the New York Jets or the Dallas Cowboys in trying to decide if they are a running team or a passing team? Is the focus going to be on defense or offense? The team may look great in practice and say all the right things, but when it is game time, the performance is less than stellar. Fans are left looking for reasons and places to point blame. This is where we have arrived as investors of Sirius XM, but it does not mean that it's a bad place to be.
I recently asked if Sirius was cursed for no other reason than the fact that it has shown to be very unfortunate after reporting great earnings and/or announcing favorable news during poor market climates. The pattern has been remarkable. As in the example above, investors are left wondering who threw the interception, fumbled the ball or why the referee made that bad call. My recent article reminded me of these scenarios as several readers offered their take on Sirius' plight.
Seeking alpha contributor Ian Bezek described it this way:
Sirius is a company highly levered to the economy, and the economy stinks and this was the primary reason I said Sirius was a great short up at $2.20. Doesn't matter how the company performs on a micro level, it is the wrong macro play at the wrong time, particularly once car sales start plunging (GM (NYSE:GM) data shows trend is getting started).
I think Sirius is a fairly highly cyclical stock, and as such, it will be available cheaper when the economy is clearly in a recession rather than teetering on the brink between recession and slow growth.
Another Seeking Alpha contributor Rocco Pendola suggested this:
Here's the funny thing... the economy has little, if anything, to do with this stock's performance. Since it was added to the Nasdaq-100, it has woefully underperformed that index and the broader market. And just take a look at the last two days, it's down when the market is up. I never call two days a wholly accurate measure, but this has been the trend-- it underperforms the market here in the second half of the year.
Rocco's comments were in response to commenter Hawk180 who had this take on why the stock has languished the way that it has:
The stock is being manipulated by the large investment firms in order to shake loose the weak investors. If you are that negative about the company and the stock, sell, don't buy it and go someplace else to make your money. What I am growing tired of is all those who come on the forum and slam the company and the stock and then state they have no position and do not plan to initiate any position.
One of the best things that Sirius has going for it-- other than the fact that it is performing remarkably on all levels is the fact that it is heavily discussed – everyone has an opinion on it and everyone believes they're an expert (including yours truly).
Rocco Pendola believes it is headed lower whereas there are others suggesting that the stock is being accumulated by billionaire hedge funds. But regardless of what you believe, one this is certain is that it appears (when it comes to Sirius) the minds of investors are already made up (one way or another) before reading any new article much less reading one in its entirety and taking a different stance. We are looking for confirmation of that which we think is true. As heated as the debates get sometimes, during the process I think it makes everyone smarter and more astute investors.
As an investor in the company (as I'm sure with many readers) I am getting progressively more frustrated with the stock and the fact that it does not react on any positive news. But don't confuse that neither with anger nor discuss. It's just like when my Miami Dolphins are on a seven game losing streak and everyone is clamoring "Suck for Luck." The point is there is light at the end of the tunnel, in that what appears bleak now is only a draft pick away from being a dominant power.
It seems many bears are beginning to take notice and are preparing for this possible reversal of fortune. On Tuesday, Nasdaq released its bi-monthly short interest report and remarkably, Sirius continues to look a lot better on the bearish indicator. Its short interest number has dropped for the second consecutive period and has been reduced by 20% since the stock started its decline in May.
Click to enlarge: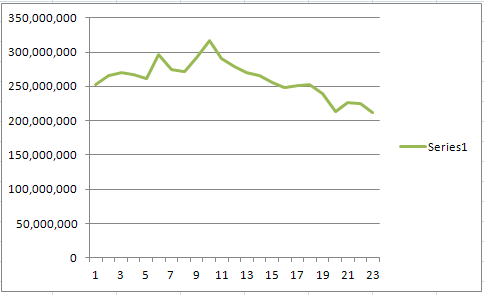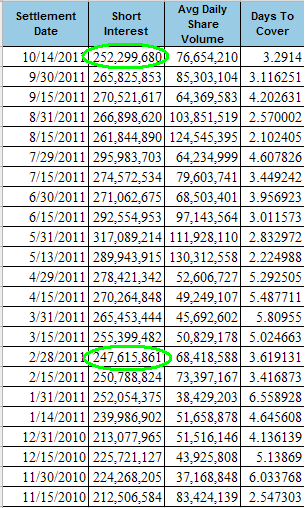 What is clear from the numbers above is that Sirius investors should continue to be patient and hold firm and not get discouraged by the stagnant share price. Though it appears that the stock does not yet have an identity, the reduction in the bearish indicator suggests that one may be forming. We saw the result of this in early May when the stock surged to $2.44. In similar fashion, the bearish indicator was close to its current low as it was at the start of the year. Should this be viewed as coincidence? I'll let you decide.
Summary
The fact of the matter is Sirius is here to stay. The company offers a tremendous array of diverse audio content at a modest cost and has grown immensely in popularity. But you already know this as evident by the growing number of subscribers over the past two years. As investors, we only care to know about the direction of the stock.
While there is no lack of opinion, what I'm pretty confident about is that its direction is determined by the company's performance. I don't think any bear will say that it has not performed well. So as indicated by the reduction of shorts as well as its quarterly earnings, its next direction is crystal clear.
Disclosure: I am long SIRI.