While I am sympathetic to the mild efficient markets hypothesis and believe that the effect of irrational decisions on equity prices is often erased by arbitrage, it is my belief that financials have been unduly hit both regionally and internationally. Companies, like Barclays (NYSE:BCS) are trading at substantially lower multiples below intrinsic value both in the short- and long-term, as I explain here. BB&T Corporation (NYSE:BBT) and JPMorgan Chase (NYSE:JPM) are two other financial firms that remain undervalued and are much safer than what the market appreciates.
BB&T is a Mid-Atlantic bank that practices commercial banking, residential mortgage banking, lending, and other related financial activities. JPMorgan is more of a brand name company that has international expansion and a diverse amount of products and services: everything from investment banking to credit card issuing. I believe that BB&T can benefit from branch expansion, while JPMorgan can gain from better than expected capital markets and regulatory reform in the long-term. Although the two companies are certainly not perfect comparisons, their different geograph exposues illustrate the unduly hit financial firms have received.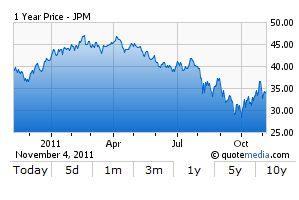 From a multiples perspective, JPMorgan is the more undervalued of the two. It trades at a respective 7.2x and 6.9x past and forward earnings; BB&T trades at a respective 14.9x and 9.8x past and forward earnings. In addition, JPMorgan also offers a dividend that is 20 basis points higher at 2.94%, although shares come with more risk at a 25% larger beta of 1.25. I find that these multiples have been irrationally depressed due to concerns over "too big to fail" concerns, especially for JPMorgan.
According to a study by the Center for Economic and Policy Research, the differential in cost of capital between banks in excess of $100B assets and those below $100B in assets widened when the "too big to fail" policy arose in late 2008. This, in effect, provides a pseudo-subsidy for the larger firms.
As for the third quarter earnings call, JPMorgan's notable CEO, Jamie Dimon, noted:
Investment Bank, we say hard not to be cautious. I'd say that right now, nobody knows what's going to happen tomorrow. So, I've seen markets like this where things stabilized, Europe does some big and things take off. There are fairly large backlogs. We'd pointed that our backlogs are very deceptive, but you can't look at these things and not expect maybe go a little bit longer.

We have no major layout programs. Obviously, the Investment Bank will be trimming its sales a little bit, getting it tied and there are some benefits we are getting from, rolling in some new products or systems. So we expect to see the headcount going down, but no major layout programs. Asset Management, obviously, dependent on market levels, but we continue to build the business and even this quarter had net inflow. We don't know about the people yet, but I think that's probably pretty good.
Third quarter earnings per share were $0.84, below the Street estimate of $0.91. While weak capital markets will adversely effect the firm's investment banking business, it met analyst expectations while mortgage banking results were revealingly better than expected. EOP commercial banking loans were up by 4.6% for the quarter, while card services took a hit.
Perhaps the most important discussion raised in the call concerned the handling of reserves. Dimon's response here implied that the limited release of reserves is also not a result of credit environment, but rather an issue of fiscal conservatism. Given such caution, I expect that share repurchases will be set aside until after the second half of next year. In the meanwhile, management will be restructuring budgets and finding responses to an onerous regulatory environment that, in my view, will ultimately be partially reversed in the coming years.
Consensus estimates for JPMorgan's EPS are that it will increase by 15.7% to $4.58 in 2011 and then by 7.6% and 11.4% more in the subsequent years. Assuming a conservative 2012 EPS estimate of $4.85 and a multiple of 12, the investment bank is trading substantially below an intrinsic value of $58.20. Accordingly, I believe that the reward far outweighs the risk and rate the shares a "strong buy" in agreement with the Street. That said, 22 estimates have been revised downwards while only 8 have been revised upwards. BB&T, on the other hand, is only slightly underpriced in my view using the same conservative assumptions. 23 estimates have nevertheless been revised upward, versus only 4 being revised downwards. The multiple discount JPMorgan has due partially to greater risk is unreasonable given its global footprint and successful history.
With BBT and JPM shares trading 28.5% and 21.5% less than what they were worth at the start of 2008 (compared to the S&P 500 being down only 15.6%), investors have a reason to be concerned given a potential double dip outlook. But with regulatory reform on the table and current structuring, the fear has been exaggerated and not fully appreciative of the solid fundamentals that will drive long-term value creation.
Disclosure: I have no positions in any stocks mentioned, and no plans to initiate any positions within the next 72 hours.