Earnings season is in full swing and traders, as well as investors have already seen an avalanche of earnings reports. Do not worry though, there are still many more to come. There are at least 7 service sector companies reporting earnings that traders will focus on this week. Traders will be focusing on these earnings for multiple reasons. One of these reasons is because some of these companies are market leaders, therefore any major beat or miss will cause the broader equities market to shift. I will discuss the other reasons as to why traders will be watching these companies in later analysis.
Dish Network (NASDAQ:DISH)
Dish Network is scheduled to report third quarter earnings before the market opens on Monday, November 7. For most of 2011, Dish has confused investors as to which direction the company was poised to go. Despite this confusion, the share price has increased over 30% during the past two years and 14% over the past 12 months. During this time Dish has proved that the overall goal of the company is to continue to innovate. With the purchase of Blockbuster, DBSD North America, and TerreStar Networks, and the hiring of Joseph Clayton as the new President and CEO, it is clear Dish is ready to move forward. The likely target is the spiraling Netflix (NASDAQ:NFLX).
More importantly, traders will be focused upon Dish Network's earnings report and guidance. Traders and investors will be looking for strong guidance after the three acquisitions earlier this year. Traders will also be listening to how many customers Dish has added over the past three months. With that in mind, analysts are expecting Dish to report an EPS of $0.73 with revenue at $3.65 billion.
After the company's first quarter report traders sent the stock higher and investors kept the share price elevated. Unfortunately the share price came crashing down during the summer slide. This makes the third quarter report very important. If Dish can surprise analysts and traders, we will see the share price move back to the 26.00 range.
Key to remember: Dish has been slowly increasing revenue year over year since 2007. Also, the share price has been slowly increasing for two years. The company is a strong entity and with the addition of the above acquisitions Dish may take off to new highs if management can put the pieces into place. Traders are looking for good news. Any sign of weakness will result in a selloff.
[click to enlarge charts]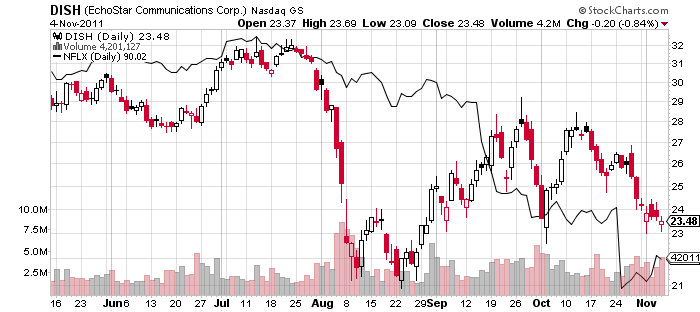 Click to enlarge
Sysco Corporation (NYSE:SYY)
Sysco is also scheduled to report fiscal first quarter earnings on Monday before the market opens. Sysco's revenue has grown at a snail's pace and the share price reflects this. This does not indicate weakness because the share price has fluctuated between a 15-20% window over the past two years with a net return of 5%; which outperforms two year bonds.
Nevertheless, traders have began to protect long positions or place bets on an earnings miss. For instance, on November 2nd the put/call ratio was about 8 according to Avafin. Of the 12,148 puts being written that day, about 9,400 expire in May with a strike price of 25.00. This indicates one of three things: 1) traders are expecting Sysco to report at least one major earnings miss sometime from now until May, or 2) traders are expecting a long drawn out equities market slide, or 3) traders are protecting their long positions against long term market weakness.
Analysts are expecting Sysco to report earnings per share of $0.52 and revenue of $10.49 billion. This would be a slight increase in revenue from the company's fiscal fourth quarter. Unless Sysco delivers a surprise either way, the share price will not move any more than a regular day. This is why traders will be watching the earnings report because in the event of an unlikely earnings surprise, traders can bring in big profits. And since the share price is steady, traders are protected from severe losses. It is important to note that Sysco may be one of the equities market's long time survivors, but the stock does not dictate the broader markets in the same way that Apple (NASDAQ:AAPL) or IBM (NYSE:IBM) does.
Key to remember: Sysco has already seen some strong trading volume. Are traders predicting an earnings miss? It is difficult to tell since about 2,000 puts were placed that are already in the money with a December expiration and a 28.00 strike price. Either way, Sysco will see heavy volume on Monday.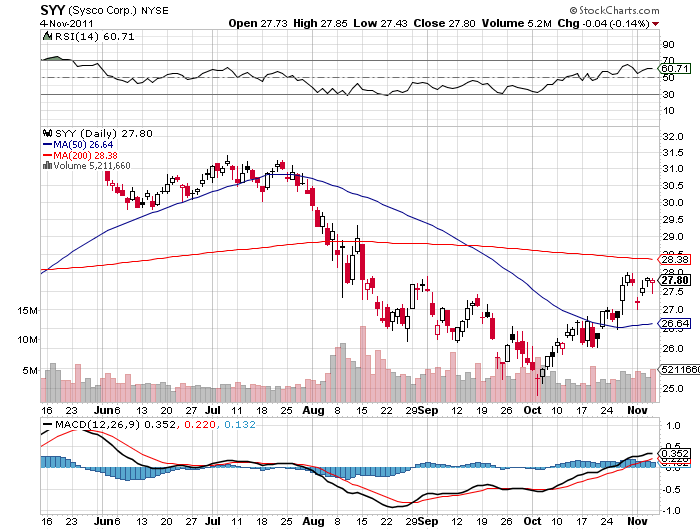 Click to enlarge
Priceline.com (NASDAQ:PCLN)
Priceline is slated to deliver third quarter earnings after the close on Monday. Priceline is arguably the leader in the General Entertainment industry. It is important to remember Orbitz (NYSE:OWW) reported strong earnings on Thursday, November 3; and Expedia (NASDAQ:EXPE) reported weak earnings on October 28th. Traders will be watching Priceline's earnings for this reason. With evidence from Orbitz that Priceline is gaining market share, it should be no surprise Priceline will provide strong results on Monday. With that said, short sellers will be hoping for a miss to rake in major profits from the company with a relatively high P/E ratio of 36.
Analysts are expecting Priceline to report revenue of $1.42 billion and EPS of $9.30. It is important to note during Priceline's second quarter the company forecasted third quarter revenue between $1.50-1.56 billion and EPS of $9.10-$9.30. Keep in mind at the time, analysts were expecting Priceline to guide revenue to $1.49 billion and EPS at $7.94. As you can see analysts have changed their estimates since the second quarter earnings report. Priceline should beat the street's expectations and longs will make a nice profit. But the question is how high will bulls send the share price?
Key to remember: Priceline has sequentially increased yearly revenue since at least 2007 with very little debt (only $575 million). Priceline should continue this pattern because the company is slowly bringing in more customers as consumers look for cheaper ways to travel.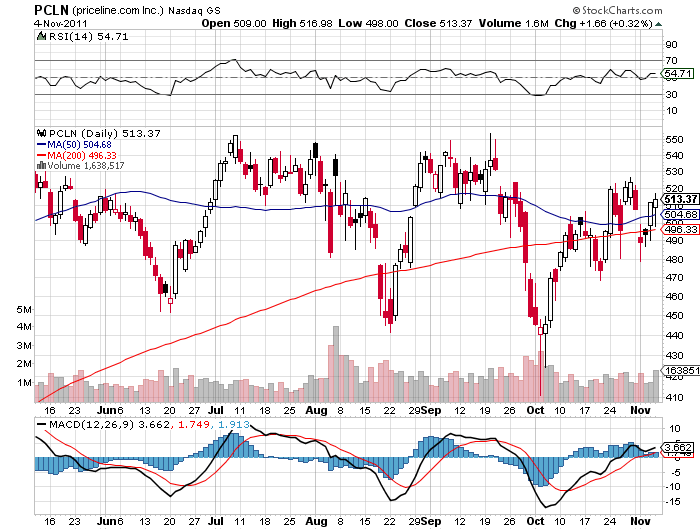 Click to enlarge
Sotheby's (NYSE:BID)
Sotheby's is also reporting third quarter earnings after the close on Monday. Sotheby's will give investors and traders insight into the market for fine and decorative arts. This is important because it indicates the amount consumers are willing and able to spend on material positions. Obviously the more consumers are spending at auction houses such as Sotheby's, the stronger the general economy is; and vice versa. Therefore, intuitive traders will be watching Sotheby's earnings to gauge the art market; which may be towards the end of another art investment bubble.
Analysts are expecting Sotheby's to report revenue in the range of $77 million and EPS at a loss of $0.35. This revenue may seem low, but Sotheby's strongest quarter is always the fourth quarter. Therefore we will know more about the strength of the economy and the art market after the fourth quarter. Nevertheless, if Sotheby's provides a gloomy outlook, this will indicate the general economy is not booming. Traders will also use Sotheby's report to determine the performance of other upper class-focused businesses such as lululemon (NASDAQ:LULU), Whole Foods (NASDAQ:WFM), and Coach (NYSE:COH).
Key to remember: Sotheby's is a business that succeeds at the tail end of a strong economy. Hence the periods Sotheby's has outperformed the market: November 1988-September 1990, December 1998-June 1999, February 2007- October 2007, and September 2010- July 2011. Therefore traders and investors need to ask themselves: Are we are at the tail end of a strong economic period?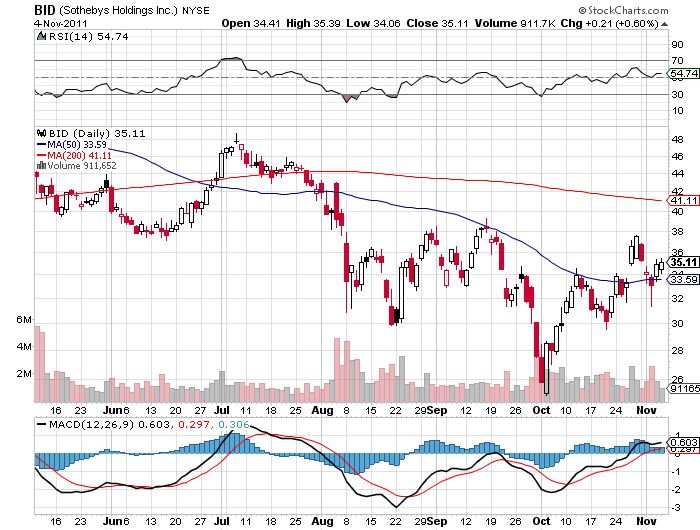 Click to enlarge
Wendy's (NYSE:WEN)
Wendy's is scheduled to report earnings bright and early on Wednesday, November 9. Wendy's share price has performed very well recently, despite the stock underperforming the underlying index most of 2011. Nevertheless, Wendy's stock has outperformed the Dow Jones by over 10% in 2011. Another important note to make is Wendy's share price is roughly 2.2% off the 52 week high. This cannot be said about many of the traditional market leaders.
Traders will be watching Wendy's earnings for this reason. If the company reports a big earnings beat and a strong same store sales forecast, the stock will take off to new highs. However if Wendy's misses same store sales expectations the share price will plunge on weakness.
Analysts will be looking for revenue to be at $619 million and EPS at $0.04. Analysts and traders will also be listening closely for Wendy's new plans to innovate the business. With that in mind, Wendy's will have a tough time impressing analysts because revenue is well below 2009 levels and possibly even 2010 levels if these final two quarters are not extremely prosperous. With that said, revenue values may not be important as long as Wendy's gives traders a strong forecast and reiterates that the company will have a strong customer base throughout 2012.
Key to remember: The key for Wendy's is same store sales. If we see same store sales around 2.5-3% the share price will be sent markedly higher. Keep in mind Wendy's full year guidance is 1-3% for same store sales.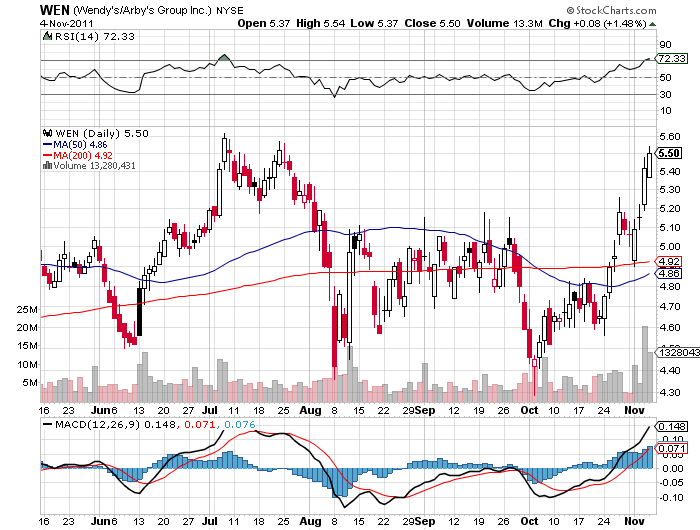 Click to enlarge
Macy's (NYSE:M)
Macy's is also scheduled to report third quarter earnings before the market opens on Wednesday. Macy's has released preliminary revenue and same store sales data. The highlights of these results were a 5.7% increase in revenue after the first 9 months when compared to the previous year over that same period; as well as same store sales increased about 5.3%. Since these numbers are already known, there will not be any surprises regarding revenue and same store sales going into Wednesday. What will be important is Macy's guidance for the upcoming holiday shopping season. Traders will want to hear better same stores guidance or we may see the share price tumble.
Analysts were expecting revenue to be $5.89 billion and Macy's reported $5.85 billion. The consensus EPS number is $0.16. Macy's already missed revenue estimates and with same store sales below expectations, traders will be looking for any reason to sell. This is compounded because Macy's share price is only 3% off the 52 week high that was achieved October 27. Companies such as Macy's do not usually offer earnings surprises since they report monthly revenue and same store sales. This is why traders look towards guidance regarding the next few months and/or years.
Key to remember: Macy's share price has been rising due to investors preparing for a strong holiday shopping season. This makes Macy's share price more volatile because if any sign of weakness becomes emanates the share price will tumble.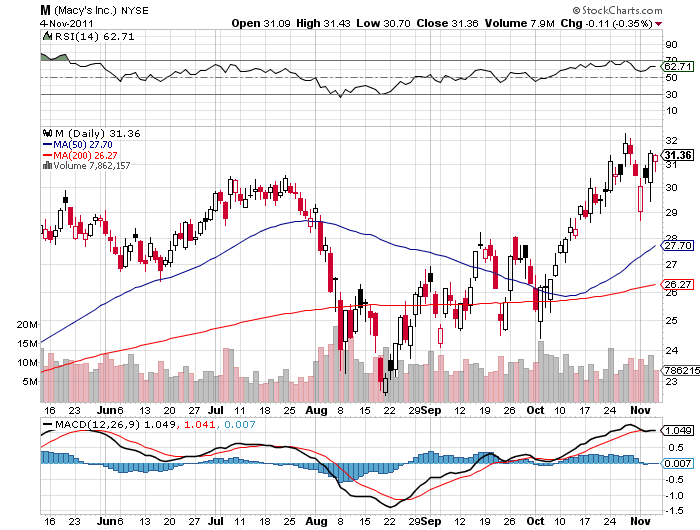 Click to enlarge
99 Cents Only Stores (NYSE:NDN)
99 is set to deliver earnings after the market closes on Wednesday. The most well known news surrounding 99 is the recent buyout by Ares Management and Canada Pension Investment Board for about $1.55 billion. Some argue this means 99's earnings are useless for traders because the company will soon be private.
Contrarily, 99's earnings are very important. Traders will use this earnings report to decipher the spending habits of consumers. Since 99 offers the same products as many other variety stores, consumers will be shopping here if they are strapped for cash and are unable to buy in bulk from a store like Costco (NASDAQ:COST). This may not indicate a recessionary environment, but it does indicate that consumers are more mindful of their spending; and going into the holiday season this could indicate that shopping may not be as strong as previous years. With that said, I do not expect this situation to pan out, but it is a possibility.
Similar to Macy's, 99 reported fiscal second quarter earnings about four weeks ago. Therefore, traders will be looking for guidance to decipher whether to expect a downtrend in the Variety Store industry. Three other public equities that will be effected based upon 99's results are Dollar General (NYSE:DG), Family Dollar (NYSE:FDO), and Dollar Tree (NASDAQ:DLTR). This is why 99's earnings will be important to traders. The earnings report may not be important to 99 traders, but investors of the other three major discount stores will be interested in how 99 describes the current discount store environment during the conference call. Any industry wide weakness will sink the later three.
Key to remember: 99 will be taken private before the second quarter of 2012. Therefore the share price is virtually irrelevant. Traders and investors will need to keep their guard up in order to make proper decisions regarding Dollar General, Family Dollar, and Dollar Tree.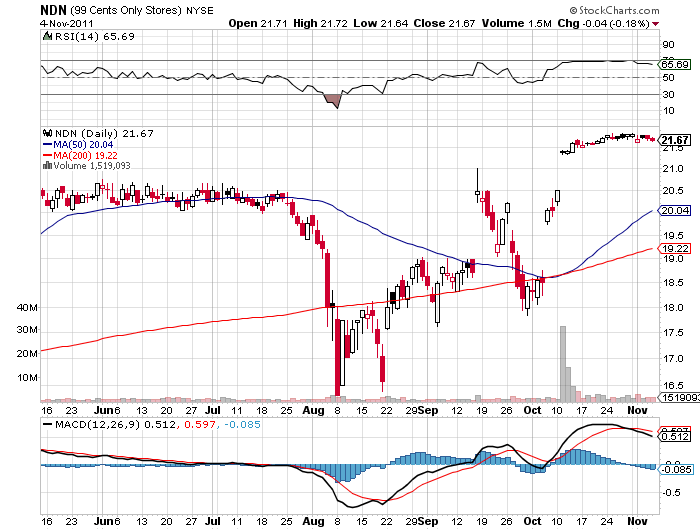 Click to enlarge
As you can see, traders will be watching these seven service sector earnings in order to gain a better understanding of the condition of the broader economy as well as other companies in each company's respective industry. This is important because it means several stocks that are not reporting earnings may be impacted. Keep in mind, thus far during the earnings season we have seen many more beats than misses with strong forecasts from growing companies and weak forecasts from slowing companies.
Disclosure: I have no positions in any stocks mentioned, and no plans to initiate any positions within the next 72 hours.