IAMGOLD (IAG) offers an amazing opportunity for the investor who knows how to utilize a combination of stocks and options to make money. There is a reason for this too!
IAG engages in the exploration, development, and production of mineral resource properties around the world.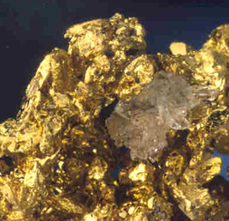 Primarily mining gold, silver, zinc, copper, niobium, diamonds, and other rare metals, it holds interest in eight gold mines-- and that is what we are interested in. Earnings are coming up for IAG on November 9th., 8:00 am, and they are expecting to come in around $.34.
The real opportunity that exists here is due to IAG being a very solid company that has been growing, and will continue to grow. With gold continuing to increase in value, IAG has also increased its production in gold. It has increased its production 18.1% over 2010-- from 195,000 to 222,000 ounces for the third quarter of the year. The company is also looking to increase yearly production to about 1.2 million ounces by 2013, from 900,000 ounces this year.
IAG recently acquired a possible 19.7% stake in Colombia Crest Gold Corp as a means of expanding its gold production. Steve Letwin, CEO of IAG gives this reason for the partnership: "The combination of Colombia's untapped mining potential together with the increasing stability of the country is a key reason why we have our periscope up in this region." Its investment is just that-- an investment in the company, not a plan for future take over.
Not only have they increased their production of gold, but they have great promise in the research they have been doing. They have been doing exploratory drilling around their mines in Burkina Faso and Suriname. They have encountered significant mineralized intersections in these mines. These are but two examples of what IAG has it going for itself as it positions itself for the future.
Not only does the company have a good vision, but it is an A-1 company leading its industry. A company can be identified with solid value potential by tracking three simple statistics.
Price/Sales Ratio
This statistic defines how valuable the stock is based upon its past performance. By dividing the stock's current price by its last 12 month revenue per share we come up with the ratio. The lower the ratio, the more attractive a stock is. IAG comes in at 5.62, while the industry as a whole comes in at 62.58! Outstanding figures for IAG as a real leader. With the strong relative strength it has shown over the last year and the low price/sales ratio, IAG is a magnet for good investments.
Debt/Equity Ratio
A way a company finances its growth has a lot to say about its debt. If the debt ratio of a company is high, it shows the company is aggressively financing its growth through debt. IAG has a debt ratio of 0.00, which means it is not using debt to finance growth. The industry average is 0.24, once again it is again leading its industry. These two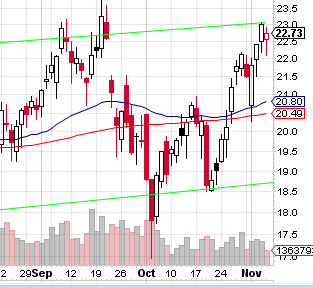 ratios are by no means a complete assessment of IAG, but they show how strong the company is and why it is such an attractive investment.
Investing in IAG
IAG has continually moved up the past 18 months and is steadily moving up today. It has been in a trading zone between 17.7 and 23.2 quite a while, and it is this zone that we can utilize to make money. IAG has just reached the top of its zone. If one wishes to invest in the stock now, a covered call strategy would work well here. Selling the December 24 call for $.95 will give us an income of 4.2% for the month.
As we continue to move down to our trade zone of about 18.7, if one would like to use a straight option strategy, a Bull Call Spread would provide good upside profit potential with limited risk. Sitting at the top of the trading zone, one can initiate a Bear Put Spread in the same way. Buy a December 19 Put for $.35 and sell an 18 for $.15. This gives us a debit of $.20, our only risk while we wait for the stock to move back down to its zone.
These are just a few examples of stock and option plays that one can make on IAG. This is a solid company that one should really take notice of.
Disclosure: I have no positions in any stocks mentioned, and no plans to initiate any positions within the next 72 hours.