Groupon's (NASDAQ:GRPN) growth is a direct result of its marketing expenses. Year to date, Groupon has spent $600 million of its $1.12 billion net revenue on marketing, nearly 50% of its revenue. The subscriber growth is a direct result of Groupon's marketing expense. Its 2009 marketing expense was $4.6 million and ballooned 45 times to $208 million in Q1 2011; in the same period, the number of subscribers grew in almost exactly the same proportion, from 1.8 million to 83 million.
This trend actually shows that it is increasingly expensive to acquire new customers as these marketing expenses are recurring but the number of subscribers is cumulative. If the marginal cost of attracting new customers is increasing, it would seem that Groupon can only grow if per subscriber spending increases, but the information in its prospectus shows otherwise.
In the prospectus, Groupon showcased four cities with the numbers of subscribers and revenue for each city. The trend is actually really disturbing (see chart below, click to enlarge). The revenue per subscriber is plummeting in the US and flat in Berlin and London; if that's what is happening with its showcase cities, I can't imagine how other cities are faring.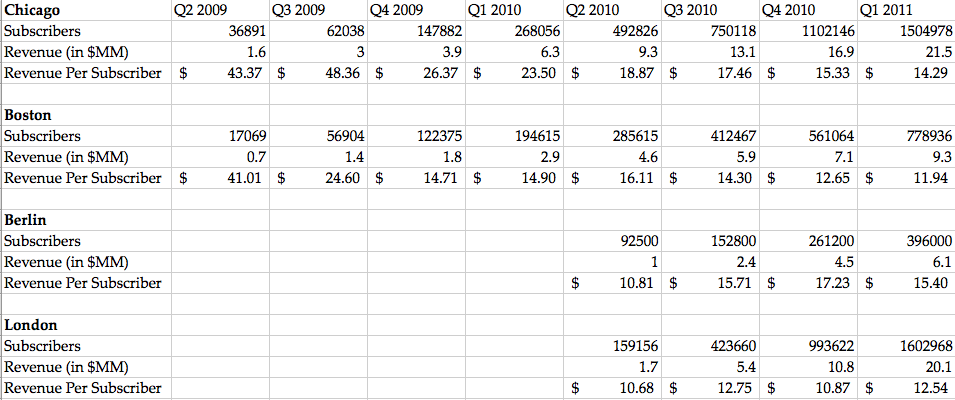 Conclusion
The current model of Groupon is not sustainable; it will soon reach a point where the cost to acquire new subscribers will be significantly higher than what the subscribers are worth. At that point, Groupon's subscriber growth rate will plummet and it will have to find another story to justify its $13 billion valuation. With only 5% of its shares available for trading, the stock price will be skewed to the upside until the unlock period comes 6 months later. I recommend shorting the stock a month before the unlock period.
Disclosure: I have no positions in any stocks mentioned, and no plans to initiate any positions within the next 72 hours.