LinkedIn's (LNKD) announced its 3rd quarter earnings on Thursday November 3, suffering its first loss as a publicly traded company. This doesn't come as a surprise, as LinkedIn's fundamentals never looked promising. The main reason that the stock is at the relatively high price it is today is the upgrades by top Wall Street analysts—the same analysts working for the Wall Street firms who underwrote the IPO back in late June —and the hype surrounding recent internet IPOs such as Groupon (GRPN) and Pandora Media (P).
click to enlarge images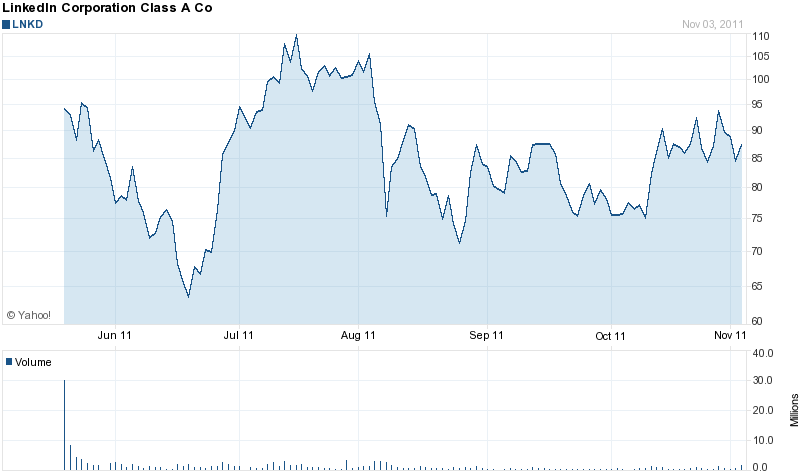 Source: Yahoo Finance
1. LinkedIn is still incredibly overpriced.
With a PE ratio north of 400, LinkedIn's stock is well overpriced; its peers command much more reasonable PEs. Google (GOOG) has a PE of 20, while other web-based companies such as Baidu Inc. (BIDU) and Netflix (NFLX) have PEs of 55 and 21, respectively. It seems as though LinkedIn's stock price is still all hot air.
2. LinkedIn may face competition from other networks.
LinkedIn is a social network that connects professionals of all sorts, enabling them to meet new peers and perhaps create new business opportunities down the road. While the company currently enjoys economies of networking at this time, it may face competition down the road. Contrary to what Brian Pitz, an analyst at UBS, wrote, there is no "significant barrier to entry for the competition." It would not be difficult for Facebook to create its own professional network, or even modify its current platform to adjust to the professional needs of its user base. With Facebook having over half a billion more users than LinkedIn, if Facebook does decide to create a professional network, LinkedIn will be in serious trouble.
Social networking is a highly fluid area of the web; new social networking sites are constantly sprouting up and gaining momentum (e.g. Twitter). Even though LinkedIn is well established, it may still be susceptible to emerging social networks. For instance, MySpace was the most popular social networking site until Facebook swiftly surpassed it. Given the fickleness of social networking, LinkedIn could be just as easily overtaken by an emerging network in the near future.
Bottom Line
The recent Q3 losses of LinkedIn don't come as a surprise; the fundamentals of LinkedIn don't look very strong. A high PE and the threat from established and potential social networks make it a high risk investment. I would look to invest in other stocks with less risk and better value.
Disclosure: I have no positions in any stocks mentioned, and no plans to initiate any positions within the next 72 hours.