By Midas Mulligan Magoo
Perhaps the only thing you monkeys have in common with your hipster occupiers is the iPhone. The phone that has fascinated a generation making Crackberry and Brickbreaker banker jokes obsolete. News to nobody is that Sprint (NYSE:S) recently bet the house, kids and car on it. The question is whether the house will soon be under water?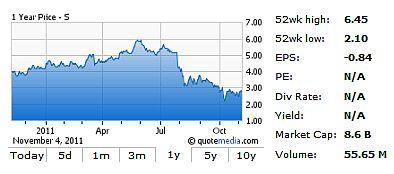 Sprint has effectively committed to a purchase of over 30 million iPhones. This investment is said to be guaranteed to lose money until 2014 and with Sprint's penchant for perpetual underachievement, it is more than a bit of a head scratcher. I wonder if you guys think the iPhone is really that all powerful?
Can the iPhone pull sprint above its eternal Bronze medal standing? Not likely, if not impossible.
Now that we have officially reached the two week anniversary of the Sprint/iPhone era, I think it is fair to ask… what were they thinking?
Licensing can make a lot of sense for businesses with deep pockets, but paying competitors for their products does not come close to fulfilling that definition. I guess you can argue that Sprint and Apple (NASDAQ:AAPL) aren't really competitors. That depends more on your personal definition of what a producer is.
Sunk costs are generally a terrible idea in businesses where technology evolves quickly. Do we really know that the iPhone is worthy of a $20 billion investment? If you are Apple, sure. If you are anyone else, please explain yourself.
The postpaid cell phone market's a fickle animal and I am just curious as to the logic behind the move. Primarily, I am wondering why going to Wendy's to buy a Big Mac is an enticing strategy for grabbing more junk food customers. If you disagree with this analogy, please tell me why.
Perhaps it is personal bias as I was with Sprint in the early days of mobile telephony. In my mind, they will always be a Wall Street company in the TBTF mode. No, Sprint has never been bailed out, but if you recall its predatory collection practices and legendary service deficiencies, you know that Sprint's reputational issues cannot be solved with an 8 GB hard drive or an 8 MP camera.
There are few public companies whose failure I root for. There are too many hard working people and too much honest work that go into them. Groupon's (NASDAQ:GRPN) very suspicious, for instance, but I still hope it does well. There is just something about Sprint that has never sat right with me. Going back more than a decade, almost every move that the company makes leaves me squinting my eyes and furrowing my brow.
Will I be right or wrong in this instance? I think betting on the iPhone, as fine a product as it may be, will lead to Sprint's downfall and some sort of implicit or explicit bailout for the firm which was once the sole provider of mobile services for the U.S. government.