By Demian Russian
RBC Capital Markets Global Media Analyst David Bank issues a new research report weighing in on Sirius XM Radio's (NASDAQ: SIRI) third quarter earnings results. Bank maintains his previous $2.00 price target and Sector Perform/Speculative Risk rating on the equity. While the analyst describes Sirius XM's third quarter results as being less than perfect, it's the stock valuation as opposed to any operational issues which he says "keeps us on the sidelines."
Sirius XM's reported Q3 net subscriber additions of 334k came in below Bank's estimate for 385k. According to Bank, the weakness in net sub adds lead to the company reporting higher EBITDA, as a result of the associated SAC (Subscriber Acquisition Costs) being lower. While net subscriber additions came in lower as a result of lower net promotional subs, Bank says:
Quite frankly, we aren't sure why net promotional sub additions came in ~65k below our expectations.
He says that part of it may have been the result of a weaker U.S. auto sales seasonally-adjusted annual rate (SAAR) during the summer months and a slowdown in the OEM production cycle in Asia, due to residual impact from the earthquake in Japan. While Bank reduced some of his full-year 2011 estimates slightly, he expects a bounce in the fourth quarter due to "solid OEM trends in 3Q11 sales and production."
Commenting on Sirius XM's Q3 new vehicle conversion rate coming in at 44.4%, a year-over-year decline from 48.1%, Bank said:
We think 3Q10 was more of an anomaly to the upside than 3Q11 was to the downside. The average conversion ratio over the prior 3 quarters was ~45%.
Bank also notes that Sirius XM management explained that the OEM mix and data flow disruption with some customers was an overhang. In spite of the macro economic environment, Bank expects conversion rates in the near term to "hold relatively steady with recent trends."
Bank believes Sirius XM's FCF (Free Cash Flow) is "on track for acceleration." Assuming a SAAR increase of ~5.5% and similar trends in corresponding metrics, Bank expects FCF to increase from ~$400 million in 2011 to ~$730million in 2012, although Bank notes, "There could be some lumpiness depending on timing of capex in late 2011." With a 2012 FCF yield of ~6.4%, Bank says Sirius XM
could be in a position to return capital to shareholders in a meaningful way by 2013.
On an EV/EBITDA valuation scale, Bank views SIRI as being "relatively expensive" when compared to other stocks in the media universe. Bank values Sirius XM on a DCF (Discounted Cash Flow) analysis, which yields a $2.00 price target on the equity.
An exclusive October 5th, 2011 Playground Radio interview with RBC Capital Markets Global Media Analyst David Bank is available for streaming or download via this link.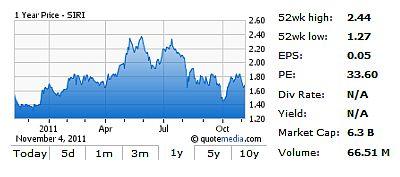 Disclosure: Long SIRI