When I signed on as a SeekingAlpha contributor two years ago, my mission was to present investors with ideas that represented relatively low risk and offered the potential for high returns. Eventually, I narrowed my focus, zeroing in on stocks that I believe are poised to triple. Both strategies have proven very successful.
Today, I'm going to take a step back and provide a beginner's level lesson on why these strategies work so well. First, let's review the performance of stocks I have presented on Seeking Alpha. Then we can discuss the best (and safest) way to profit from stocks that are poised to triple:
All data as of Nov 4, 2011

Stock

Initial Price

NASDAQ

Subsequent High *

NASDAQ High *

Peak Return

NASDAQ Peak

Delta

2.00

2415.40

3.47

2753.37

74%

14%

60%

3.26

2858.83

6.15

2858.83

89%

0%

89%

CERP

4.92

2827.56

5.30

2887.75

8%

2%

6%

5.36

2665.54

7.93

2887.75

48%

8%

28%

QPSA

6.58

2534.24

15.45

2887.75

135%

14%

121%

2.25

2534.24

7.64

2799.82

240%

10%

226%

ZHNE

2.01

2461.60

3.24

2887.75

61%

17%

44%

12.45

2318.42

22.97

2887.75

84%

25%

60%

OCNW

5.41

2183.09

9.84

2297.51

82%

5%

50%

1.56

2183.09

5.19

2887.75

233%

32%

200%

2.77

2183.09

7.15

2799.82

158%

28%

126%

6.06

2245.56

6.53

2509.39

8%

12%

-4%

10.28

2245.56

10.55

2352.77

3%

5%

-26%

18.92

2200.38

22.64

2887.75

20%

31%

-12%

12.64

2131.92

14.50

2887.75

15%

35%

-21%

6.10

2298.23

8.73

2497.12

43%

9%

17%

1.23

1532.47

6.21

2799.82

405%

83%

316%

Averages

100%

19%

81%
As you can see, most of these stocks have offered excellent opportunities for investors to profit. On average, their peak return has been 100% on the dot, versus 19% for the NASDAQ. Four of these companies have been acquired. Two others doubled in price. Managed properly, this basket of stocks should be an investor's dream. That being said, only three of these stocks have actually tripled!
This is important to note, because being "poised" simply means that it is well-positioned to do so. It is by no means a guarantee that it will. Even more importantly, stocks that are poised to triple can also carry great risk. That risk is one of several factors that go into how much to buy and when to sell. The keys to success are as follows:
Own a basket of stocks
Know each company's keys to success and failure
Know your potential losses as well as your potential reward
Track your stocks' progress toward their target prices
Protect yourself against stock market declines
Let's review these in greater depth:
1) Own a basket of stocks.
It's hard enough to identify stocks that have a shot at tripling. Figuring out which ones will actually succeed is virtually impossible. Putting all your chips on one bet is a recipe for disaster. Putting your chips on multiple bets can save you from disaster.
For example, let's say you put all your money into Atrinsic (NASDAQ:ATRN) when I first highlighted it. At first, you'd be thrilled. The stock opened at $3.60 and was over $6.00 by lunchtime. However, if you held on (as I have), you've watched your investment plummet to under $1 per share…and 75% of your money is gone.
In a different scenario, let's say that you only put some of your money into ATRN (we'll discuss what the appropriate amount would have been in section 3, below). That would leave you with plenty of money to invest in my next pick, which was Majesco Entertainment Company (NASDAQ:COOL). If you did, you've nearly doubled your money…and appear poised for further gains (as I will discuss later).
If you bought both stocks, you haven't made a big profit, but haven't been killed either. In fact, depending on where these stocks are trading right now, you're probably even. More importantly, you're in pretty good shape, because ATRN is as low as it has ever been (not a reason to buy more – see section 3 for why), while COOL looks set to go higher.
2) Know each company's keys to success and failure.
By knowing what can go right and what can go wrong, you can understand if you should hold your stock, sell it, or buy more.
Example #1: I picked Calix (NYSE:CALX) immediately after it acquired another one of my picks, OCNW. This worked like a charm. OCNW had nearly doubled and then CALX followed suit. Their keys to success were one and the same – gearing up to sell equipment to winners of the government's Broadband Stimulus programs.
Things were going great until two things impaired CALX's key to success. First, the Stimulus winners found themselves mired in red tape, which delayed their ability to purchase CALX's products. Second, the tsunami that hit Japan knocked out production to fiber-optic cable. Even the customers that wanted to buy CALX's offerings could not…there was no cable to connect the boxes! These were signs that CALX's keys to success were no longer proceeding according plan. At about the same time, a risk/reward chart was flashing the sell signal (see section 4 for more on this). If you heeded these easily seen signs, you sold with a very nice profit. If not, you may have ridden the stock, which fell from a 52-week high of 23 to a 52-week low of 6 in a few short months.
Whether you held it or sold it, you may have noticed (via a simple Google search) that fiber cable is starting to become available again. There was also a major announcement which will send $4.5B of annual funding toward the buildout of broadband service into rural areas (CALX's specialty). The stock has risen nearly 50% over the past few days on this news, so CALX appears to be back on track. Those that sold might be treated to a second ride, while those who didn't see the signs get a second lease on life.
Example #2: COOL owns the exclusive rights to produce video games under the Zumba trademark. The company's key to success, quite simply, is selling as many copies as possible. Its progress is pretty easy to track. According to gamrReview, the company's first Zumba title has now sold over 4 million copies. This is a clear sign of success. Just as importantly, the company has made a public announcement every time it has reached a new million-unit plateau. If COOL continues this practice, we can expect a new press release any day now.
Even more exciting is the fact that the Zumba craze continues to build steam. We've been tracking Zumba's Facebook followers, which now number 2.4 million. The page added about 130,000 new fans last month, which equates to a 100% annualized growth rate. Similarly, according to Google Insights, interest in Zumba Fitness has been going through the roof. These are all easy ways to track the progress of COOL (and therefore, the safety of your investment).
With all this as a backdrop, COOL is due to release a sequel to its blockbuster in less than two-weeks, just in time for the holiday buying season. It also has a number of other titles coming out, which could augment its profit picture. Indeed, COOL's keys to success appear to be proceeding nicely, so the stock still appears poised to triple.
3) Know your potential losses as well as your potential reward.
Stocks are like snowflakes-- no two are alike. Some have a stronger balance sheet than they will ever need, while some are cash-strapped and often turn to the market for funding.
The ones with big balance sheets offer safety, but also limit your potential reward. Here's a simplified example: Take a company with $10 in cash that earns $1 of EPS and gets a 10 P/E on that $1. The stock will trade for $20 (10 x $1 = $10 + $10 in cash = $20). Let's say you buy it at this level. If that same company earns $2 and its P/E goes up to 14, you will have doubled your money (14 x $2 = $28 + $12 in cash = $40). If its earnings go to zero, you'll only lose half of your investment…it still has $10 in cash.
If you replicate this exercise with a company that has no cash, the initial stock price will be $10 (10 x $1 = $10 + $0 in cash = $10). If that company earns $2 and its P/E goes up to 14, you will have TRIPLED your money (14 x $2 = $28 + $2 in cash = $30). However, if its earnings go to zero, there could be nothing to stop you from losing your entire investment. The company has no cash and no earnings. One false move and it could require funding or find itself in bankruptcy.
It's critical to understand this before you decide how much to invest. ATRN has been a perfect example of this. As I outlined in my initial write-up, its potential was (and may still be) great. I also responded to a follow-up question regarding the risk, stating that its weak balance sheet would provide a greater reward for success, but also increased the odds and penalty for failure. Investors, including myself, are feeling that pain now. The company is seeking funding, but its share price is falling fast. This is likely making it difficult to get the financing it needs without giving up a large stake in the company. Without funding, even interested acquirers might wait for the inevitable and buy the company out of bankruptcy.
That being said, if things work out, investors that take a chance at these levels will make several times their money if the stock just gets back up to $4. Of course, their risk is the same as that of the original investors…a 100% loss. Thus any investment has to be sized appropriately.
Harkening back to section 1, I personally purchased much more COOL than ATRN because of their respective risk profiles. As a result, despite the heavy percent-losses on ATRN, I'm still sitting on a very nice profit from the two investments. In fact, I decided to take a small chunk of my COOL profits and bought a little more ATRN in recent days. However, I was very careful not to buy too much. The potential reward is great, but so is the risk. The last thing I want to do is whittle my COOL profits away.
4) Track your stocks' progress toward their target prices.
This point is as important as any other. If you buy a stock at $5 and think it can triple to $15 in two years, I want to know about it! However, if the stock runs up to $12 next month and you still think it's going to $15 by the end of two years, do yourself a favor and take some profits off the table. The reason should be obvious.
The stock was recently at $5. If the market drops or investors decide to take their profits, a selling spree could send the stock right back to $5. In the meantime, if the company's progress stalls, there's no reason it can't go even lower.
This is exactly what happened to Quepasa (QPSA). When I highlighted the stock a year ago, the company was just under $7 per share (circled in the graphic below) and in the midst of an impressive ramp in registered users. I concluded that article by saying that the shares had the potential to reach $39, but could more-reasonably fetch $18 apiece. These calculations were outlined in the original report which you can see here.
Once I came to my conclusions, I built a stock chart to depict how QPSA could get to $39. I pulled several years of stock-price information and loaded it into Excel. I know there are better, more powerful, and certainly prettier programs in which to do this, but I've been doing it this way for a long time! Looking at the resultant graph (see below), I plotted the channel in which QPSA could move to $39 per share (and actually a little bit higher, as you can see). From this admittedly unpretty chart, I could determine when the stock had moved too high too fast…or fallen too far relative to its potential.
Click to enlarge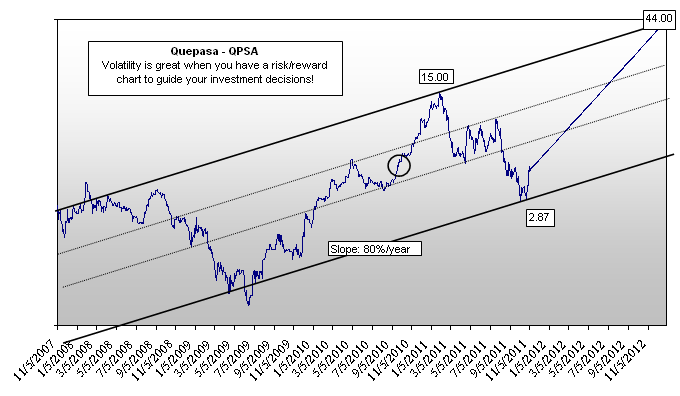 At the time, the stock was sitting exactly halfway between its upper bound and it lower bound (again, depicted by the circle), implying an even amount of risk and reward. In other words, the next day, it could conceivably rise or fall by an equal amount.
In general, I'm not a fan of 50/50 bets, but in this case I made and exception, because the trend of the chart was moving up at a rate of 80% annually. Thus, if the stock simply remained halfway between its rising top-line and rising bottom-line, I would pocket an 80% profit in one year. Sure enough, after a continued string of positive press, the shares soon topped $10, a 50% return in just a few weeks! There was just one problem – the stock was no longer halfway between the risk and reward lines. In fact, it was quickly running out of reward and building a lot of space (risk) underneath it.
A few weeks later, the stock hit $14, double my initial investment. At this point, most of my $18 price objective had been met. There was less than $4 of upside left, but the company had only made 10-weeks of real-world progress toward its longer-term objectives. The ride was exciting, but it was easy to realize that the stock could easily pull back to $7 (or lower). Staying in the stock would mean risking a fall of $11 in hopes of reaping a $4 reward.
With risks to the company, the economy, and Europe, it was a no-brainer. I sold my shares. The stock continued to rise to $15, at which point it hit the top of my risk / reward chart. It immediately started pulling back. As it fell, an increasing number of questions arose about the quality of its customer base, hastening the fall. Soon it was $5 and under the 50/50 point of my chart, signaling that it might be a good time to nibble.
Sure enough, a new string of positive reports breathed new life in the shares, culminating in a 100% ride to $10 before the stock market crash in August. That decline pulled QPSA all the way down to $3, where it intersected with the bottom of my chart. This suggested that there was no more risk in owning the stock (assuming nothing material changed about the underlying business).
The stock has since risen by 50%.
It should now be quite apparent how powerful it can be to utilize each key to success in combination. Here's the final one…
5) Protect yourself against stock market declines.
Many (if not most) of my picks can be classified as small-cap value stocks. One of the best-kept secrets on Wall Street is the fact that this has been the best performing class of stock for several decades:
| | | | | |
| --- | --- | --- | --- | --- |
| Period | Small Cap Value | Small Cap Growth | Large Cap Value | Large Cap Growth |
| 1958-1967 | 23.1% | 18.9% | 18.3% | 12.4% |
| 1968 - 1977 | 10.3% | -0.3% | 10.2% | 1.8% |
| 1978 - 1987 | 22.9% | 13.0% | 17.4% | 13.4% |
| 1988 - 1997 | 20.5% | 11.1% | 17.8% | 18.3% |
| 1998-2007 | 13.2% | 4.3% | 9.0% | 5.9% |
| 1958-2007 | 17.9% | 9.2% | 14.5% | 10.2% |
The best performing class for each period is in bold.
This presents a double advantage for investors. The first one is obvious. If small cap value performs best, this is the place to be. Secondly, this is the class of stock about which Wall Street cares the least. These companies are too small and "unexciting". As a result, you don't have to compete against 500 MBAs to figure out whether the company is undervalued or overvalued. More reward plus less competition equals easy money!
That's great, but there's a downside to this. Being unloved, these companies tend to be relatively illiquid. Being "unexciting", they also tend to be the first stocks investors sell when the stock market falls. As a result, they can get clobbered in tough markets, as we've seen this year.
Because of this, I always protect my positions with hedges. An obvious choice is an ETF with a near-unforgettable ticker symbol -- HDGE. This ETF is run by AdvisorShares, which picks companies they believe will fall in value and shorts (bets against) them. As a result, when the market goes down, HDGE goes up! This helps to make up for declines in your basket of Stocks to Triple. If HDGE does a good enough job, it could even increase in value when the stock market is rising. This happened in mid-September when HDGE had a short position on Research In Motion (RIMM), which tumbled on terrible earnings news.
Conclusions: Just because you find a company with great potential, it doesn't mean that potential will be fulfilled. Even if the company executes flawlessly, there's no guarantee that economic factors, government regulation, or even the weather (witness Thailand) won't rain on your parade. By using the full complement of keys to success outlined in this article, you can greatly increase your returns while simultaneously decreasing your risk by a similarly large degree. The result is a safe portfolio that actually does beat the market year after year.
I'm living proof – these principles have enabled me to average over 40% per year since 1996, beating the market in all but 2 years. It just comes down to asset-class (small cap value), risk-mitigation (risk / reward analysis), and keeping up with your investments' progress towards your view of their potential.