It's interesting to note that private employment is doing rather well over the last couple years. Private employers have added nearly 2M jobs since the bottom in 2010, and the growth of private employment is near the boom years of 05/06. Yes, the Great Recession did hemorrhage jobs, around 8M, but surprisingly the growth rate recovered faster than it did after the 2001 dot-com recession. I think this is a bullish indicator for the U.S., and we could see a decline in the unemployment rate as local and state governments stop laying off workers because their budgets become balanced. This could really help consumer confidence, and therefore spending. Further austerity on the federal level could be devastating, however, as local and state layoffs accounted for nearly all government layoffs so far.
Click to enlarge charts
It's really interesting because these charts go against claims that government is stifling jobs, when it's really the government itself laying off people and hurting the employment rate. Here are the charts that show total government employees, with the same time frame as the upper graphs. The spike in government jobs in early 2010 was the result of the census hires. About 500k job layoffs would make a big difference in the employment rate, and you can see it has been rather accelerated recently which is the reason for the employment rate stuck in the 9% range. Also, there has never been a point in our modern history where the government has laid off people as quickly as the last two years. I'm not counting the immediate post war period, as the reasons are pretty obvious.
Here's a chart that could explain some of the Occupy movements, and is very troubling to the long term view of our people's economy. The left graph is the civilian participation ratio, which is defined as "Included are persons 16 years of age and older residing in the 50 States and the District of Columbia who are not inmates of institutions (for example, penal and mental facilities, homes for the aged), and who are not on active duty in the Armed Forces." Surprisingly, there is no upper limit on this ratio, so people aged 80 and even older are included. Far in the future, I expect this to fall and normalize lower as the baby boomers retire and stop working. According to the Census Bureau, the total population age 16 and older is 217,149,127. We'll subtract about 3M for institutional people and 1.5M for armed forces, which brings us to 212M Americans that qualify. So when you have a drop of 2%, that's 4.3M people who have stopped looking for jobs in two years. That is a lot of disaffected people who can't be happy with their situation, and have much incentive to join a protest movement, whether it be Occupy or the Tea Party.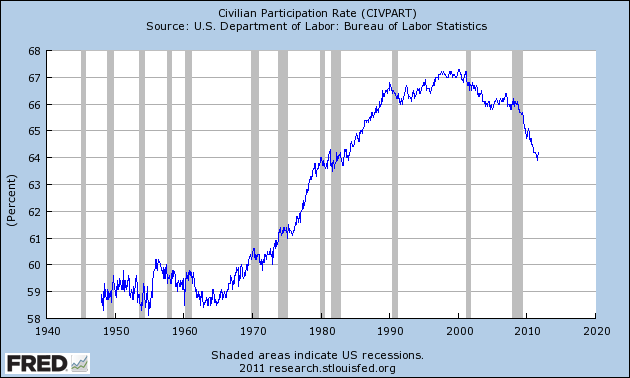 Here's a chart that people should be paying attention to, which is the employment rate for people 65 and older. I'd imagine this will be trending up as people's retirements get killed (low interest rates, and returns over past decade) and people are healthier and live longer. Also their kids will need to be bailed out of student debt, which will reach $1T this year, so expect their parents to help them on that aspect.