Clearwire (CLWR) rose 8% Friday on news that Sprint (NYSE:S) may use part of its recently announced private placement to fund Clearwire. Sprint is the largest Clearwire shareholder, owning about 50% of the company. Sprint has been trying to raise funds over the last several months to fund Clearwire's expansion plans. It is estimated that Clearwire would need to raise $1 billion to continue its expansion. On October 7, Sprint executives caused a 30% drop in Clearwire shares when they announced that Sprint would stop selling phones that run on Clearwire's network.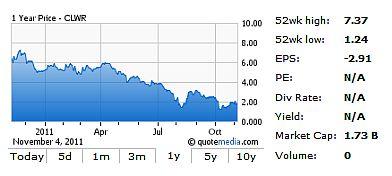 Sprint has been avoiding questions regarding the company's plans for Clearwire until recently. I believe Sprint realizes that it has its back against the wall and is looking to try to minimize its losses on Clearwire. It appears Sprint has failed to generate any considerable demand for Clearwire and has now been forced to invest in the company once again. Sprint is trying to keep Clearwire alive in an effort to save its investment but I believe that the majority of Clearwire's assets are now worthless. The only asset of any value at this point would be the company's spectrum.
Clearwire invested heavily in WIMAX technology, this technology failed to keep up with competing 4G technologies. The wireless market has now shifted its focus to LTE and HSPA+, these technologies have faster speeds as well as a roadmap for increasing speeds in the future. Sprint is intent on building a 4G LTE network but it remains unclear if it would build the network through Clearwire.
Clearwire's financial situation is very gloomy. The company has been cutting costs in an effort to sustain itself. Cost of goods and network costs declined 35% quarter-over-quarter to $282 million. Excluding noncash expenses of $252 million and $104 million in second and third quarter 2011, respectively, COGS (cost of goods sold) decreased 1.3% quarter-over-quarter due to a full quarter's benefit about sourcing efficiencies. The company also saw SG&A decrease 1% quarter-over-quarter to $176 million. The decrease was primarily due to lower employee-related costs on reduced headcount in the third quarter as well as a full quarter benefit from Clearwire's outsourcing arrangement, which was implemented during the previous quarter.
Third quarter EBITDA losses improved by 57% from a loss of $109 million in the previous quarter to a loss of $46 million. The bottom line is Clearwire is still losing money and I estimate it has about 12 months in operating expenses until it runs out of money.
Clearwire must build this network with Sprint in order to survive, with its existing network becoming obsolete it would need to upgrade. I'm bearish on Clearwire if the company fails to secure a deal with Sprint. I would look to short rallies if negotiation talks breakdown with an expectation of a bankruptcy filing.
Disclosure: I have no positions in any stocks mentioned, but may initiate a short position in CLWR over the next 72 hours.