Seeking a break from the on-again-off-gain European debt conundrum? Look to escape to an asset whose value cares little about what Merkel or Sarkozy have to say this week. In case you are new to this column, I am talking about the coffee market. Coffee prices tend to take their cues not from headline political news but from old fashioned supply and demand.
And a big part of that supply equation comes from Brazil. Brazil produces about 40% of the world's coffee in any given year, nearly 3 times the annual production of the next largest producer, Vietnam.
However, as Brazil produces the higher quality arabica variety beans used to satisfy the futures contract at the ICE, the size of its crop can have an even larger impact on the longer term price direction of NY coffee futures.
If you have ever considered investing in commodities, the coffee market is a good place to start. Crop conditions and thus sizes of upcoming harvests can often be projected months in advance, allowing astute investors to better gauge future inventories and thus, price ranges. An option selling strategy, which we strongly recommend, and longer term price trends take on even more significance.
The Supply Surge of 2012
While Brazilian production is certainly not the only fundamental that affects coffee prices, it is one of, if not the, major one.
Brazil's coffee trees experience an "on/off" yield cycle every other year. In other words, a bigger harvest is followed by a smaller harvest the next year, and vice versa. The chart below illustrates this tendency through this year (2011).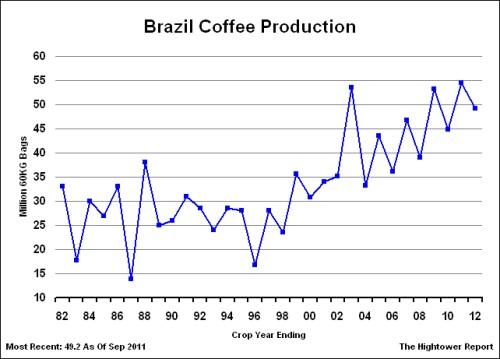 Brazil's every other year "on/off" cycle in coffee production is illustrated here. The overall trend remains up with record production expected for next year.
2011 was an "off" year for Brazilian coffee production with an estimated 49 million (60kg) bags of coffee coming out of Brazilian fields. This was the highest "off" year production ever. But as we invest in the futures market, prices are always looking ahead. That means that the coffee market is already beginning to price in the 2012 supply. And it could be a monster.
Brazilian coffee trees usually begin their new growing season shortly after the previous harvest ends. Trees blossom at the start of the "rainy season" - typically in September.
This can be a critical time of development for the crop because the trees blossom is what ultimately produces a coffee bean underneath. This year's blossom not only appears to have been healthy, but widely uniform.
What does this mean?
This means not only more beans, but more higher quality "usable" beans in 2012.
Most of Brazil's coffee is harvested by machines that shake all of the beans from the tree at the same time. If beans develop sporadically in October, it can mean they mature at different times. This can result in machines harvesting premature beans that ultimately must be subtracted from final yields - or at least sold at lower prices. The somewhat uniform blossom indicates that will likely not be the case this year.
Conclusion and Strategy
While there are other factors that can obviously come into play for coffee prices, Brazilian production has a huge influence on longer term coffee prices. Projections are now for a record Brazilian crop in 2012, likely somewhere between 55-60 million bags.
Prices will fluctuate of course. But the market will now have to live with this new projected supply as its backdrop for the next 6-9 months. This should help to pressure upside rallies and extend downside probes in the coming months.
That might not help a futures trader much. But for an option seller, it's nearly a perfect recipe. As a seller of options, you do not need to predict outright direction. You only have to get a general idea of what prices will not do.
In this case, you would look to sell calls on any technical coffee rallies of 5-10 cents per pound. Coffee is one market that offers deep out of the money strikes for call sellers, often 50-100% out of the money. We advise you gladly take these premiums from willing buyers. It is highly unlikely coffee will rally anywhere near these levels with a record 2012 crop seeming more likely every day.
We will be working closely with clients in selling calls in the coffee market during the coming weeks.
Disclosure: I have no positions in any stocks mentioned, and no plans to initiate any positions within the next 72 hours.