Long-term Intel (INTC) holders must be a grumpy lot. Share prices have plummeted from their $69 peak in 2000 to a disappointing current $24. It's been a lost decade.
Intel 10-year chart: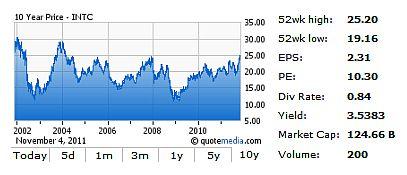 From 2000 to 2009, the company didn't deliver: Ten-year-average revenue growth was a dismal 1.8%, hardly worth the effort. So why have I voluntarily joined up and become a shareholder? Two reasons: Revenues are strengthening and the company is putting through consistent and sizable dividend increases.
After years of lackluster performance, Intel just handed investors 21% revenue growth. That's after 2010's 24% revenue and 161% earnings growth. Intel has delivered six quarters of increasing revenue. Each quarter, Intel has been selling more chips. PC revenue growth keeps rising, flying in the face of conventional wisdom that the PC business is struggling.
"Intel delivered record-setting results again in Q3, surpassing $14 billion in revenue for the first time, driven largely by double-digit unit growth in notebook PCs," said Paul Otellini, Intel president and CEO. "We also saw continued strength in the data center fueled by the ongoing growth of mobile and cloud computing."
Intel surprised analysts with the strength of its mainstay PC business, which grew 22% yoy and 13% sequentially. After all, they'd been hearing about a PC slow down. One analyst, Goldman's James Covello, asked during the conference call:
You guys have given us a great articulation of why your business is growing so much faster than the third-party data suggest, and I think a lot of that is the emerging markets that you guys have been very helpful in allowing us to understand. What I don't understand as easily is your business versus the other component companies that theoretically should sell into those same emerging markets: DRAM, panels, power management, hard disk drives. I mean, all of those things also would sell under those same emerging markets. So can you give us a little bit of perspective on why your business is so much better than theirs?
Intel's strong PC business isn't new. It's been strong for the last 10 quarters.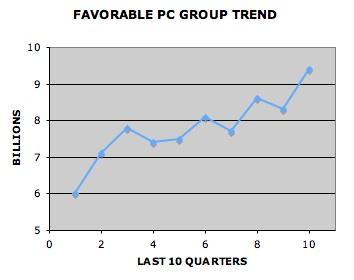 Not only was the quarter strong, but business didn't let up in September. Per Intel's CEO,
And as we went through Q3, we saw September to being very strong. So we didn't see a tail off at all in the third quarter.
Investors have shrugged off quarter after quarter of fine Intel numbers and handed the stock a dismal valuation of 10. They're just used to the old doddering Intel. One more good quarter should get them believing again.
The dividend is key
Intel has consistently raised its dividend, now at a 3.5% yield. Very few companies can match Intel's commitment to its dividend, raising it 875% in 8 years. The dividend is safe with a 2.80 coverage.
Click to enlarge: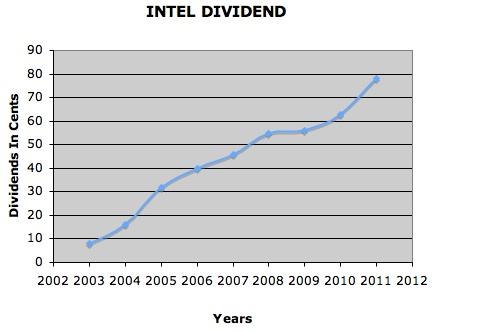 Intel is growing revenue and boosting its dividend. This Intel is starting to look more like the Intel of the 1990s than the Intel of the 2000s.
Disclaimer: The opinions in this document are for informational and educational purposes only and should not be construed as a recommendation to buy or sell the stocks mentioned. Past performance of the companies discussed may not continue and the companies may not achieve the earnings growth as predicted. The information in this document is believed to be accurate, but under no circumstances should a person act upon the information contained within. We do not recommend that anyone act upon any investment information without first consulting an investment advisor as to the suitability of such investments for his specific situation.
Disclosure: I am long INTC.