Energy Transfer Partners L.P. (NYSE:ETP) is the third largest master limited partnership (MLP) in the U.S. The dividend yield is relatively high due to the lack of dividend increases. The equity yields close to 8.0%, which is high for the MLP pipeline sector. This midstream selection has catalysts which could benefit future dividend hikes. The company has stated it will announce dividend hikes once the catalysts are implemented in 2012. I recommend avoiding these shares until the company proves higher distributions are achievable.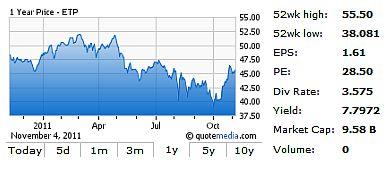 The three principle reasons to avoid Energy Transfer Partners:
The dividend has failed to grow. ETP insiders control the general partner, Energy Transfer Equity (NYSE:ETE). Energy Transfer Equity controls 26% of Energy Transfer Partners L.P. shares.

The cost of equity capital is one of the highest in the MLP space. Although Energy Transfer Equity has stated it will make General Partner concessions, time will tell if this will in fact drop down to Energy Transfer Partners. Per ETE's SEC 10K, Energy Transfer Equity's only income is: "The Parent Company's only cash generating assets are its direct and indirect investments in limited partner and general partner interests in ETP and Regency, both of which are publicly traded master limited partnerships engaged in diversified energy-related services."

The corporate restructurings, including deals with AmeriGas Partners and Southern Union, need time to digest and prove they will result in higher Energy Transfer Partners dividends.
Cost of Equity Capital
High General Partner (GP) Incentive Distribution Rights (IDRs) results in lower cost of equity capital for Energy Transfer Partners. Barclays highlights this fact in this chart, page 8: (Click to enlarge)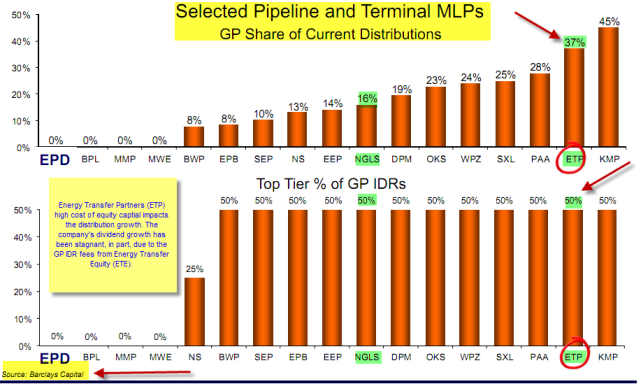 Click to enlarge
Stock Performance versus the SP 500
The company's 5 year total annualized rate of return was 2.7%. This beat the Standard & Poor's -1.7% performance over the same time frame. As the below table shows, the dividend growth has been stagnant since 2008. (Click to enlarge)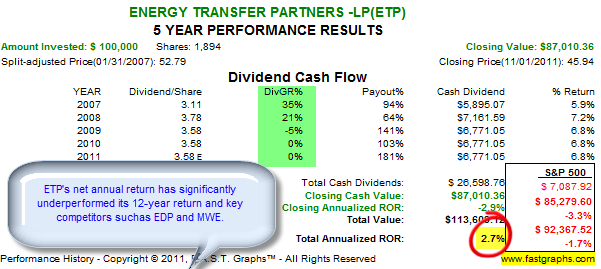 Click to enlarge
Energy Transfer Partners has shown a significant outperformance looking back 12 years. The company earned an average total annualized rate of return of 18.5%. The Standard & Poor's 5 year record during the same time frame was -.4%. The above table assumes dividends are not reinvested into additional shares.
Corporate Structure
A recent October 2011 presentation highlights the fairly complicated inter-relationships between different parties associated with Energy Transfer Partners.
The Tiger and Fayetteville pipelines will likely provide additional revenues and fees to Entergy Transfer Partners. I prefer to see if this actually materializes and drops down to the bottom line. Two external deals include the following transactions.
AmeriGas Partners
On October 17th, Energy Transfer Partners announced plans to contribute its propane operations, consisting of Heritage Operating, L.P. and Titan Energy Partners, L.P., to AmeriGas Partners, L.P. (NYSE:APU) in exchange for approximately $2.9 billion. Energy Transfer Partners will receive $1.5 billion in cash and about $1.3 billion in AmeriGas Partners shares. Energy Transfer Partners will own 34% of AmeriGas Partners shares.
Southern Union
The company has announced plans to buy Southern Union Co. (NYSE:SUG). Energy Transfer Partners' General Partner, Energy Transfer Equity, L.P., has agreed to waive some incentive distribution rights (IDR) with the deal. ETE and EPT would split ownership of a Florida pipeline which would be accretive to the transactions. Energy Transfer Partners would have to issue about 20 million shares for the acquisition. This structure is highlighted on page 9: (Click to enlarge)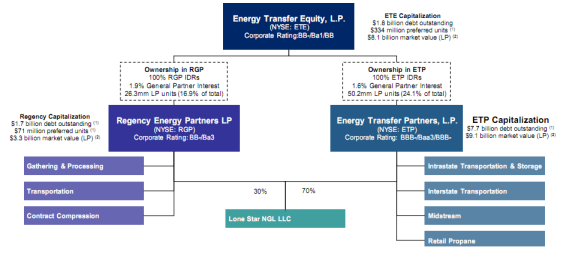 Click to enlarge
Regency Energy Partners LP (NYSE:RGP) is a growth-oriented, midstream energy partnership engaged in the gathering and processing, contract compression, contract treating and transportation of natural gas and natural gas liquids. The company's general partner is owned by Energy Transfer Equity, L.P.
Energy Transfer Equity is a publicly traded partnership, which owns the General Partner (GP) and 100% of the Incentive Distribution Rights (IDRs) of Energy Transfer Partners. In addition, Energy Transfer Equity owns about 50.2 million Energy Transfer Partners. Energy Transfer Equity also owns 100%, as the GP of the IDRs of Regency Energy Partners (RGP) and about 26.3 million shares.
Business Summary
Established in Texas, in 1995, Energy Transfer Partners has evolved from a small intrastate natural gas pipeline company to one of the nation's most rapidly developing natural gas transportation companies. Now it is operating widespread business operations which are highly regarded by the investment community and the energy industry as a whole.
Energy Transfer Partners accredits its professional team of over 5000 employees nationwide, which incorporate the company's fundamental beliefs into their jobs. These include working with integrity, honesty and with commitment to benefit those whom the company does business with.
Energy Transfer Partners possesses and runs a diverse repertoire of energy assets. Its services provide the gathering, treating, processing, marketing and transporting natural gas across the country. They are also amongst the leading propane distributors in the United States.
Energy Transfer Partners specifically, is a publicly-traded partnership which owns and operates energy based assets. They have pipelines operating in Arizona, Arkansas, Colorado, Utah, Mississippi, Louisiana, West Virginia and New Mexico as well as owning the largest intrastate pipeline system in Texas.
They have natural gas operations that comprise of over 17,500 miles of pipelines for the purpose of gathering, transporting, treating and processing assets. They have three storage facilities in Texas along with holding a 70% interest in Lone Star NGL LLC. This is a joint venture which is owned and operated as natural gas liquids storage, fractionation and transportation assets in Texas, Mississippi and Louisiana.
They are amongst the top three propane retailers and marketers in the country, dealing with more than one million customers nationwide.
Business Model
Energy Transfer Partners' natural gas operation comprise of more than 17,500 miles of pipeline and concerning facilities in Texas, Mississippi , Utah, Colorado, West Virginia and Arkansas. Texas has intrastate transportation and storage operations which include three storage facilities and 7,700 miles long natural gas pipelines.
The company has two interstate pipelines known as the TransWestern and Tiger Pipelines, which approximate a total of 2,875 miles of pipeline together with a 50% interest held in the 185 mile long Fayetteville Express Pipeline, which runs as a joint venture.
The company has natural gas pipelines which are approximately 7000 miles long, for the purpose of gathering natural gas, along with 17 natural gas treating facilities with 10 natural gas conditioning plants. They also have three natural gas processing plants which together are known as the Midstream Operations.
Energy Transfer Partners' NGL transportation and Services branch consists of the assets which are gathered from its joint venture with Lone Star, which are also known as Regency Energy Partners LP. These provide customers with natural gas fractionation, liquid storage and transportation services in Louisiana, Mississippi and Texas. Lone Star JV assets consist of a 1,066 mile long NGL pipelines in Texas which have a storage capacity of 43 billion barrels on a daily basis. This storage space in located at Mont Belvieu, Texas.
Competition
The below table compares Energy Transfer Partners total return, dividend yield, and historical data against key competitors. (Click to enlarge)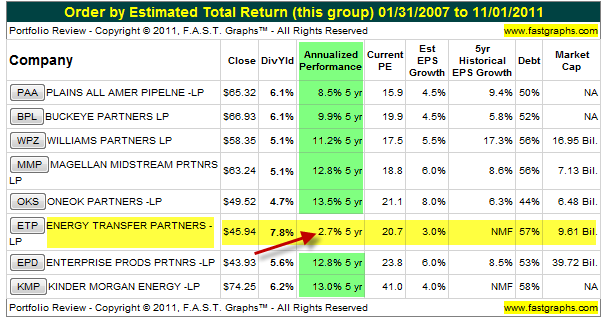 Click to enlarge
Summary of recent earnings and dividends:
The company's 2011 dividend was $3.58. The 2012 dividend is projected at $3.70. I simply prefer higher growth MLP's, without the cost burden incurred due to a General Partner. I would advise shareholders to invest in Plains All American Pipeline (NYSE:PAA), ONEOK Partners (NYSE:OKS), or Enterprise Product Partners (NYSE:EPD). These companies are all growing far quicker than Entergy Transfer Partners and are likely to provide higher total returns, including dividend distributions.
On November 2nd, after the close, the company announced its September 30 third quarter earnings and revenues. I believe it is time to sell these shares and invest in a proven MLP with higher increasing dividends and higher total annualized rate of returns. Investors deserve to see actual dividend growth prior to investing additional funds into Energy Transfer Partners.