Earnings season is in full swing, and traders-- as well as investors-- have already seen an avalanche of earnings reports. Do not worry though, there are still many more to come. There are seven technology companies reporting earnings this week that traders will focus on. Traders will be focusing on these earnings for multiple reasons. First, some companies are market leaders, therefore any major beat or miss will cause the broader equities market to shift. I will discuss the other reasons as to why traders will be watching these companies in later analysis.
Vodafone (NASDAQ:VOD)
Vodafone is slated to report fiscal second quarter earnings before the open of the U.S. markets on Tuesday, November 8. Vodafone is one of the worldwide leaders in the Wireless Communications industry. It has a large customer base in Europe, India, and other growing nations. It is important to remember Verizon (NYSE:VZ) holds a 55% majority in the partnership between the two companies. This means traders of Verizon, AT&T (NYSE:T), MetroPCS (PCS), and Sprint (NYSE:S) will be watching this earnings call closely.
With the release of the iPhone 4s during the company's fiscal third quarter, investors should not expect to hear an onslaught of new contracts from the second quarter. Unsurprisingly, I am expecting Vodafone to forecast above consensus revenue and new contracts for the company's fiscal third quarter for two reasons: 1) the iPhone 4s, and 2) developing nations will continue to add to Vodafone's success.
Analysts are expecting Vodafone to report revenue around $37.5 billion. It is important to note Vodafone may report higher revenue than expected because growth in the high developing countries is strong. This may indicate traders will send the share price higher, but analysts and traders will also focus on operating costs, operating income, and operating margins. Among other things, these three categories may be weak. If this is in fact the case, traders and investors will have a decision to make regarding the future of Vodafone.
Key to remember: Vodafone's results have the potential to shift the broader market because of the correlation with Verizon and AT&T. Expect strong revenue, but pay close attention to EPS, operating margins, and the second half of fiscal 2012 forecast.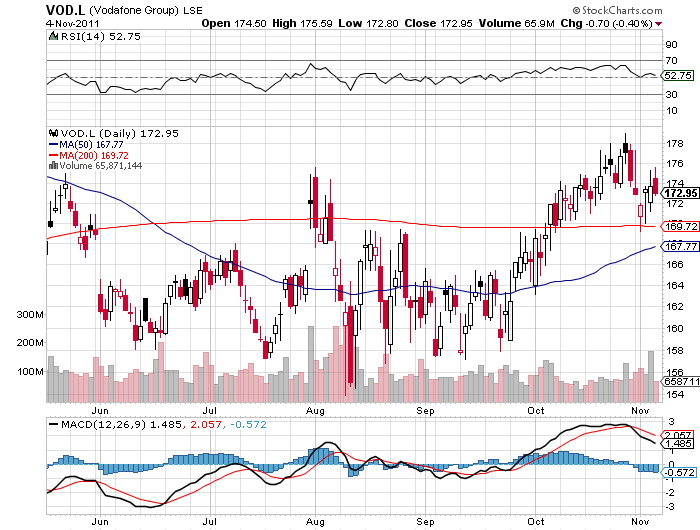 Click to enlarge
STEC (NASDAQ:STEC)
STEC is scheduled to report third quarter earnings after the market closes on Tuesday. STEC is one of the smaller data storage companies in the industry. The company focuses on solid state drivers (SSD), therefore the earnings results will not affect a company such as EMC in the same manner as Seagate (NASDAQ:STX) and Western Digital (NYSE:WDC). Viewing STEC's YTD chart it is easy to understand why traders will be following this stock pre earnings. STEC missed expectations across the board during the company's second quarter earnings results and traders will be expecting another miss.
Traders are looking for STEC to report revenue of $70.7 million and EPS of $0.10. I am not expecting STEC to eclipse these numbers because the company has seen dwindling demand for SSD. Not to mention, Seagate and-- to a lesser extent-- Western Digital are bringing in a higher market share in the SSD industry. With that said, STEC's earnings will be important for Seagate traders because STEC will give insight into the current industry conditions. Bullish traders should note that the share price has plenty of upside with an earnings and guidance surprise after the late July plunge.
Key to remember: STEC's business has been declining for a couple years now. STEC is heading in the direction of Oclaro (NASDAQ:OCLR) over the next year or two if management is unable to turn things around. Do not expect a buyout because STEC has yet to bottom.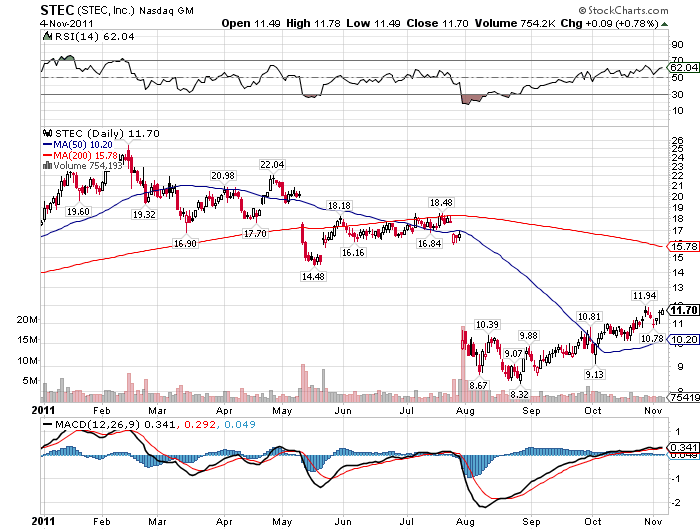 Click to enlarge
OPNET Technologies (NASDAQ:OPNT)
OPNET is scheduled to report fiscal second quarter results before the market opens on Wednesday, November 9. To begin, OPNET's share price has performed extraordinarily well since the inception of the public equity. OPNET's share price has been clicking off all time highs over the past two weeks. This bullish momentum will likely continue going into Wednesday. After the earnings report we will likely see the share price move above 50.
OPNET is a rising star in the application software industry. Because of this, traders will be looking to send OPNET's share price higher, which could negatively effect Adobe (NASDAQ:ADBE) and Red Hat (NYSE:RHT). With that said, if OPNET gives an upward industry forecast, we will see other application software stocks move higher as well.
Analysts are expecting OPNET to report revenue at $43.23 million and EPS of $0.24. This would be a 20% year over year increase in revenue. This explains the share price growth over this period. Share price growth will continue to increase as investors begin to pick the stock up as the company continues to improve operations quarter over quarter.
I am expecting OPNET to beat these estimates and traders are likely to set up long positions to take advantage of this prior to Wednesday. On the other hand, OPNET presents a golden opportunity for bearish traders. Due to the bullish momentum over the past few weeks, the share price is vulnerable on any weakness.
It's important to remember that OPNET is a strong company. Expectations for an earnings beat are high, but any sign of weakness will cause a major sell off.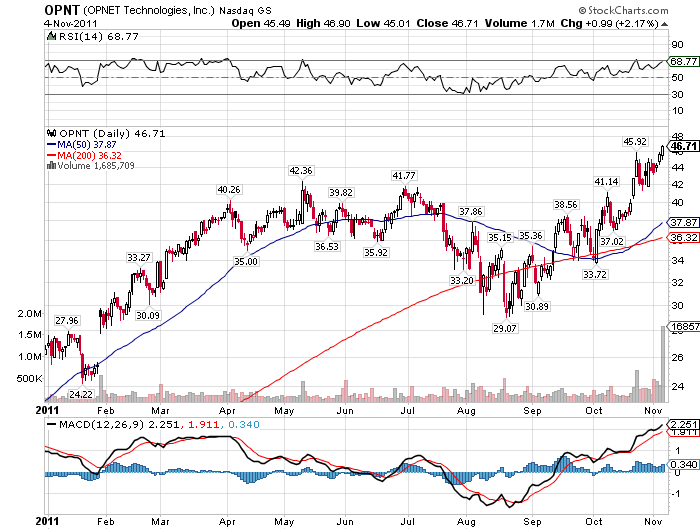 Click to enlarge
Cisco (NASDAQ:CSCO)
Cisco will be reporting fiscal first quarter results after the market closes on Wednesday. Cisco has had a rough 2010 and 2011, beginning with a big earnings miss in August 2010. This was followed by a big miss in November 2010 and another in February 2011. The exact results are not needed in this case because it is in the past and the share price clearly reflects this weakness.
Why did Cisco miss these estimates during these two periods? Because the equity was overvalued. Therefore it should not be a surprise that Cisco blew by expectations during the August 2011 earnings report. What does this mean for Cisco's results on Wednesday? It is difficult to make a judgment because the share price is right in the middle of a range I expect to see the share price to fluctuate between $15-$25. The question traders have to ask is if there is more upside to the share price?
Analysts are expecting Cisco to report revenue at about $11 billion and EPS of $0.39. As alluded to above, traders will be watching Cisco's earnings because the share price currently carries an intrinsically high volatility level. Based upon the earnings and forecast, the share price will surge or plunge. It is unlikely traders will let the share price go without a big move unless Cisco presents in line results with an in line forecast.
Key to remember: Cisco is a strong company with an impact on the overall Technology sector. The question I cannot answer is the numbers Cisco will report. With that said, after Cisco's fourth quarter guidance, the company should beat expectations this time around.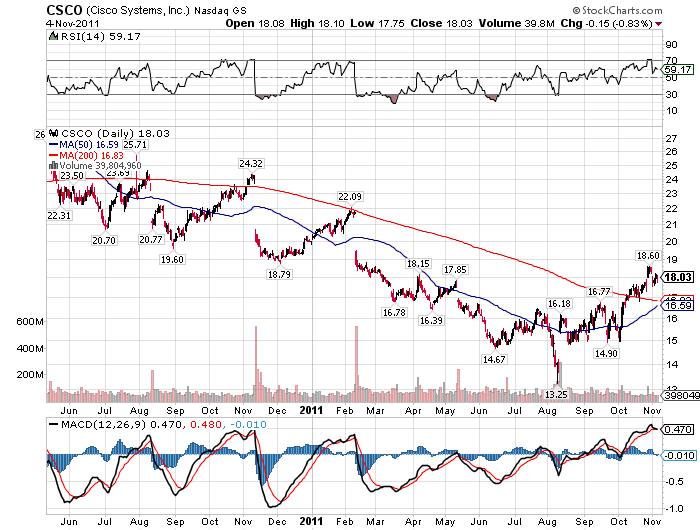 Click to enlarge
Dot Hill Systems (NASDAQ:HILL)
Dot Hill is slated to report third quarter earnings on Thursday after the market closes. Dot Hill reported preliminary results on November 10. These results were mixed. Dot Hill reported net revenue below the company's forecast and EPS at the lower end. On the other hand, Dot Hill reported gross margins above the company's forecast, as well as operating expenses and cash equivalents in the middle of the forecasted range. What does this mean?
These results simply give traders a heads up as to how the share price will perform on Thursday. Nevertheless, the street's consensus is for revenue of $52.75 million and EPS of a loss of $0.03. Dot Hill is also part of the Data Storage Devices industry, which is struggling. Dot Hill has been unable to sustain revenue levels over the past five quarters. The good news is that Dot Hill has continued to lower operating expenses at a similar rate. Bullish traders will be looking to send the stock back to the 1.80 resistance point, but I do not expect this to happen.
Key to remember: Dot Hill is another data storage company that will further give insight to the data storage market. Other companies such as Hewlett-Packard (NYSE:HPQ) and Dell (NASDAQ:DELL) will be affected by Dot Hill's forecast. Bearish traders will be watching Dot Hill more closely than bulls this time around.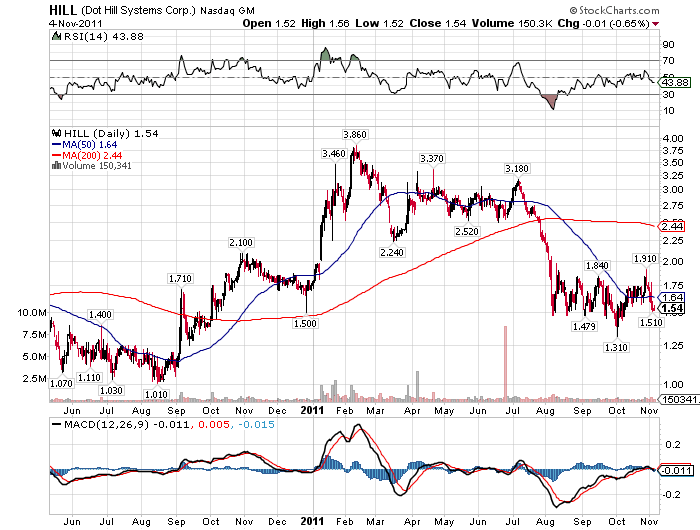 Click to enlarge
Nvidia (NASDAQ:NVDA)
Nvidia is also reporting third quarter earnings on Thursday after the trading session closes. Nvidia is typically one of the more volatile equities in the equities market. Nvidia is also a heavy volume company that has a tendency to pop big on earnings beats and plunge on any minor sign of weakness, especially when other companies in the same industry report a gloomy outlook. Because of this, traders watching companies such as AMD and Intel (NASDAQ:INTC) will be focusing on Nvidia's forecast and explanation of the current semiconductor market.
Another company that will be affected by the earnings report is JDS Uniphase (JDSU). JDSU's share price typically moves similarly to Nvidia's during the earnings season; and vice versa.
Analysts are expecting Nvidia to report revenue of $1.06 billion and EPS of $0.26. If Nvidia reports under what the street is expecting the company will end an at least five quarter streak of sequential revenue beats. Just as with OPNET, this indicates Nvidia is doing well. More importantly, traders will be watching Nvidia's earnings report for information regarding how Nvidia is planning to combat Sandy Bridge. If Nvidia can reiterate a strong outlook regarding its graphics business, we will see the share price surge.
Key to remember: Nvidia is a wild card. Traders and investors tend to unleash a hoard of buying or selling based upon the forecast and previous quarter earnings. Nvidia should report strong numbers, but not strong enough to send the share price back to May 2011 levels.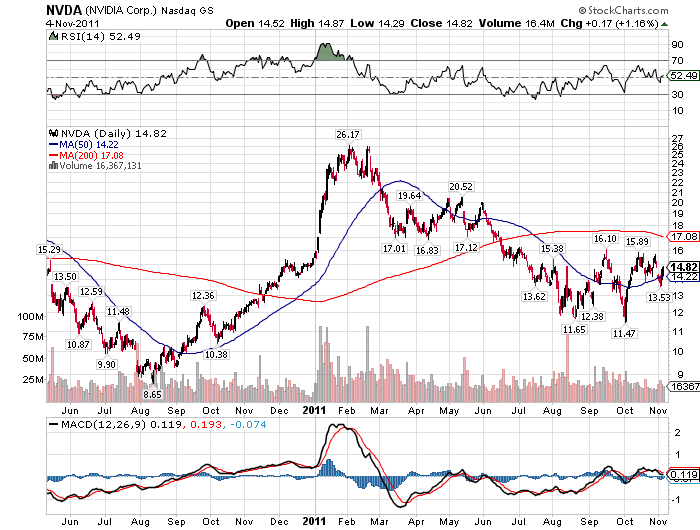 Click to enlarge
Technology companies have a tendency to shift the broader equities market. Therefore, any week that includes several big name technology companies reporting earnings will be important. Even though traders are continuing to focus on Europe, the earnings results this week will at least bring their attention back to the U.S. for a few days. It is important to note the majority of companies have surpassed analysts expectations this quarter. Will this trend continue?
Disclosure: I am long EMC.