Four million Americans have hepatitis C. 3 million don't know they have it. Don't let Hepatitis C stay hidden.

- New York City subway ad
There are ads all over New York City exposing the hidden hepatitis C disease to the public. While a year ago most people had not even heard about hepatitis C, now it is warned about in all the major cities. Here are a series of photos of ads about this horrible disease.
People can have it for several years without knowing it because no symptoms show up in the beginning stages. However, advanced stages of the virus can cause a condition called cirrhosis, which is the permanent scarring of the liver. At that point, all kinds of symptoms turn up from the liver damage like nausea and extreme abdominal pain. As it gets worse, it can prove fatal or patients must get liver transplants.
Current Hepatitis C Treatments
About two dozen pharmaceutical companies are now pursuing drugs for hepatitis C, which an executive at Vertex Pharmaceuticals (NASDAQ:VRTX) recently called "one of the largest pharmaceutical opportunities this decade."
Research for a hepatitis C treatment hasn't been very extensive because it had not gotten mainstream yet, so it wasn't worth it for pharma companies to devote a lot of research to it. Now that the disease is at the forefront of the public's mind and more people have it, pharmas are devoting time to developing new drugs for it to make treatment less grueling on the patients. The pharmas that are in first will reap huge rewards. The virus infects roughly four million Americans, most of them baby boomers, and 170 million people worldwide.
Currently, the best treatment for hepatitis C is Pegylated Interferon + Ribavirin. This cures about 75% of patients with hepatitis C. The problem is with Pegylated Interferon. It is given by injection and there are many side effects like dry eyes, depression, nausea and thinning hair. Ribavirin is taken orally.
A New Hepatitis C Treatment?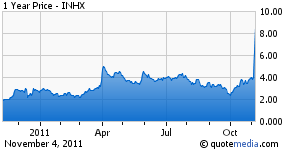 Inhibitex (NASDAQ:INHX) has now created a drug, INX-189, that so far looks like it can take the place of interferon. Inhibitex CEO Russell H. Plumb on the 3rd quarter earnings call on November 4th had this to say about Inhibitex' Phase II study of INX-189.
"In this study, 200 mg INX-189, dosed once-daily for seven days, continued to demonstrate potent and dose-dependent antiviral activity. Further, 200 mg INX-189 was generally well tolerated, and there were no serious adverse events or dose dependent adverse events observed." What Plumb is saying is that antiviral activity increases the bigger the dose taken of INX-189, and there are very minor side effects. This great report of INX-189 comes after only the first step of Phase II studies! Once Inhibitex experiments mixing INX-189 with other drugs like Ribavirin, and in various doses and different ways, the company can find the most effective use of the drug to stamp out hepatitis C for good. INX-189 is also taken orally, and not by painful injections.
Other Drugs In The Pipeline
Inhibitex is getting funding from Pfizer (NYSE:PFE), its licensee and collaborator, which paid the company $1 million last quarter for completing milestones on the initiation of a Phase 1/ 2 clinical trial of a 4-antigen Staphylococcus aureus (S. aureus) vaccine (SA4Ag).
INHX is also getting ready to continue Phase 2b of its FV-101 drug for shingles, which it may do in 2012. The company plans to request guidance and work with the FDA on that later this month.
While it will take a couple more years to finish the trials of INX-189, Inhibitex is in great shape financially and is a possible takeover target. It has $53 million in cash and very little debt. With losses of only around $5-$6 million a quarter, INHX could last another three years before needing more funding, in which case it could be selling its drugs or be bought out by then. INHX is careful with its spending; R&D costs went up to $5.7 million from $4.7 million in Q3 2010, and general and administration costs were $0.9 million in the third quarter of 2011, which was the same amount as reported in the third quarter of 2010.
When INHX reported the positive results of INH-189 on November 4th, the stock more than doubled and gained about $400 million in market cap. While that sounds like a lot, INHX has further upside. During that same day, its competitor, Pharmasset (VRUS) lost about $600 million worth of market cap. The Pharmasset investors are very nervous. VRUS is currently starting its Phase 3 trial of its hepatitis C drug PSI-7977, which is very similar to Inhibitex' INX-189. Both drugs are orally taken and both take the place of interferon. VRUS has a current market cap of $5.2 billion. Upon successful completion of its Phase 2 trials of INX-189, it's likely that INHX will also have a market cap in the billions. Currently, it's only at $670 million.
Disclosure: I am long INHX.