The rapid development of oil and natural gas reserves trapped in shale and other "tight" reservoir rocks has catalyzed dramatic changes in the U.S. energy picture over the past three to four years.
First and foremost, advances in directional drilling and hydraulic fracturing enabled U.S. exploration and production firms to tap the massive oil and gas reserves formerly trapped in impermeable reservoir rocks.
Directional drilling enables producers to target the most productive portions of a field by carving out a well that branches off horizontally from the vertical shaft. Fracturing, or stimulation, increases the permeability of the reservoir rock, allowing natural gas to flow from the reserve rock into the well. This process involves pumping large quantities of water and a small percentage of chemicals into the rock formation at high pressure, producing a network of cracks. The inclusion of a proppant -- typically sand, sand coated with ceramic material or ceramic material -- ensures that these passages remain open.
Not only did these production methods and technologies unlock formerly inaccessible energy resources, but these innovations also touched off a land rush that revolutionized the way in which oil and gas companies build their leasehold. Rather than acquiring acreage and performing test drilling in manageable chunks, Chesapeake Energy Corp (NYSE:CHK) and other firms deployed massive amounts of capital to scoop up huge swaths of land.
Although this strategy enabled producers to outmaneuver rivals and hedge against uneven productivity within a given field, it also saddled these firms with massive drilling inventories that needed to be completed by a set time to ensure that the acreage was held by production.
With ready access to capital through bond and equity issues and joint ventures with major integrated oil companies, E&P firms drilled these plays at a frantic pace, flooding the U.S. market with natural gas and depressing prices to record lows for the past several years. The graphs below tell the tale.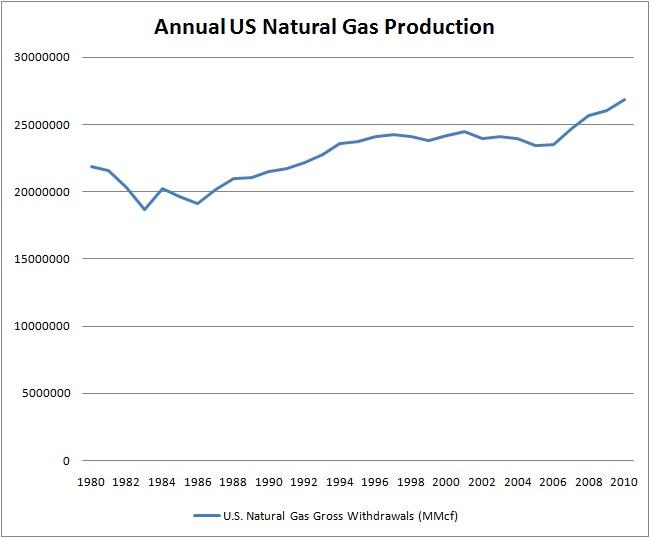 (Click to enlarge) Source: Energy Information Administration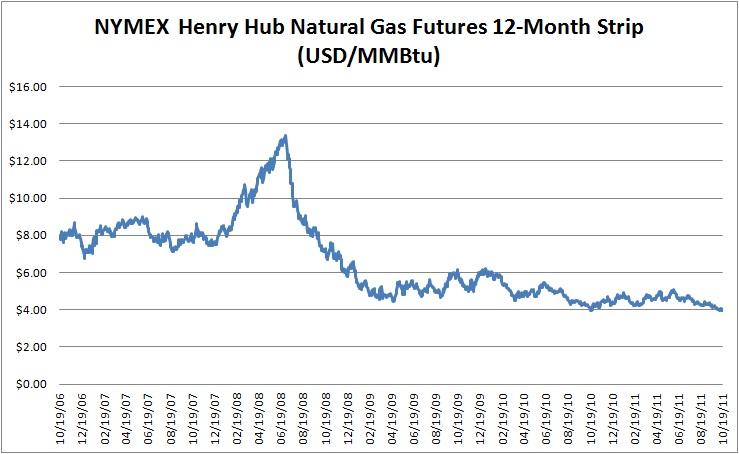 (Click to enlarge) Source: Bloomberg
As you can see, U.S. natural gas production picked up substantially in 2007 and has continued to head higher. Together, the graphs reflect an apparent anomaly in the domestic market for natural gas: Drilling activity in unconventional plays remains robust despite, depressed natural gas prices -- a puzzling disconnect.
Attractive economics in some of the nation's hottest shale plays partially explain why producers continue to ramp up production.
As I discussed in Why Some Natural Gas Is Worth $7.28, producers in shale plays rich in natural gas liquids (NGL), continue to enjoy solid profit margins. NGLs such as propane, butane and ethane tend to command a higher price that tracks crude oil; for many producers, the associated natural gas has become an afterthought. In fact, many independent E&P firms have shifted capital spending and drilling activity from dry-gas fields such as the Haynesville Shale to more profitable liquids-rich plays.
The shale gas revolution also has dramatically changed the fortunes of U.S. importers of liquefied natural gas (LNG).
What is LNG? When natural gas is cooled to minus 260 degrees Fahrenheit at a liquefaction facility, it condenses into a liquid that's roughly 1/600th its original size. In this form, large amounts of natural gas can be safely transported overseas in specially designed ships. Re-gasification terminals warm the LNG to return it to its gaseous state before pipelines transmit the product to end users.
Earlier this decade, most analysts projected that U.S. LNG imports would increase steadily, offsetting lower domestic production. Back in 2003 there were at least two dozen proposals to build new re-gasification terminals. But U.S. LNG imports never reached the 812 billion cubic feet per year that the Energy Information Administration (EIA) projected in its Annual Energy Outlook 2004. In fact, the amount of liquefied gas delivered to the U.S. fell off a cliff after peaking in 2007. In fact, according to the EIA, the U.S. imported only 431 billion cubic feet of LNG in 2010, down from the 2007 peak of 771 billion cubic feet.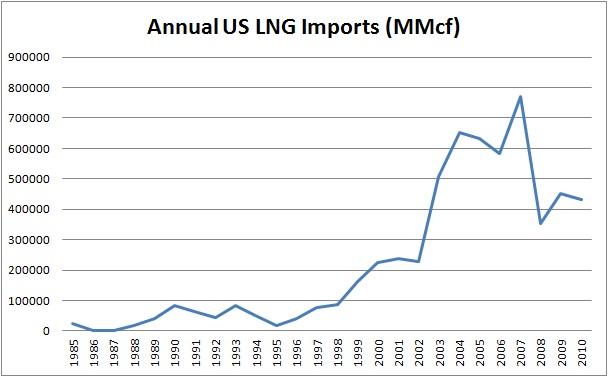 (Click to enlarge) Source: Energy Information Administration
This precipitous decline in U.S. LNG imports, coupled with the demand destruction that occurred during the great recession, flooded the market with low-priced LNG in 2009. The commissioning of a number of liquefaction terminals worsened this oversupply.
Much of this gas found its way to European markets such as Spain, Belgium and the UK, which in 2010 became the fourth-largest LNG importer. This influx prompted some Continental countries to reduce purchases of pipeline gas to the lowest levels allowed by contract, replacing these volumes with lower-priced LNG.
Some analysts have suggested that while this trend won't mark the end of the long-term, oil-indexed gas export contracts favored by the likes of Gazprom (OTCQX:GZPFY), the competition could force the Russian giant to become more flexible and reduce the duration of contracts.
Meanwhile, the robust economic recoveries in developing and developed Asian nations supported strong LNG demand growth in 2010. Japan and South Korea once again dominated the global LNG market last year, together accounting for 64 percent of the world's LNG imports. Geographic obstacles -- the Pacific Ocean and North Korea, respectively -- prevent both countries from accessing regional pipeline systems.
After the economic downturn sapped LNG demand in 2009, Japan's LNG imports jumped 8.8 percent in 2010 to 71.3 million metric tons. South Korea's imports of liquefied gas also recovered to a new high after their 2009 swoon, reflecting a strong recovery in the nation's industrial sector. China's intake of LNG cargoes surged in 2010 to 9.7 million metric tons from 5.8 million metric tons -- a 67 percent increase.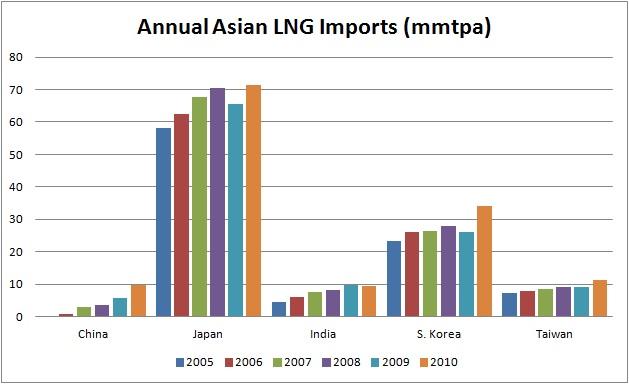 (Click to enlarge) Source: BP Statistical Review of World Energy 2006-2011
The supply-demand balance in the global LNG market has tightened considerably thus far in 2011, fueled once again by strong demand in Asian markets. China's monthly LNG imports have posted an average year-over-year increase of 30.7 percent through the end of August, a remarkable feat after the country's LNG demand surged 67 percent in 2010. Demand usually picks up during the peak summer cooling season and the winter heating season, forcing utilities and distributors to ramp up imports to prevent shortfalls.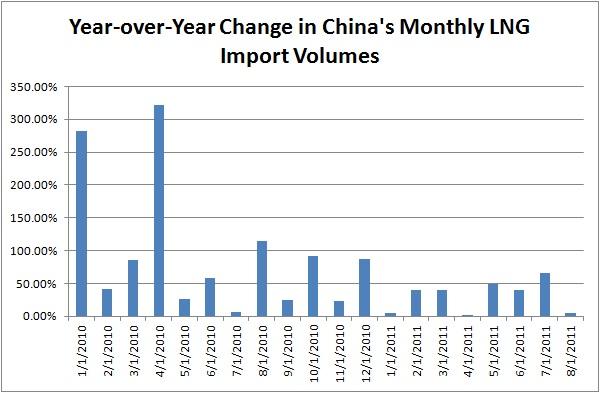 (Click to enlarge) Source: Bloomberg
New re-gasification capacity should ensure that this momentum continues into 2012. The first 3.5 mmtpa train at PetroChina's (NYSE:PTR) Rudong terminal in Jiangsu province came onstream in June, while the second phase of the firm's Fujian import facility is partially operational. The first 3 mmtpa train at PetroChina's Dalian re-gasification facility should start up in the fourth quarter. As Jim Fink pointed out in his March 15, 2011, InvestingDaily.com article, Japan Nuclear Crisis: Investment Implications, Japan's demand for LNG has spiked after the magnitude-9.0 earthquake permanently damaged the Fukushima Dai-ichi nuclear power plant and forced the government to shut down many of the country's nuclear reactors for stress tests. Reuters on Oct. 12 reported that only 10 reactors in Japan's fleet of 54 were operating.
All of this has translated into increased demand for imported natural gas. The latest data from the Federation of Electric Power Companies of Japan indicates that the nation's 10 largest electricity producers increased their LNG substantially in the summer and fall to offset lost nuclear capacity.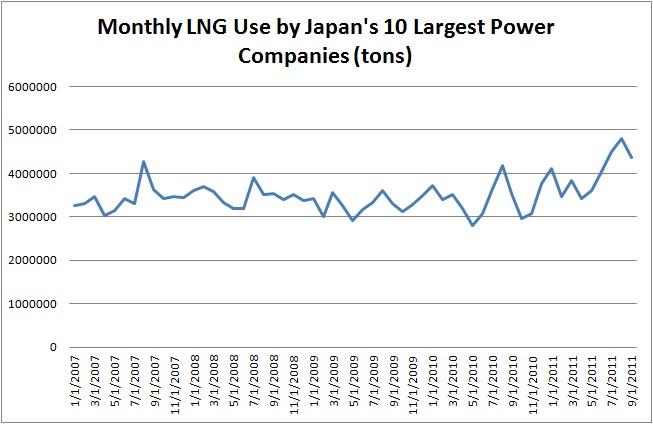 (Click to enlarge) Source: Bloomberg
Although one shuttered nuclear power plant returned to operation in August, reports from Japan indicate that local opposition may delay some reactors from returning to service after the first phase of stress tests is completed. With two of Tokyo Electric Power's (OTCPK:TKECY) three nuclear power stations shut down after the March earthquake and tsunami, the utility is fast-tracking plans to expand its gas-fired capacity in 2012.
Japan's LNG imports have jumped surged since the earthquake hit -- check out the graph below -- and I expect this strength to continue.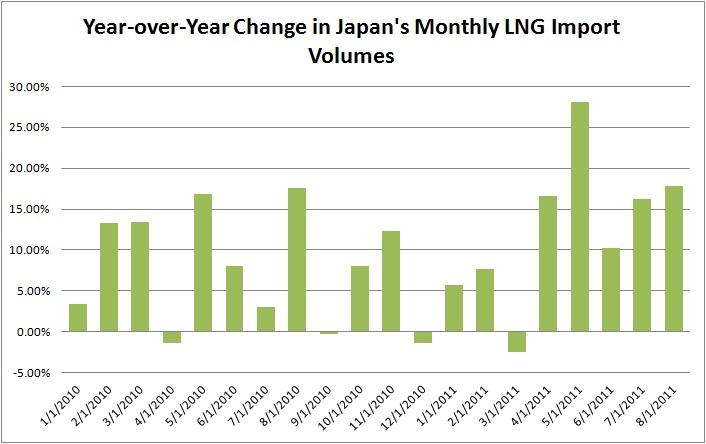 (Click to enlarge) Source: Bloomberg
This uptick in LNG demand in China and Japan has elevated prices to levels about which North American producers can only dream -- and a short breather in the rollout of new liquefaction capacity through 2013 should ensure that the market for liquefied gas remains tight.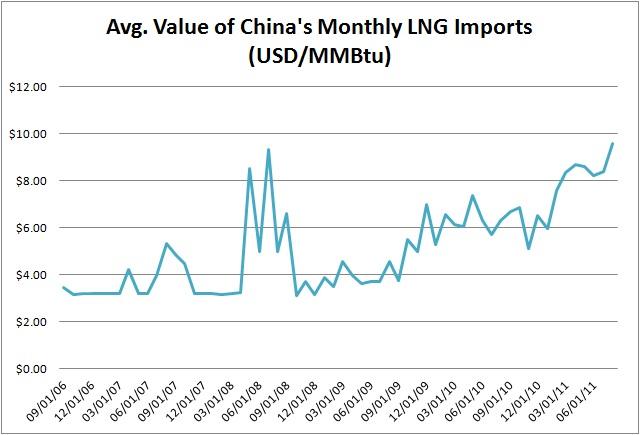 (Click to enlarge) Source: Bloomberg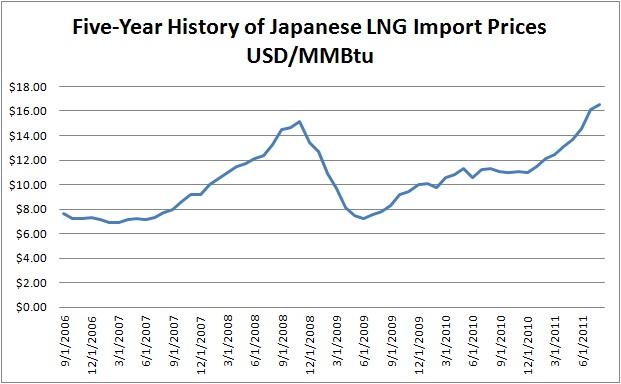 (Click to enlarge) Source: Bloomberg
This demand growth should have legs. The Chinese government's long-term plans call for natural gas to account for 10 percent of the country's energy mix, roughly one-third of which will be imported via pipelines or LNG.
Natural gas has been growing in popularity in China, particularly in power-generation facilities located near major cities. Concerns about air quality mean that many of the high-rise residences constructed during China's recent housing boom are equipped for piped gas. Further migration to urban areas will only increase demand. China Gas Holdings, a natural gas distributor, recently reported that it expects its annual sales volume to surge to 10 billion cubic meters (Bcm) per day in 2015 from 5.2 Bcm per day in 2010.
LNG imports will be part of the solution. China's first re-gasification terminal opened in 2006, and the country currently boasts four operational import facilities, all of which are operated by China National Offshore Oil Corp. (NYSE:CEO). The first phase of the pilot Guangdong LNG terminal, which came onstream in September 2006, boasts a total capacity of about 180 billion cubic feet (Bcf) of gas per year, while the Fujian re-gasification terminal that began operations in May 2009 sports an initial capacity of 126 Bcf of gas per day. The company also runs the Shanghai LNG terminal, which can re-gasify 146 Bcf of gas per year.
But that capacity is slated to expand substantially. By 2015, CNOOC should have five LNG import terminals up and running, while PetroChina will have four operational re-gasification facilities and China Petroleum & Chemical Corp (NYSE:SNP) will have two. The table below lists all of China's operational, under construction and proposed LNG terminals.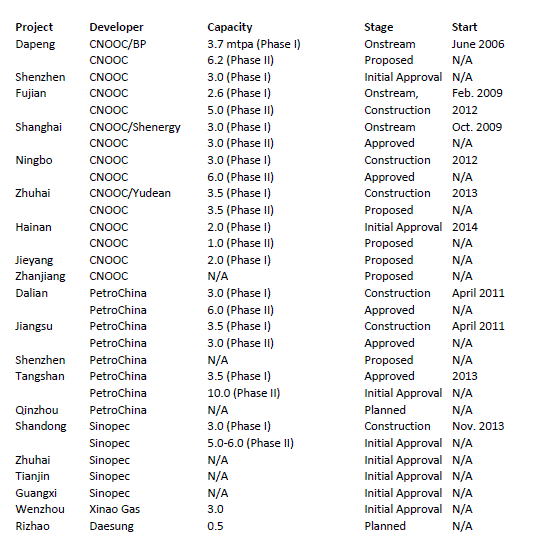 (Click to enlarge) Source: Asian LNG Demand and North American Exports
And investors shouldn't overlook India's insatiable appetite for energy commodities.
India's Ministry of Petroleum and Natural Gas expects LNG imports to increase from 33 million cubic meters (mcm) per day to 162 mcm per day by fiscal year 2029-30. Over this period the government expects natural gas to grow to 20 percent of India's energy mix from 9 percent. LNG imports could easily exceed estimates if expected pipeline imports don't materialize -- a distinct possibility -- or domestic production falls short of expectations.
Two LNG terminals currently operate in India, Petronet LNG's (Bombay: 532522) 10 mmtpa facility at Dahej and Royal Dutch Shell's (NYSE:RDS.A)(NYSE:RDS.B) 3.6 mmtpa installation at Hazira. Petronet LNG plans to add 2.5 mmtpa of additional capacity. Ratnagiri Gas and Power's 5 mmtpa plant in Dabhol remains under construction, though 1 mtpa of capacity could come online before the project is completed. Two additional LNG import terminals are in the early stages of planning.
Meanwhile, growing demand for LNG in emerging markets supports higher gas prices in developed economies. South Korea, Japan and China have proved eager to ink deals securing long-term supplies of this critical resource.
Australia's domestic demand for natural gas should also increase substantially in coming years, as utilities seek to reduce carbon dioxide emissions to comply with new environmental regulations. At the same time, the dramatic expansion of mining and industrial facilities in Western Australia will also drive demand for additional electricity. The majority of these power plants will be fired by natural gas. In 2010 natural gas accounted for only 14 percent of Australia's electricity generation, compared to about 24 percent in the US.
European demand for LNG should also increase, particularly after Germany's recent decision to temporarily shutter seven of its nuclear reactors and to accelerate the phasing out its remaining nuclear power plants.
The International Energy Agency's Medium-Term Oil and Gas Markets 2011 report calls for international gas consumption to grow to 369.5 mmtpa in 2015 from 215.3 -- a roughly 71 percent increase. Emerging markets, particularly those in the Asia-Pacific region, are expected to account for much of this growth. Natural-gas prices in this region traditionally have been indexed to oil prices.
Natural-gas producers worldwide are salivating over this opportunity. Qatargas' assistant director for LNG marketing in late September stated that the company aims to double its long-term supply agreements in the Asia-Pacific region from 11 mmtpa per year to more than 20 mmtpa.
North American outfits are also working on LNG export projects to take advantage of rising demand in international markets and superior pricing.
I continue to like U.S.-based producers like EOG Resources (NYSE:EOG) that are positioned in some of the hottest U.S. shale oil plays and strong production growth. The company's involvement in the Kitimat LNG project is an added bonus and could enable the company to earn a higher rate of return on natural gas from its massive Horn River acreage in British Columbia.
Disclosure: I am long EOG.