One of the most widely followed stocks by both professional and individual investors is Chesapeake Energy Corp (NYSE:CHK). It also seems to get a lot of play on all the business channels. Let's look at the numbers to see why they get all the hype. The last year's daily trading action has been decent as shown by the graph provided by Barchart. In the past year the stock is up around 30%: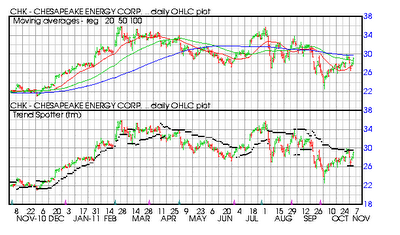 Chesapeake Energy Corporation engages in the acquisition, development, exploration, and production of natural gas and oil properties in the United States. It also provides marketing and other midstream services. The company's properties are located in Alabama, Arkansas, Colorado, Kansas, Kentucky, Louisiana, Maryland, Michigan, Mississippi, Montana, Nebraska, New Mexico, New York, North Dakota, Ohio, Oklahoma, Pennsylvania, Tennessee, Texas, Utah, Virginia, West Virginia, and Wyoming. As of December 31, 2010, it had interests in approximately 45,800 gross productive wells. The company's proved reserves include 17.096 trillion cubic feet of natural gas equivalent. Chesapeake Energy Corporation was founded in 1989 and is based in Oklahoma City, Oklahoma.(Yahoo Finance profile)
Factors to consider
Barchart technical indicators:
40% Barchart short term technical buy signal - getting stronger
Trend Spotter hold signal but getting stronger to the buy side
Trading above its 20 and 50 day moving average but below its 100 day moving average
The stock had 12 up days in the last month but is still down 2.81% for the month and 19.25% off its 1 year high
Relative Strength Index is 55.21% and getting stronger
Barchart computes a technical support level at 27.23
Recently traded at 29.03 with a 50 day moving average of 28.70
Fundamental factors:
Wall Street brokerage analysts have aggressive revenue projections of an increase of 21.50% this year and another 20.50% next year
Earnings estimates are a combination of commodity price fluctuations and sales of assets; analysts expect income statement earnings to be down 4.40% this year, an additional 7.80% next year but on the whole to have an annual increase of 10.30% for the next 5 years
These consensus figures resulted in brokerage analysts giving 15 strong buy, 6 buy, 12 hold and only 1 sell recommendation - note that the strong buys are up from 10 last month and the lone sell was given by Argus about a year ago
The stock trades at a 9.63 P/E ratio vs. a market P/E of 14.1
The dividend of 1.25% is only 15% of projected earnings
The company has one of the most active drilling programs in the industry and claim their success rate is over 95%
Many times they put these successful wells up for sale and use the cash for new exploration
General investor interest:
As I mentioned before this is a widely followed stock by the individual investor and over 7,500 readers of Motley Fool offered an opinion on the stock
Those opinions were 97% in favor of forecasting that the stock will beat the market
The more experienced All Stars voted 98% for the same result
The Wall Street columnists Fool follows wrote 31 articles that were 98% positive about the company
If you like names Jim Cramer, Tobin Smith, Jim Jubak and John Kelley all wrote positive comments
Competitors and sector leaders:
I like to compare the market action of a stock against its competitors and CHK is up 29% for the year, ahead of Anadarko Petroleum (NYSE:APC) up 28%, BP (NYSE:BP) up 18% and Conoco Phillips (NYSE:COP) up 5%: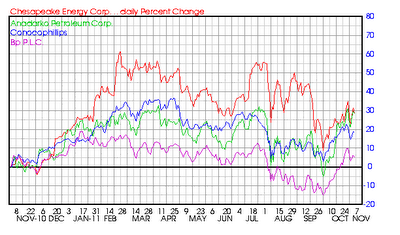 Summary: If your asset allocation model contains energy holdings you should consider Chesapeake Energy. It has a wide and positive following by both the individual and professional investors and has one of the most active and successful exploration drilling programs in the industry. Right now it can be bought at a slight discount to the market. If you're not hitting the buy button you should at least put this on your watch list and if another dip happens reconsider your decision.
Disclosure: I have no positions in any stocks mentioned, and no plans to initiate any positions within the next 72 hours.