As is the case with most IPOs, investors who have managed to purchase shares of Groupon (NASDAQ:GRPN) in the pre-IPO market have hit the jackpot, as the stock soared more than 40% at the opening. The problem, however, is that pre-IPO prices are usually reserved for the select few institutional investors who have access to underwriters. This means that the retail investor can get into the game only at the after-market prices. But on which side of the market? Long on short?
Most followers of the stock believe that investors should get on the short side of the market, as the success of the IPO seems to be part of the social media craze rather than a reflection of the company's fundamentals. Specifically, the company doesn't have a sustainable business model. It relies heavily on agreements with local merchants willing to offer their products at a deep discount; and on consumers spreading the buzz about the deal over the Internet. The company further faces stiff competition from the Internet gorillas like Amazon.com (NASDAQ:AMZN) and Google (NASDAQ:GOOG) that have the database and the network infrastructure to come up with similar offers. The company also faces competition from smaller web-based companies like Open Table (NASDAQ:OPEN) that have been enjoying a "first-mover advantage," and yet they aren't doing terribly well.
Going short, however, this early isn't a good idea. But there is a better trade idea investors may want to consider: Short web-based companies with shaky fundamentals like Netflix (NASDAQ:NFLX) and Open Table that had a big run up going into the IPO.
Click to enlarge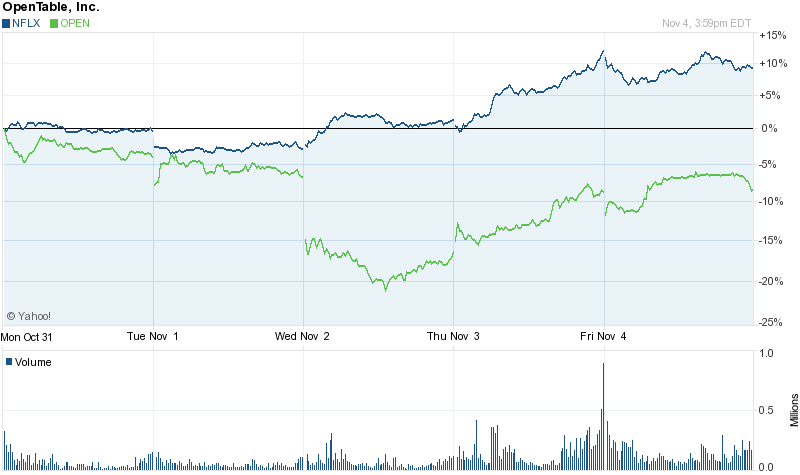 Click to enlarge
Disclosure: I am short NFLX.