Warren Buffett's Berkshire Hathaway Inc. (NYSE:BRK.A) reported on Friday, November 4, 2011, that the company's profit for the third-quarter was 24 percent below its profit for the same quarter last year. Specifically, the company reported net income of $2.28 billion, or $1,380 a share, compared with from $2.99 billion, or $1,814 per share during the same quarter last year.
See the recent performance chart for Berkshire's Class A (BRK-A) Shares, below:
(Click chart to expand)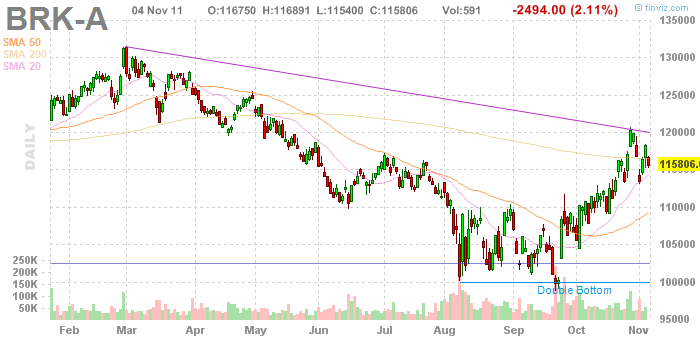 Click to enlarge
According to the company, a culprit behind this income decline was the devaluation of several of the long-term derivative investments. Berkshire holds large derivative positions that are primarily based upon equity indexes, such as the S&P 500 (NYSEARCA:SPY). These are long-term derivatives, with the shortest scheduled to settle in about 2018 and the average derivative's life-span extending into the next decade.
These derivative holdings generated a loss of $2.09 billion during the third quarter of 2011. This should not have been a terrible surprise to Berkshire analysts and investors, given that these derivatives are index linked and that the S&P 500 performed rather poorly during the last quarter. These same equity index linked derivatives lost $700 million during the third quarter of 2010. The maximum total exposure Berkshire has from these derivatives, according to the company, is approximately $34 billion.
Berkshire also commented that Burlington Northern Santa Fe, the railroad Berkshire acquired last year, generated $766 million in net earnings during the third quarter, a $60 million increase over last year. The company also noted that it is slated to receive a $750 million distribution from the railroad during this quarter.
Berkshire also noted that its cash holdings declined during the third quarter by about a quarter, to $34.8 billion. Berkshire used some of the cash spent during the third quarter on a $5 billion preferred share investment in Bank of America Corp. (NYSE:BAC) and some other equity investments. Berkshire also completed its acquisition Lubrizol during the quarter and spent about $18 million dollars on repurchasing both Class A (BRK.A) and Class B (NYSE:BRK.B) shares in Berkshire during the last week of the quarter. When making its stock buyback announcement, Berkshire also stated it would maintain at least $20 billion in cash. Berkshire is well above this self-imposed restriction.
Berkshire will provide more detailed information on its equity investments during the third quarter, when it files its 13F later this month. The 13F, like this quarterly report, will not include the appreciation many of his Berkshire's core equity holdings, such as American Express (NYSE:AXP) and Wal-Mart (NYSE:WMT) experienced over the last few weeks, following the broad market sell-off. The quarterly report indicates that Berkshire's stock portfolio increased from $67.6 billion at the end of the second quarter to about $68.1 billion at the end of the third. Given the recent market appreciation, these holdings are now likely valued at over $70 billion. Nonetheless, it appears that much or all of this increase is due to new purchases and not due to broad equity appreciation.
Disclosure: I have no positions in any stocks mentioned, and no plans to initiate any positions within the next 72 hours.
Disclaimer: This article is intended to be informative, and should not be construed as personalized advice, as it does not take into account your specific situation or objectives.