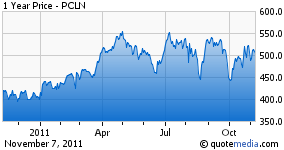 When William Shatner was hired to be the spokesman for Priceline.com (NASDAQ:PCLN) in 1997, he agreed to shares in the stock as part of his payment. It seemed like a bad idea for awhile as the shares dipped below $2 per share during the Dot.com bust of the year 2000.
It is estimated that the octogenarian ex-actor has now made more than $600 million from that decision. The money that Shatner has made as the spokesman for Priceline dwarfs what he made from his Star Trek days. I wish I would have paid more attention to Priceline.com than Star Trek over the years, as it has been one of the powerhouse stocks of the decade.
Here is a snapshot of what Priceline has accomplished for its shareholders over time: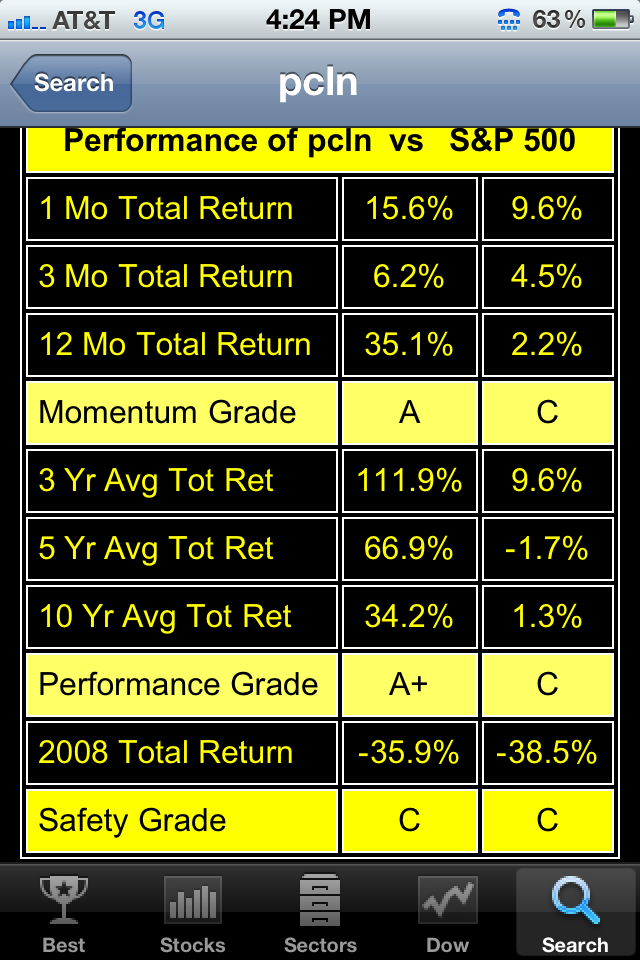 Click to enlarge
Data From Best Stocks Now iPhone App
It is my strong opinion that most investors do not know the track record of their stocks. Why is track record so important for mutual funds, but generally ignored with stocks? I worked hard and came up with my own graphic presentation of a stock's track record. I also came up with a grading system that compares the stock's track record against 2,700 other stocks on a short-term, intermediate return and long term total return basis.
I also like to see how the stock held up during the bear market of 2008. This has turned out to be an invaluable tool for me as a professional money manager.
As you can see, Priceline.com has outperformed the S&P 500 over the last 1 month, 3 months, 12 months, 3 years, 5 years and 10 years. In fact the overall performance of Priceline places it in the very upper echelon of all stocks, and the stock gets a very rare A+ performance grade. The stock outperformed the market by a little bit in 2008 and its beta is 0.98. The stock earns a safety grade of "C" under my system.
It would be nice if we could just pick stocks on past performance, but we all know that investing is about the future. It is important for me, however, to know that Priceline has racked up this phenomenal track record over time. It tells me that they have a concept that has worked, and they have a very good management team. Let's not forget that the returns delivered by the market over the last several years have been dismal, while Priceline's returns have been stellar.
Nevertheless, we know that companies and stocks have lifecycles. Just look around at former leaders like Cisco (NASDAQ:CSCO), Intel (NASDAQ:INTC), Microsoft (NASDAQ:MSFT), General Electric (NYSE:GE), etc., that are way past their prime. These stocks are over-owned despite delivering very little in the way of returns over the last decade.
While I have come to learn over the years that performance or momentum of a stock is important, I also know all too well that value is important too. I have found over the years that momentum investors pay very little attention to value, and value investors pay very little attention to performance or momentum. I have found that combining the two makes for a very powerful combination in the analysis of a stock. In fact, I wrote an article on the subject of value vs. momentum recently here on Seeking Alpha (located here).
It is very hard to argue with the performance of the stock in question ... Priceline.com. Now let's take a look at the valuation of the stock. I use a valuation formula that I learned a long time ago from a very good mutual fund manager. It has served me well over the years as a stock analyst and professional money manager. It is also very easy to use. Here is what it looks like graphically: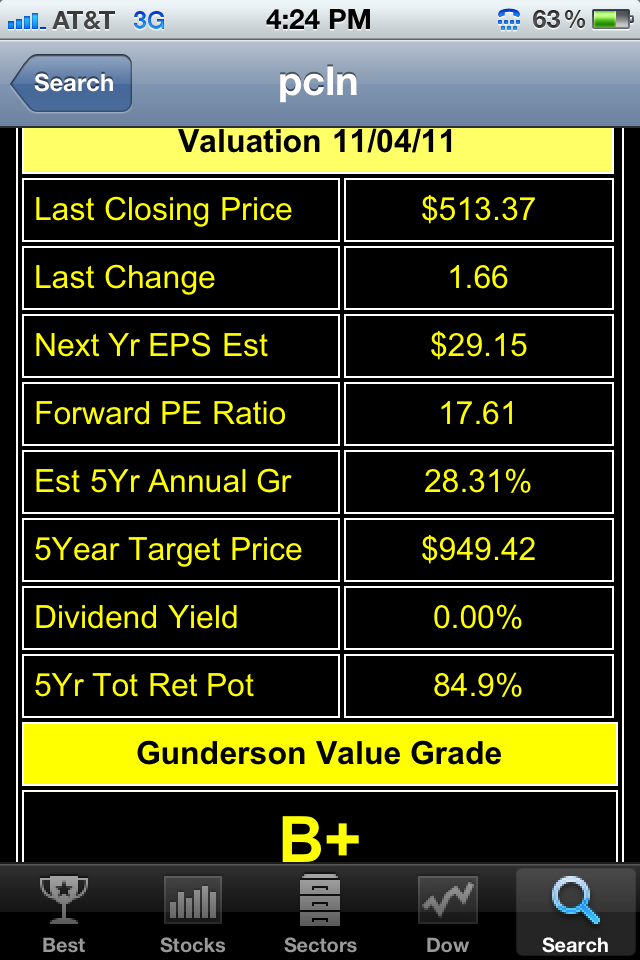 Click to enlarge
Data from Best Stocks Now iPhone App
The consensus analyst EPS estimate for next year is a whopping $29.15 per share. These are Apple-like numbers. With the stock closing at just over $513 per share on Friday, the stock is trading at 17.6 times forward earnings. From a PEG ratio point-of-view, the stock is fairly cheap given the fact that the consensus five-year growth rate is much higher at just over 28% per year.
I know, I have heard it all during my days as a money manager. How trustworthy are analysts estimates? Doesn't the company mislead analyst's to get good recommendations? Shouldn't we focus on tangible things like book value instead?
The facts are this: In this litigious environment, if anything, management does more to dampen analyst expectations than to talk them up. Having been a stock analyst for several years, we go with what management tells us and then add our own input to the numbers. If you watch companies report earnings all of the time like I do, it is amazing how many companies report within a few cents of consensus estimates. Also, 70% of companies that have reported during this recent earnings season have beat estimates.
It is also a fact that stocks trade on expectations. If you don't believe me, just watch what happens when a company raises or lowers expectations - the stock reacts immediately.
If Priceline.com does indeed earn $29.15 per share next year, and if it can grow at the expected rate of 28.3% over the next five years, the company will be earning $79.12 per share five years from now. I know that sounds unrealistic, but who thought that the company would go from roughly $1.00 per share in earnings in 2004 to a current $22.58 per share today?
Who knows. Maybe the company does a 10:1 stock split along the way and then those numbers will not seem so ridiculous. It should also be noted that Priceline is scheduled to report earnings today. At that time we will find out how the most recent quarter went, and we will more than likely get guidance on the rest of this year and on next year. But for now, we have to go with what we have.
We have to assume that the numbers supplied by the analysts are in the ballpark and use them in our valuation calculation. I like to establish a five-year target price. It has been my experience that trying to set 6-12 month target prices not only puts too much emphasis on the short term, but it is also much more unpredictable than a longer period of time. What the weather will be like over the next month is much more unpredictable than the next year. We had a violent rainstorm come out of nowhere here in San Diego yesterday, while today is one of the picture postcard-like usual days in America's Finest City.
If Priceline does indeed earn somewhere around $79 per share five years from now, where will the stock be trading?. That depends upon the multiple or PE ratio that investors will be awarding Priceline.com at that time.
Consider the following:
Priceline.com's current PE ratio is 30
Priceline.com's current forward PE ratio is 17.61
Over the last four quarters, Priceline's PE ratio has ranged between 14-35, but has averaged somewhere in the high twenties.
Over the last 10 years, Priceline average PE ratio has been just over 27. I believe that over the years, Priceline's multiple will continue to contract. It has been rewarded with very lofty multiples during its lofty growth years. Consider that over the last five years, the earnings at Priceline.com have been growing by 58% per year. Those earnings are expected to be half of that over the next five years, but still a very good 28% per year clip.
I am cutting Priceline's multiple in half from its currently levels and applying it to its potential earnings five years from now. My five-year valuation formula looks like this:
$79.12 X 12 = $949.42
I like to buy stocks that I can justify 80%-100% or more upside potential over the next five years. This works out to more than 15%-20% per year potential return over the next five years. I currently can justify another 85% upside potential for Priceline.com over the next five years. This is very good. Under my grading system, Priceline gets a B+ value grade. Remember, Priceline earned a performance grade of A+ and a safety grade of C.
Priceline.com is a $25 billion dollar company. It is a large-cap stock. I have rated as suitable for Aggressive, Moderate, or Conservative Growth Investors.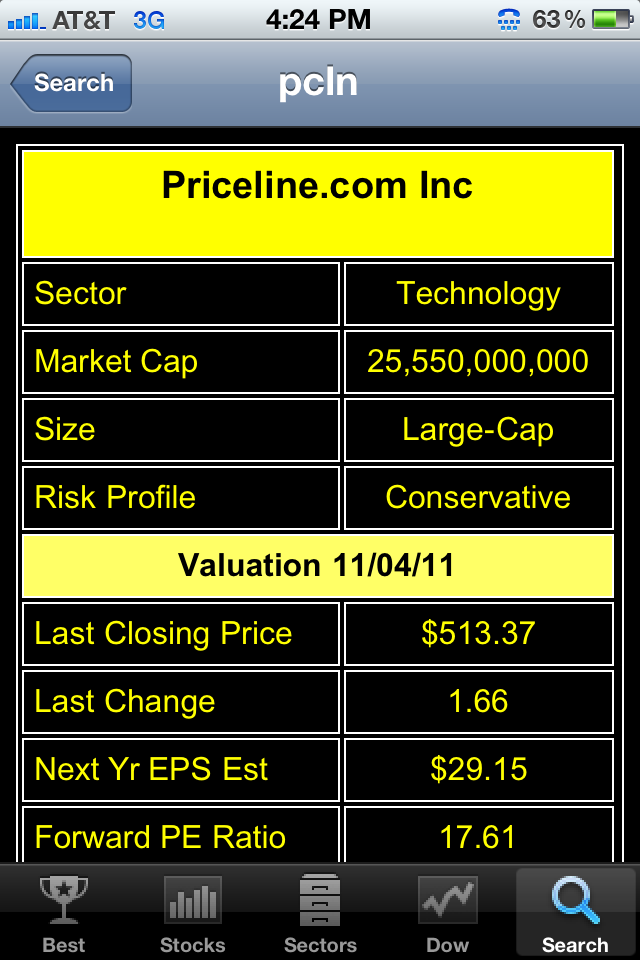 Click to enlarge
Data from Best Stocks Now iPhone app
When I compare Priceline.com's performance, safety and value against 2,700 other stocks, I come up with an overall grade of "A" (the top 10% of the market) and a stock that ranks number 38 out of 2,700. The stock has been one of the greatest stocks in the market and barring something unforeseen like a Netflix-like fiasco, it should remain as a very good stock for a long time to come.
Click to enlarge
Disclosure: I am long PCLN.