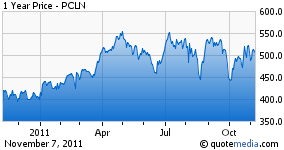 Before the tech bubble burst of 2000, Priceline.com's (NASDAQ:PCLN) stock comfortably traded in the $300 to $500 range (adjusted), and even came close to $1,000 at one point. After the crash, the stock traded in the $20 to $30 range until mid 2006. Now shares have soared again, trading above $500 per share. In tech bubble 2.0 conversations, PCLN is one of the names I've seen thrown around. In this article, I justify Priceline.com's share price by looking at its future expectations and its competitors.
Priceline.com's recent burst in stock price is derived from its increase in both revenue and earnings. Its revenue has more than doubled in the last three years, increasing from $1.4 billion in 2007 to $3.1 billion in 2010. Its earnings have skyrocketed during this time, moving from $140.4 million to $527.5 million. Revenue is expected to continue growth in the next few years as analysts expect an increase to $5.44 billion in 2012. Analysts expect an EPS of $29.15 in 2012, which would give the company a 17.6 P/E ratio at the time if its $513.37 share price at Friday's close stays constant. Priceline.com is not a value stock by any means, but the company's financials can still justify its high P/E ratio of 36.32.
Expedia's (NASDAQ:EXPE) market cap is much lower than Priceline.com's, at $7.63 billion compared to $25.55 billion. Its 2012 forward P/E ratio is slightly lower than Priceline.com's 13.1 compared to 17.6. However, Expedia has much lower growth expectations than Priceline.com and the price premium for Priceline.com is well justified by this fact. Historically in online services, industry leaders tend to come out as big winners. For example, Amazon.com (NASDAQ:AMZN) has won out as an online retailer and Google's (NASDAQ:GOOG) search engine is by far the most valuable.
Orbitz Worldwide (NYSE:OWW) is the best travel website for investors who like to take risks. The company has not been profitable in the past few years and revenues have been decreasing from 2007 to 2010. Compared to Priceline.com and Expedia which have been thriving, Orbitz has been horribly underperforming. However, with a market cap of only $308 million and analysts expecting the company to be profitable in 2011 and 2012, this stock can triple in price over the next couple years if the company can stay in the green.
In conclusion, travel websites are accurately priced and are not a part of tech bubble 2.0. Priceline.com's high P/E ratio is justified by its high expected growth. Expedia is properly priced as a medium growth company with consistent earnings. Orbitz Worldwide is priced as a struggling company with some upside potential. The only challenge now is if online travel companies' earnings can meet analyst expectations. We'll see if Priceline.com's stock price can continue to grow when it reports after trading hours today.
Disclosure: I have no positions in any stocks mentioned, and no plans to initiate any positions within the next 72 hours.