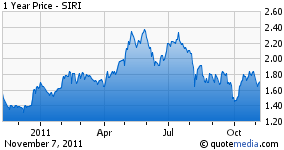 As the market works to regain lost ground, the dramatic fluctuations some stocks have endured may be a reason to choose companies that offer reasonable returns while not subjecting their owners to wild mood swings. To start this endeavor the focus will begin with Sirius XM Radio Inc. (NASDAQ:SIRI), holding a relative monopoly its respective industry, to see if more stability can be found. Outside satellite radio, some other companies to consider include auto giants, new entrances into the music industry and a large technology firm which recently sustained a symbolic, if not significant loss.
While it may have taken some time for SIRI to bloom, and this past quarter's results are no guarantee that this will become a rose in the market, strong growth in SIRI's core business does give investors hope. With the release of third quarter 2011 results, it is clear that SIRI has made relevant and or significant growth in at least three key areas.
First, total subscribers now exceed 21.3 million, a result of a net addition of 334,000 net new subscribers. This growth in customers led to a record revenue of $763 million which was 6% growth over third quarter 2010 figures. That bodes well for the satellite radio firm. However even more encouraging was the "cost efficient growth" resulting from large growth with only a 2.7% increase in total cash operating expenses. This growth helped fuel net income of $104 million, a substantial 54% increase over 2010's third quarter figure. In a market that is experiencing huge fluctuation in demand for goods, it is refreshing to see a company that offers what appears to be at least some prospect for continued growth that is not outpaced by spending.
Another encouraging factor can be seen when considering the evolution of the company's liability position. While total liabilities have dropped from $7.175 billion to 6.709 billion, from December 31, 2010, to September 30, 2011, it is important to note that that the majority of these reductions came from deferred revenue and deferred revenue on executor contracts. Greater control of debt and financial obligations was recognized by S&P, which recently raised the credit rating for SIRI to BB from BB-, citing that the progress they have made should be sustainable. While the immediate financial impact of this may be limited, it is a positive acknowledgment of increasing financial strength.
Finally, as the auto industry continues to stabilize and even offers prospects of strengthening, SIRI, which has agreements with all of the 'major' automobile manufacturers, has the potential to gain further and add a potentially significant number of additional subscribers resulting from new car purchases.
SIRI's continued growth suggests that it remains a buy for most value investors. While a sudden jump in the stock price is unlikely within the immediate future, if the company is able to continue to add subscribers efficiently, it should continue to become increasingly profitable. While it is difficult to judge the saturation of the market as there are limited products to compare, its 21.3 million subscribers make up only a fraction of the total population within the North American market and is an indication that continued growth is at least possible for an extended period. While most signs point positive for SIRI, a cautious investor should monitor any dramatic changes in consumer discretionary spending as a sudden drop could prove disastrous for SIRI. As a discretionary good, satellite radio is dependent on continued consumer spending, and like most companies, would suffer substantially if there was to be any significant cut backs. Furthermore, as the cost of providing the product and servicing it to existing customers remains between $1.01 and $1.03 per subscriber (as of September 30, 2011), it is evident that much of the cost remains fixed. While far from a certainty, this may be an indication that if subscriber numbers were to fall off, the company could rapidly loose its profitability, leading to a rapid loss of stockholder equity.
With car manufacturers meeting or exceeding the positive expectations for the quarter, the industry once synonymous with the recession looks like it may be taking a turn for the better. Industry leader General Motors (NYSE:GM) posted a sales increase of 9% for November 2011 versus November of 2010. However it is important to note that there was also an additional day of sales during the 2011 period. This growth is important for GM as inflationary fears in China threaten to thwart the economic growth that has increasingly filled GM's coffers.
Another player in the market to consider, Ford (NYSE:F), recently made headlines with a changing of the guard in the head of the retail group. The appointee, Stuart Kerr, leaves his post as regional president for Volvo within Europe and hopes to continue customer focused growth. Finally, the upgrade of debt by Moody's from Ba2 to Ba1 is a continued indication that with the labor agreement behind them, Ford is on a path to regain ground lost during the recession.
In an apparent attempt to further its presence in the radio market and diversify from its reliance on online advertisement sales, Pandora Media Inc. (NYSE:P) is now working with Clarion to sell CD/Radio units for $129.99. Additionally, Pandora is partnering with Roku to put a Pandora button on its newest units, giving Roku customers the ability to have one click access to Pandora accounts and making it even easier for customers to increase their monthly usage of their accounts.
Finally, the question to Apple Inc.'s (NASDAQ:AAPL) future appears, at least for now, to be relatively straight forward, sticking to its intent to improve on what it already has. Specifically, the company announced that it intendeds to raise its capital spending to $8 billion for the year 2012, more than double its 2011 figure of $3.4 billion. Within the company it appears that Timothy Cook, CEO, is beginning to step out of the path followed by the late Steve Jobs, attending corporate events and more closely connecting with many of the employees.
Disclosure: I have no positions in any stocks mentioned, and no plans to initiate any positions within the next 72 hours.