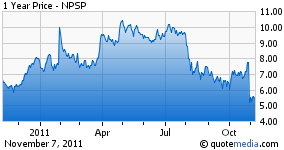 NPS Pharmaceuticals (NASDAQ:NPSP), after taking a beating last week on a Gattex cancer scare, received good news this morning when it released Phase 3 trial results for NPSP558. NPSP558, now being called Natpara, is a bio-engineered replica of human parathyroid hormone (rh-PTH 1-84) used to treat hypoparathyrodism. Hypoparathyroidism is a condition where the body secretes abnormally low levels of parathyroid hormone which regulates the levels of calcium and phosphorous in the body. It has a number of causes including genetic disorders and thyroid cancer treatment. According to NPS, there are about 65,000 insured patients over 100,000 patients in the U.S. suffering from hypoparathyrodism.
CEO Francois Nader called the results of the study "highly statistically significant" and "outstanding." Of the patients in the study, 53% (43/90) received the primary endpoint, a reduction of 50% or more in oral calcium and vitamin D supplementation, when on Natpara, compared to just 2% (1/44) on the placebo. Tolerance of the drug was high with just 13 patients, 6 on NPSP558 and 7 on placebo, discontinuing the trial. According to Dr. Roger Garceau, NPS's Chief Medical Officer, "a majority of the dropouts were due to the complexity of the trial ... with only three dropouts due to adverse effects. Two were not related to the drug and the one that was potentially related (had) vague symptoms of anxiety, headache (and) stomach ache."
Natpara has been granted orphan drug status which should allow for faster FDA approval. In addition with orphan drugs there is a "concentrated prescriber base" with "a limited number of centers of excellence" according to Nader. NPS is already working with a number of those centers including the Mayo Clinic and Columbia University, as well as several patient groups.
On the commercial side, NPS's market research has shown a "strong likelihood" of reimbursement from commercial, Medicare and Medicaid plans. NPS believes it can drive "meaningful revenues" from Natpara with a small sales force.
NPS plans to further analyze the data from the study including more detailed calcium analysis and quality of life metrics. The company plans to submit Natpara for FDA approval in 2012 and, due to the orphan drug status, will likely receive approval sometime in 2012 or early 2013.
The company is now beginning to transition from a strictly developmental phase to a revenue generating phase. With phase 3 trials completed for both Natpara and Gattex I see no significant obstacles to FDA approvals which are likely to come within the next 12-24 months. With approval the company should be able to turn a profit by 2013. Additionally, since the expensive phase 3 studies are complete, the company should be able to reduce its expenses and cash burn rate even as they ramp up their marketing as sales force.
I believe the company is in a better position than it was in before the Gattex trial release on October 31 when it traded at $7.75. With drug success virtually guaranteed for NPS, I see no reason why the company should not be able to trade at least back to that level in the short term, with a potential to go much higher over the next several years.
The link to the company's REPLACE trial conference call is here.
Disclosure: I am long NPSP.
Additional disclosure: I am long NPS shares and short NPS calls. Accounts from which I am an indirect beneficiary also hold a long position in NPS.