This article outlines the evaluation of mining companies and gives strategic guidance in investing in the industry. We begin with an overview of today's mining industry, which looks first at the macroeconomic issues and then presents the industry's response to today's markets and trends. An assessment of the rewards and risks of investing in the industry follows, including industry specific risks. A discussion of individual firms places them in the industry and the marketplace and describes strengths and weaknesses. The article concludes with investment strategies for the short, intermediate and long term.
Mining Industry Overview
The global mining industry is healthy and growing. In 2010 the Top 40 Miners had record profits of greater than $100 on $435B in sales. Return on equity was 22%-- not as high as the boom year of 2006 when it was 31%, but very respectable for the industry and the sector. As of 10/31/2011 the ROE of the six producing miners we will look at is 38% and the ROE of the S&P 500 ROE is 27%. A seventh smaller firm focuses on exploration and development.
Long-term demand is strong, shifting away from North America and European markets, and growing in China, India, Indonesia, Brazil and other emerging countries. In the long term, the industry is supply constrained. Bloomberg, November 3rd, quoted Xstrator's CEO, Mick Davis who said "Despite 10 years of investment, the supply side is still struggling to keep pace." This year's global copper deficit, estimated by Goldman Sachs Group Inc. to be the biggest since 2004, has resulted from a lower concentrate of metal in ore, storms in Australia and Latin America and strikes in Chile and Indonesia.
The industry is responding to demand pressures, which require expansion by an increase in supply. Projects are increasingly larger to take advantage of economies of scale. A greenfield operation takes three years to develop for production and established mines may be revamped to profitably refine lower grades of ore. Mining is a very capital-intensive industry-- which is an advantage to the established firms because it creates an economic moat, a barrier to entry into the industry. Smaller miners do better because of lower corporate overhead. In 2010 the Top 40 Miners announced $300B in new capital expansion, $120B targeted to be spent in 2011. Assets total about $1 Trillion. The companies are cash rich with $100B on hand at the end of 2010, and debt is very low in the industry.
Click to enlarge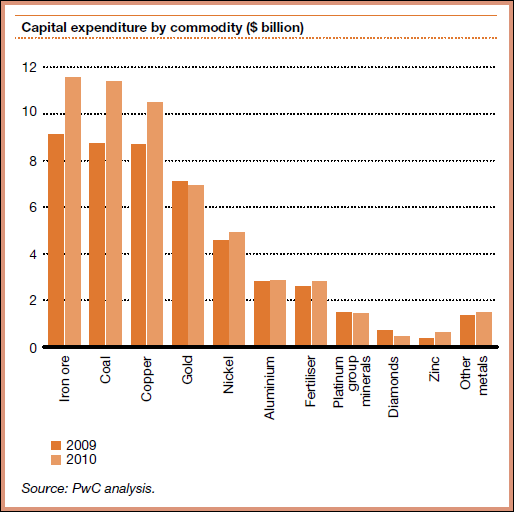 With price increases of mined materials and exploration for new resources continuing, the amount of recoverable reserves is nearly pacing expected demand. However, that does not mean that there are new discoveries. No new significant copper sources were found in the past 5 decades. Price increases create recoverable reserves by making it economically feasible to mine lower grades of ore. Exploration, which includes test bores, can quantify the amount of reserves available in areas of know resources. Proven reserves are tracked in tonnes, which are the British designation for a metric tonne, and equal to 1,000 kg or 2,204 pounds. This is similar to the British long ton, which was 2,240 pounds, or 1016 kg. The unit of sale most commonly used is U.S. Dollars per tonne, and that is the unit of trade on the London Metal Exchange. $8,000/tonne equals approximately $3.63/lb, the unit of trade on some U.S. Exchanges. Another measure of reserves is number of years of reserves remaining. For the largest 40 miners combined, that is currently estimated to be: iron ore, 22 years; metallurgical coal, 51 years; thermal coal, 53 years; nickel, 21 years; zinc, 12 years; (Source: PwC). A tight supply to demand due to supply constraints results in volatile prices.
One of the trends in this expansion and the industry consolidation is vertical integration of upstream resources. This is a shift away from the last several decades of focus on core competencies and the outsourcing of support and acquirable external resources. This goes beyond making sure there is a reliable supply of, for instance, iron ore and nickel for stainless steel production. Miners are once again becoming more involved in transportation and logistics, as well as energy resources.
Click to enlarge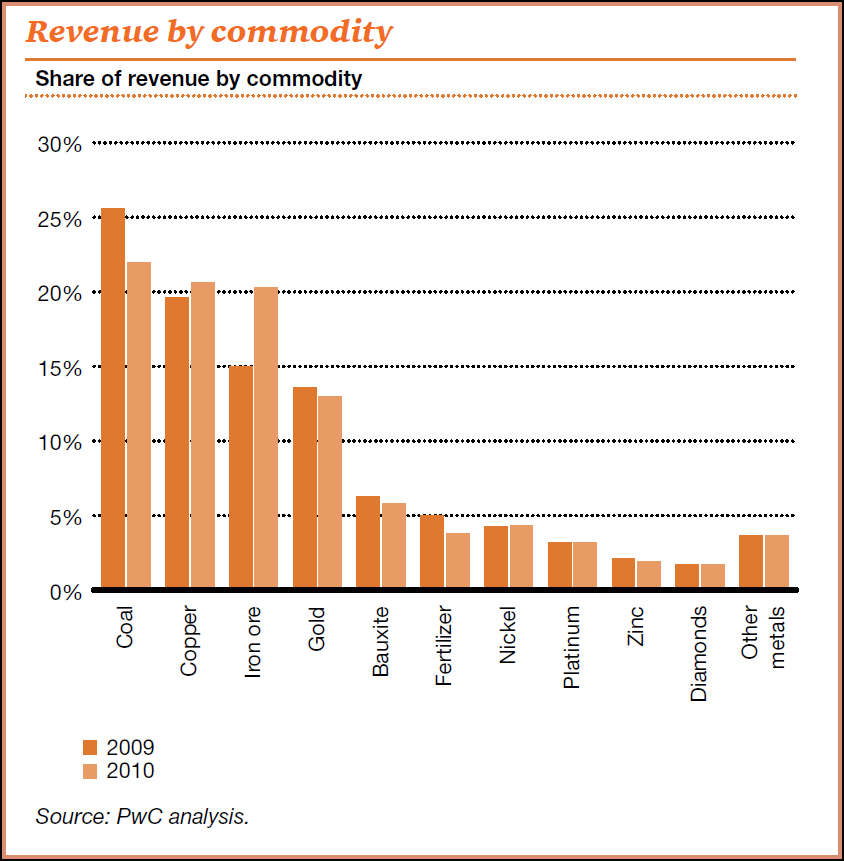 There is a trend toward consolidation in the industry with significant ongoing M&A activity. The three largest producers, BHP Billiton (NYSE:BHP), Vale (NYSE:VALE) and Rio Tinto (NYSE:RIO) are outpacing other companies. In this article we will focus on these firms, all global miners of multiple resources, and four copper miners who are large producers of that metal. Those four are Freeport-McMoRan Copper and Gold (NYSE:FCX), Southern Copper Company (NYSE:SCCO), Teck Mining (TCK) and Ivanhoe Mining (VN). Freeport and Southern Copper are among the 10 largest global copper producers, Teck is Canada's largest miner and Ivanhoe is a Canadian exploration and company with worldwide interests. Part of their selection was because they are widely traded on the NYSE as are ADR's of the top three miners.
Primary sources for this section included (Price, Waterhouse, Coopers)pwc's Mine 2011,Wikipedia, BlackRock, Yahoo Finance and Bloomberg.
Evaluating Mining Companies
There are a number of specific issues I examine when I evaluate a mining company. In addition, before I purchase, the company needs my due diligence regarding its financials, planning, leadership and place in the market. I suggest a methodology in my Seeking Alpha article "The Importance of Due Diligence - Exemplified by Johnson & Johnson". These specific issues include those both the rewards and risks.
Rewards
Financial Rewards: When a company is established and begins a mining operation there are three direct recipients of the rewards.
The company, including its management and investors, can make large profits during good production periods when the price of the commodity is high. In 2010 Combined net profits of the top 40 miners hit $100 billion. Operating cash flows were up 59%, leaving more than $100 billion cash on hand. Supply and cost management were key challenges. Conversely, while the companies receive the largest rewards of the stakeholders, they assume the most risks and have the risk of losing invested capital.
The employees are paid wages and often earn other benefits as well, such as healthcare, paid vacations and retirement funding. The work may be cyclical and there are physical dangers involved in the industry. Labor strikes in the industry are often long and sometimes violent. Their rewards are moderate as are their risks, and as long as the mines are open their income is stable.
The government gains primarily through taxes and fees. The taxes can include taxes on corporate income and taxes on exported commodities and metals. In some countries, the government takes a part-ownership position in the mining corporation. In others, it is the perpetual owner of all mineral resources and leases the rights or charges for the depletion of resources. The government has few risks and its rewards are small and stable.
Reserves: What are the proven reserves of a miner you might buy stock in? Mining companies own reserves, provable reserves and probable reserves, consisting of millions of tonnes of economically minable metal and energy resources. As a stockholder, you share ownership of those appreciating real assets.

Click here and go to page 30, PwC "Mine 2011" for information on reserves. This annual publication is one of the best sources anywhere for a comprehensive overview of the mining industry.
The world population is 7 billion people and is growing rapidly. In emerging countries, as is true in the developed societies, people who have any disposable income want more things. Everything from cell phones, tablets, computers and TVs has copper in it. When you look at Freeport-McMoRan's 120 billion pounds of copper reserves, you are looking at wealth. Automobiles require steel and other metals. Everyone in China wants a car, as do people in India and other emerging nations. Electricity is coming to formerly dark parts of the world. Coal supplies more electricity than all other sources. Resource prices will be much higher in the future, for when commodities are in short supply price escalates rapidly.
Click to enlarge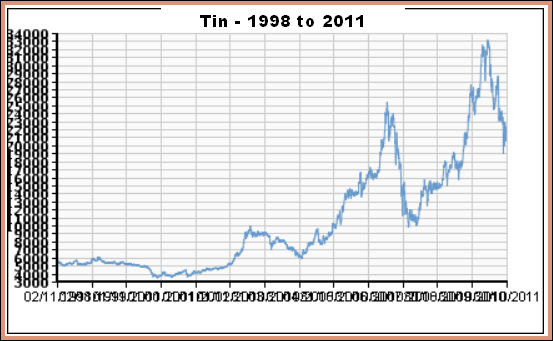 Tin was at $27,000 a tonne in January, in April it soared to $33,000 ton. While the price is much lower now at around $21,000, Indonesia just passed a law prohibiting the export of tin for less than $25,000/tonne. Since they are a large producer it does not take a crystal ball to see a shortage of supply, and higher prices, on the way.
Risk
Risk is the chance that an investment's actual return will be different from the expected return, including the ultimate risk of losing all of one's original investment.
Country Risks: A number of risks are country specific. Most of these country risks fall into one of three areas.
Economic Risk is the probability that weaknesses in a country's economy will cause adverse effects. Considerations are the relative strength of the economy, government finances, the ease of making international transactions and possibility economic growth. Currency risks such as changing exchange rates may be an issue. Adversarial or inflexible labor markets can impair operations.
Political risks often involve the stability of the government. Is nationalism of businesses and resources likely? What is the probability of civil war or terrorist activity? Other issues can include cumbersome bureaucracies, disruptive societal factions, lack of an adequate and just legal system or border disputes with neighboring countries. Sometimes the rules and regulations are set up to exclude or hinder the effective operation of certain industries.
Financial system risk can be a weak and ineffective banking system or inequitable and inefficient asset markets. Lack of regulations, or over regulation can be problems. Cronyism may impair the activity of outsiders.
Some countries are simply much better and safer to do business in than others are. A.M. Best is an international insurance rating agency which provides risk measurements for many countries. It groups countries into five different tiers; the best is (Country Risk Tier) CRT-1. 'Predictable and transparent legal environment, legal system and business infrastructure; sophisticated financial system regulation with deep capital markets; mature insurance industry framework.' Some of the CRT-1 countries are Australia, Canada, France, Norway, Netherlands and the United States. Nearer the bottom of the list is CRT-4. 'These countries have relatively unpredictable and nontransparent political, legal and business environment with underdeveloped capital markets; partially to fully inadequate regulatory structure.'This category includes India, Indonesia, Kazakhstan, Turkey and the Philippines. For my personal insights on risks in the Philippines, please go to my recent Seeking Alpha artcle, "Country Risk: Philippine Provinces Ban Mining, $1 Trillion at Risk".
Consultants Behre Dolbear & Company, Inc. creates a list of country rankings for mining investment each year. The 2011 ratings, shown in best to worst order and rated on 7 criteria are:
Click to enlarge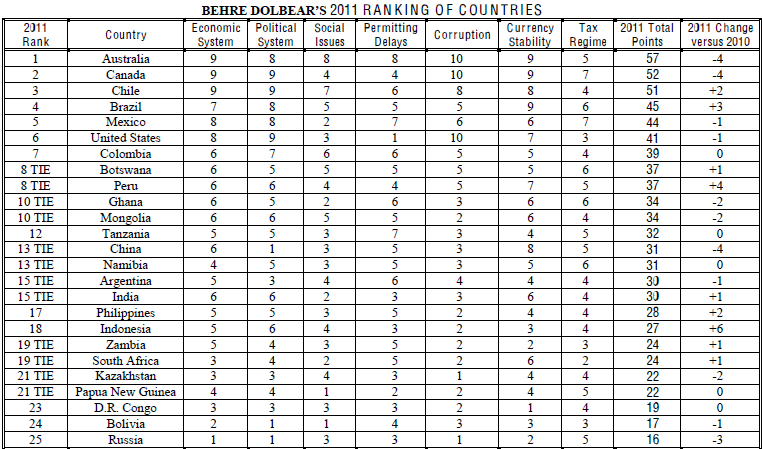 Location: Ore is heavy, bulky and costly to transport. The same is true of coal, and to a lesser degree of refined minerals. Australia, for example, is in an ideal location to ship coal to India, China and Japan. Unfettered access to mines and easy transport away from them are extremely important. Other location risks include remoteness and isolation from services, areas prone to heavy rains and flooding, mudslides and typhoon winds.
Labor Risks: Mining has a long history of bitterly fought labor disputes. This has been a bad year and much production is lost because of strikes. One of the most notable is at Freeport-McMoRan's huge Indonesian mine at Grasberg. There has been sabotage and FCX has declared force Marjorie. Several people have been shot and killed. From Reuters, November 4, 2011: "The worker dispute over pay has drawn in local tribes, armed with spears and arrows, who have their own grievances over land rights, pollution and a lack of apparent benefit for the region from its resource wealth."
Accusations of Freeport bribing government officials for protection were recently reported to the U.S. Justice Department. Freeport denies the accusations and purports to have financial transparency and legitimate financial obligations to the government. Are these charges unfounded and part of the dirty tricks of the labor dispute? A UK firm, Maplecroft is the leading source of extra-financial risk intelligence for the world's largest multinational corporations; banks and asset managers; governments and NGOs. The scope and depth of its resources is impressive. From its Indonesia report:
Human trafficking is a severe problem in Indonesia, with women and children being internally trafficked for both sexual exploitation and employment, including in mining. This is despite government-led initiatives aimed at tackling human trafficking for both forced labour and sexual exploitation. Child labour, including employment of children in hazardous occupations, is wide-spread. In the absence of rigorous social auditing and monitoring mechanisms throughout their operations and supply chains, businesses face risks of complicity in the use of forced labour and child labour. Allegations of complicity in such practices serve to undermine the reputation of a company and could potentially have significant legal and financial consequences.
Investable Capital: Not having enough capital is a competitive disadvantage. It costs billions to create a large mine and it is often 3 years before refined product starts to generate cash flow. Look for very strong balance sheets in your selection of miners. I suggest Ivanhoe Mining's website to see stills and movies of the massive project underway at Oyu Tolgoi. It will further your appreciation of the industry. The company is partnering with Rio Tinto in the project, and this is critical to securing financing. This massive undertaking is in a remote area of the Gobi Desert in Mongolia. That country is rapidly moving into the modern world and is learning to work with miners. In turn, the miners have set up an educational center to train future workers and are building an infrastructure to support the mining operation and its workers.
Environmental Issues: Aside from the political/environmental problems mentioned above, let me give you another example of an environmental activist risk. Last fall, Southern Copper walked away from its $1 Billion Tia Maria project in Peru. Violent environmental opposition because of possible contamination of water was the reason.
Market Risks: Produce of Basic Materials are, by their nature, cyclical companies that follow the ebb and the flow of the business cycle. In some metals, supply and demand fundamentals are tight, very close to each other. Prices are very sensitive to events and news. A 5% increase in demand might trigger a 20% increase in price. Excessive speculation in the futures markets is a factor. The restrictions in the Dodd-Frank law will have little effect because limiting the size of positions in the U.S. does not hamper market manipulation elsewhere in the global market.
Miners have very high betas, in the case of the larger firms, often between 1.50 and 2.00. Smaller companies may have betas of 2.00 or 3.00 or more. Teck Mining has a beta of nearly 4.0. Mining companies, with a possible exception or two, are not good candidates for a dividend growth portfolio. Dividends usually fluctuate with profits, which fluctuate with markets.
Widely Traded Miners
While each of these firms is worthy of a multi-page analysis, for the sake of brevity I am giving a brief description and providing which includes key financial and technical information. Resources for further discovery and evaluation might include the company websites, all are interesting, as well as your choice of financial sources such as Yahoo Finance and Morningstar. Gold and gold miners are not discussed here as they are subject to different dynamics than miners of industrial metals and energy products.
Freeport-McMoRan Gold and Copper: Freeport is the world's largest copper producer after the government owned Chile operation, Codelco. Headquartered in Arizona, its largest mine is in Indonesia and it operates properties in the U.S., Chile and Peru. The recoverable proven and probable reserves totaled 120.5 billion pounds of copper, 35.5 million ounces of gold, 3.39 billion pounds of molybdenum, 325.0 million ounces of silver, and 0.75 billion pounds of cobalt. The company is headquartered in Phoenix, Arizona.
Freeport-McMoRan is my first choice among copper miners. It is a large well-managed company with tremendous reserves. A negative, however, would be the labor problems it is encountering in Indonesia and Peru. I rate it a buy.
Southern Copper Company engages in mining, exploring, smelting, and refining copper ores in Peru, Mexico, and Chile. It is involved in the production of copper and molybdenum concentrates; smelting of copper concentrates to produce anode copper; and refining of anode copper to produce copper cathodes, as well as refined silver and copper.
While the company is registered in Phoenix, Arizona, it apparently operates primarily from Lima, Peru. Southern Copper Corporation is a subsidiary of Americas Mining Corporation. However, 80% of Southern Copper's stock is owned by Grupo Mexico. It is an unusual and rather convoluted corporate structure and there has recently been litigation between the parties. I hold Southern Copper and it has been a faithful dividend player over the years. However, the organizational problems bother me. For me it is a hold at this time.
Ivanhoe Mines Ltd. is an interesting company with properties in several exotic locations. The company's principal mineral resource property is Oyu Tolgoi copper-gold-silver project located in southern Mongolia. Ivanhoe Mines Ltd. is headquartered in Vancouver, Canada. Ivanhoe is working jointly with Rio Tinto at Oyu Tolgoi, and without Rio's financial backing would have a difficult time proceeding with the huge project in Mongolia's Gobi Desert.
There are frequent rumors that Rio Tinto will buy Ivanhoe. This is primarily an exploration company-- not a producer with a steady cash income. It is speculative stock and is volatile. One could reap great rewards in 2013, 2014 and 2015, or not. I will continue to hold a small position and for me it remains a hold.
BHP Billiton has significant positions in major commodity businesses including aluminum, energy coal and metallurgical coal, copper, manganese, iron ore, uranium, nickel, silver and titanium minerals, and substantial interests in oil, gas, liquefied natural gas and diamonds.
The balance sheet shows a total debt to equity ratio of only 27%. An indication of how the company is managed is apparent in the return on equity of over 45%. The fact that it has a levered free cash flow of $16B is impressive. In addition, it pays a dividend of $2.20 out of an EPS of $8.54, which figures out as a 2.60% yield with a payout of only 21% of its free cash flow. This is a buy.
Teck Mining is Canada's largest diversified miner with major focus on copper, metallurgical coal, zinc and energy. The reserves section of the 2010 Annual Report starts by defining the various types of reserves that are standard throughout the mining industry. The next tab brings up a comprehensive list of the actual reserves, which is impressive.
The book value per share is $28 and the shares are trading at about $40. I like the reserves, and I like Canada. Teck has a rather low ROE at about 13. While I do not like the beta of 3.96, volatility does not necessarily equal risk. This company will be a profit maker and significant contributor to the Canadian economy and its shareholders. I would watch the chart and buy on a dip.
Rio Tinto, Ltd. The "Colored River" was made so by the minerals leaching into it in Huelva, Spain. The company produces aluminum products, copper, gold, molybdenum, silver, and nickel, as well as sulphuric acid; diamonds and industrial minerals, such as borates, titanium dioxide feed stocks, talc, high purity iron, salt, metal powders, thermal and coking coal, uranium and iron ore. The largest operations of this global company are in Australia.
The company is registered in London. The balance sheet is strong with a debt to total equity ratio of 25%. The ROE is a respectable 26. This could be the most undervalued company on the list, with a current price of $58 and a target estimate of $94. The mean recommendation this week is 1.6, a buy.
Vale S.A. is based in Brazil. The Bulk Material segment consist of iron ore mining, pellet production and manganese mining, as well as its Brazilian Northern and Southern transportation systems, including railroads, ports, and terminals. This segment also includes and ferroalloys. The Base Metals segment produces nickel, copper, and aluminum consisting of aluminum trading activities, alumina refining, aluminum metal smelting, and bauxite mining. The Fertilizers segment provides potash, phosphates, and nitrogen.
This company has a market cap of $138B. It has a strong balance sheet, a respectable return on equity and a levered cash flow of $13B. It has an industry low P/E of 5.6 and a PEG of 0.81. Forbes reported on Friday that Vale stock underperformed its rivals RIO and BHP significantly in September, a situation that is likely to continue. The reason given was the price low of iron ore primarily due to a soft Chinese economy and weakness in the Brazilian currency. Vale's revenue is in the Brazilian real, but it has U.S. Dollar denominated debt. The real depreciated 17% against the dollar last quarter alone. Forbes also said that, "Barclays Capital still likes Vale. It has it rated as an overweight with a 12-month price target of $42."
Strategies
Short Term: The stock market is reactive to the daily news and the crisis du jour. At present the eurozone debt crisis is operative. Prices of mining companies will fluctuate on the stock exchanges to a larger degree than the overall market. In a sense, they are ideal for traders because of the constant movement. There is interrelationship with the commodity markets. However, the price curve for copper futures, for example, does not reflect coming supply-demand imbalances, but it looks like normal backwardization to the beginning of 2013. I am not a trader, so I offer no specific actions except to say that futures and options provide a great deal of leverage and possible large profits for short- term traders. Freeport-McMoRan is in a contentious strike, which is causing it to underperform. If someone told me to buy some FCX calls with spring strike dates I'd want to know more about it.
Intermediate Term: I believe that recovery will continue from the economic disaster that started in 2006 – 2007 with the growing mortgage debt problems and the collapse of Lehman Brothers. The Great Recession is past, according to strict economic definitions, but debt issues remain to be fully resolved, as does the unemployment situation in such places as Spain and the United States. The UK, China and Brazil, as well as several smaller countries, face frightening inflation. During this long workout period as economic activity increases, there will be rising demand for basic materials. Supply will lag. Prices of basic materials will rise as will the stocks of miners. Well-capitalized miners will be increasingly prosperous, as will those who invest in them. Enter the market gradually, with multiple purchases over time. Buy on dips.
Long Term: We live in a world with finite resources. Have we passed peak oil?Are we at peak tin? Meanwhile we have grown the world population to over 7 billion human beings. Demand will grow for what Westerners consider rather basic needs-- electricity for lighting and appliances such as refrigerators, houses with plumbing, telephones and for luxury items like TV sets. This demand, along with increased demand for automobiles, will come from emerging nations as people prosper. Miners coal and metals are making large investments for the future with expectations of ongoing strong demand and rising commodity prices. The long-term investor should consider averaging into this market over an extended period. This could consist of placing the money in the market quarterly initially, over a year or even longer, instead of buying in one large transaction. Modest monthly contributions and reinvested dividends have made many people rich.
Well-capitalized, well-managed companies will prosper greatly in the long term, as will those who invest in them.
Click to enlarge