In this article we will discuss the following stocks: Corning Incorporated (NYSE:GLW), Spectra Energy Corp. (NYSE:SE), Coach, Inc. (NYSE:COH), Intuitive Surgical, Inc. (NASDAQ:ISRG), Noble Energy, Inc. (NYSE:NBL), Southwestern Energy Co. (NYSE:SWN) and Fifth Third Bancorp (NASDAQ:FITB).
The stocks discussed are S&P 500 large cap or better, have a Positive Reuters ratings, above industry average profit margins of 20 percent or better and, above industry average returns on equity and on balance volumes trending higher. Additionally, these stocks have great stories and positive catalysts for future growth.
Company Reviews
Corning manufactures and processes specialty glass and ceramics products worldwide. The company is trading below analysts' estimates. Corning has a median price target of $18 by 17 brokers and a high target of $23. The last up/downgrade activity was on Aug 9, 2011, when Ticonderoga upgraded the company from Sell to Neutral.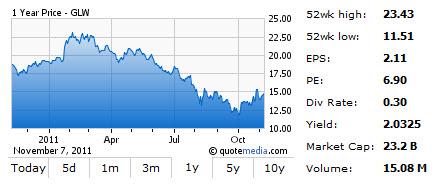 Spectra Energy Corp, through its subsidiaries, engages in the ownership and operation of a portfolio of complementary natural gas-related energy assets in the United States and Canada. The company is trading on par with analyst estimates. Spectra has a median price target of $30 by 9 brokers and a high target of $32. The last up/downgrade activity was on Jun 17, 2010, when Jefferies upgraded the company from Underperform to Hold.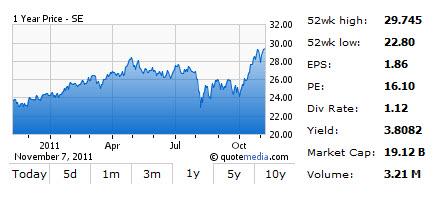 Coach, Inc. engages in the design and marketing of accessories and gifts for men and women in the United States and internationally. The company is trading below analysts' estimates. Coach has a median price target of $73 by 23 brokers and a high target of $79. The last up/downgrade activity was on Jun 24, 2011, when HSBC Securities downgraded the company from Overweight to Neutral.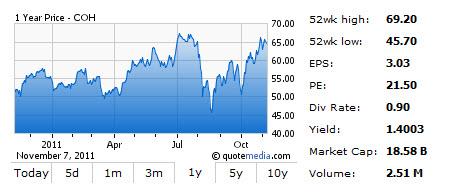 Intuitive Surgical, Inc. designs, manufactures, and markets da Vinci surgical systems for various surgical procedures, including urologic, gynecologic, cardiothoracic, general, and head and neck surgeries. The company is trading on par with analyst estimates. Intuitive Surgical has a median price target of $412 by 11 brokers and a high target of $475. The last up/downgrade activity was on Mar 10, 2011, when Collins Stewart initiated coverage on the company with a Buy rating.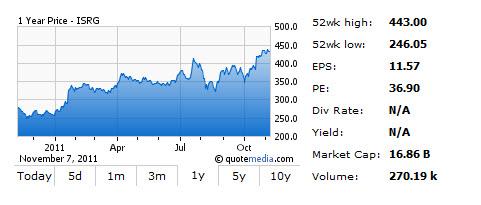 Noble Energy, Inc., through its subsidiaries, engages in the acquisition, exploration, development, production and marketing of crude oil, natural gas and natural gas liquids in the United States, West Africa, Eastern Mediterranean, the North Sea, and internationally. The company is trading significantly below analyst estimates. Noble has a median price target of $109 by 19 brokers and a high target of $143. The last up/downgrade activity was on Sep 20, 2011, when Deutsche Bank initiated coverage on the company with a Buy rating.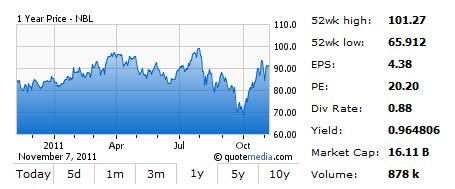 Southwestern Energy Company, an independent energy company, engages in the exploration, development, and production of natural gas and crude oil in the United States. The company is trading below analysts' estimates. Southwestern has a median price target of $48 by 23 brokers and a high target of $69. The last up/downgrade activity was on Oct 4, 2011, when Ladenburg Thalmann initiated coverage on the company with a Buy rating.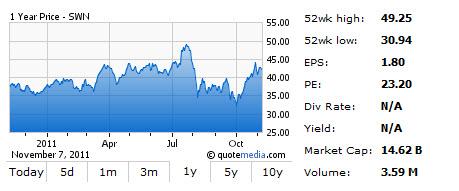 The Bancorp is a diversified financial services company headquartered in Cincinnati, Ohio. At December 31, 2009, the Bancorp had $113 billion in assets, operated 16 affiliates with 1,309 full-service Banking Centers including 103 Bank Mart® locations open seven days a week inside select grocery stores and 2,358 ATMs in the Midwestern and Southeastern regions of the United States. The company is trading below analysts' estimates. The Bancorp has a median price target of $15 by 29 brokers and a high target of $17. The last up/downgrade activity was on Apr 15, 2011, when Robert W. Baird upgraded the company from Neutral to Outperform.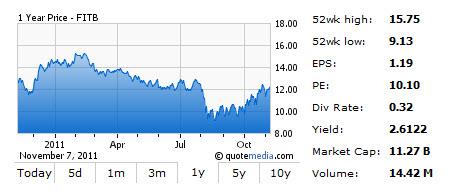 Compelling Fundamental Criteria
Positive Reuters Rating
A positive rating by Reuters is based on six widely-used investment decision making criteria: Earnings, Fundamental, Relative Valuation, Risk, Price Momentum and Insider Trading. A simple average of the underlying component ratings is normally distributed to rank stocks on a 1-10 scale (10 being awarded to the highest scored). These factors may be evaluated differently using alternative methodologies and the importance of individual factors varies across super sectors, sectors, market capitalization and investment styles. Additional criteria should always be used to evaluate a stock.
Profitability
A company's profitability and earnings per share are conceivably the most important statistic to understand before investing in a stock. Each time you consider starting a position in a stock, you should prudently scrutinize its earnings information. The reason earnings are so vital to investors is that they tell you about the relative profitability of a company. Earnings per share is defined as the net income of a company divided by the shares of common stock outstanding. With the EPS measure, you are looking at the amount of money left over for shareholders. The value is reported after taxes are subtracted, and we are normalizing those profits by stating them on a per-share basis.
Return On Equity
Return on equity (ROE) measures the rate of return on the ownership interest (shareholders' equity) of the common stock owners. It measures a firm's efficiency at generating profits from every unit of shareholders' equity (also known as net assets or assets minus liabilities). ROE shows how well a company uses investment funds to generate earnings growth. ROEs between 15% and 20% are considered desirable.
High ROE yields no immediate benefit. Since stock prices are most strongly determined by earnings per share (EPS), you will be paying twice as much (in Price/Book terms) for a 20% ROE company as for a 10% ROE company. The benefit comes from the earnings reinvested in the company at a high ROE rate, which in turn gives the company a high growth rate. The benefit can also come as a dividend on common shares or as a combination of dividends and reinvestment in the company. ROE is presumably irrelevant if the earnings are not reinvested.
On Balance Volume
On-balance volume (OBV), a momentum indicator that measures positive and negative volume flow, was developed by Joseph Granville and introduced in 1963 to the technical community inside the pages of his book, "Granville's New Key to Stock Market Profits." Granville felt that volume was the driving force behind the markets, and designed OBV to project when major moves in the markets would occur. In his book, he described the increase or decrease of his indicator, setting new highs or lows as "a spring being wound tightly." When on balance volume is rising, often times this is a signal that "smart money" is being deployed.
Moreover, most of these stocks are trading well below consensus analysts' estimates, have recent upgrades, positive analyst comments, and some pay dividends. Below are two tables with detailed statistics regarding each company's current summary and fundamental information.
click to enlarge images
Summary Statistics

Fundamental Statistics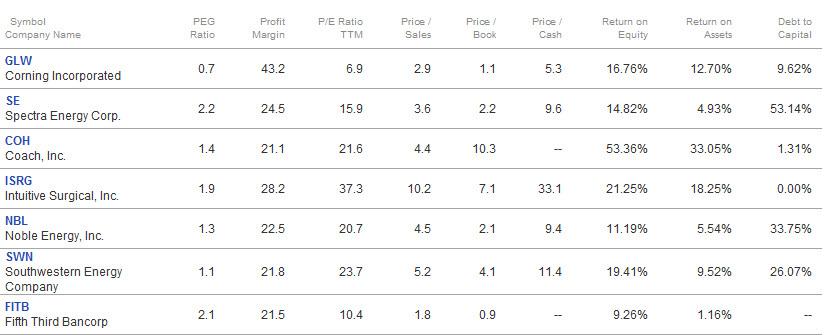 Market Backdrop
On Monday, the market was unsure of which way it wanted to go during the morning session. However, it found traction by midday and ended the session in the green, near the highs for the day. Market temperament Monday A.M. was variegated as market partakers deliberated the consequences of the Greek Prime Minister Papandreou resigning. Last week Papandreou threw the markets a curve ball by propositioning a referendum for the country's bailout package. It is expected that a new prime minister will be named shortly.
The future of Italy's prime minister was in question yesterday as well. Silvio Berlusconi, Italy's rebellious prime minister, denied reports that he planned to step down amidst growing pressure from politicians and investors who see him as a hindrance to resolving the sovereign debt crisis. Rumors about his possible resignation came amid concerns about the country's financial conditions, which continue to drive yields on the Italian debt higher. The primary market averages of Italy and Greece gained of 1.3% and 1.7%, respectively, while the rest of the region failed to find encouragement from the headlines
Despite eurozone weakness, domestic stocks attempted to trade higher in the opening minutes of trade. Energy stocks offered leadership in the morning session, but proved fleeting as the sector inevitably turned negative with the rest of the market. Mid-session, as the euro rebounded against the greenback, buyers returned and the market found its footing. No leadership emerged, nevertheless the Dow rebounded nearly 200 points to close at up $85. The ascent was unrelenting into the close, although volume was anemic, leaving conviction underpinning the rally in doubt. Slightly fewer than 800 million shares were traded on the NYSE.
Based on several bullish technical indicators, the markets' unending resilience in the face of continual negative headlines, the performance of S&P 500 stocks this earnings season and a bullish outside month in October, I believe the market is setting up for a year-end rally. Answer this question: How many times has the stock market roared back after a correction? The fact is, every time. If you told someone in 1987 on Black Monday that the Dow would be almost ten-fold higher within 20 years' time, that person would have called you crazy, but you would have been correct. Who is to say how high the market can climb from here? Bespoke Investment Group is always digging up interesting statistics. Here is one I feel pertains to the current environment.
Bespoke Investment Group stated on CNBC's Street Signs:
Since 1928, S&P (NYSEARCA:SPY) averaged gain of 5.55% in quarter after a 10%+ down quarter and 17 of the last 21 economic indicators have come in better than expected, indicating the fourth quarter could be a snap back quarter.
Those are pretty good odds. I believe the European sovereign debt issues are nearing resolution. The stranglehold they have had on the markets is soon to be released, so we can go back to focusing on fundamentals. 70 percent of companies in the S&P beat estimates this earnings season-- a statistic lost in the whirlwind of eurozone turmoil.
Conclusion
It is hard to think beyond the current state of affairs when negative preoccupations always seem to repeat themselves and you are stuck on a roller coaster ride of continual highs and lows, but the ride inevitably ends, the storm clouds clear and you feel the first ray of hope shine down. The problem is that it's already too late to buy due to the fact all the savvy investors bought in and ran up the price while you were hiding in your storm cellar. Fortune favors the bold. Hopefully, you can take advantage of these amazing buying opportunities.
I'm not saying that you should buy into a full position today, but this may be a good opportunity to start picking up some shares, maybe a tenth or a quarter at a time. There may be more volatility in front of us, even with the more than 10% drop in the market recently and the restructuring of Greek sovereign debt. Nevertheless, this may be a good point to start a position in buying opportunities.
Disclosure: I have no positions in any stocks mentioned, but may initiate a long position in GLW, SE, SWN, NBL, FITB, COH, ISRG over the next 72 hours.
Additional disclosure: This is only the first step in finding winners for your portfolio. Please use this as a starting point for your own due diligence.