The recent volatility in the equity markets has spooked a lot of investors. This, combined with a low interest rate environment, has gotten nearly everyone I talk to excited about dividend investing. Lately it seems like I've been finding a lot of good deals among utility companies. The nature of this business coupled with consistently growing dividends and generally favorable demographic trends (which is why some of the top stocks in this sector can be found in emerging markets) make this fertile hunting ground for dividend investors.
American Electric Power (NYSE: AEP) is one such power utility company, which offers investors a decent 4.7% yield and compelling upside. Like many utility companies, AEP generates electricity using coal, natural gas, nuclear, and hydroelectric energy for customers across the Midwest (including Texas with strong population growth). The company also operates barging operations that transport coal and dry bulk commodities on the Ohio, Illinois, and lower Mississippi Rivers and also operates wind farms. AEP had about $14.4 billion in revenue in 2010 with $1.2 billion in net income and a dividend payout ratio of about 60% (which may seem kind of high by "normal" dividend investing standards but is fine in the highly regulated utility industry). The company has paid out quarterly dividends for over 100 years at a yield consistently between 4 and 6% with steady growth over time (the dividend was cut in '03 (from $0.65) but it was after a big spike up just a few quarters prior). Since '03 the dividend has consistently grown over time (with a very decent boost recently), giving dividend growth investors a chance to buy into a great (safe) yield now that will steadily grow over time.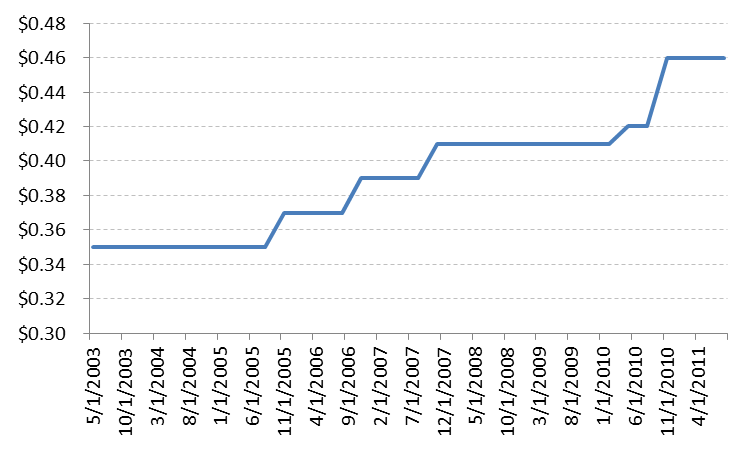 The AEP Board of Directors approved a 2.2 percent increase in the company's quarterly dividend, setting the quarterly dividend at $0.47 per share. With industrial demand once again showing signs of recovering in Q3, AEP appears to be on course to post even better going forward, giving some compelling upside to a safe (if boring) dividend payer.
Also, the hedge fund Levin Capital Strategies (run by John Levin) increased its position in the stock by 25% last quarter.
PPL Corporation (NYSE:PPL) is a Pennsylvania-based diversified utility company (formerly Pennsylvania Power & Light Company) engaged in generating and delivering electricity (and natural gas) to over 5 million people in the Northeastern and Western U.S. The company is currently yielding about 4.8% and has performed well in the recent market volatility.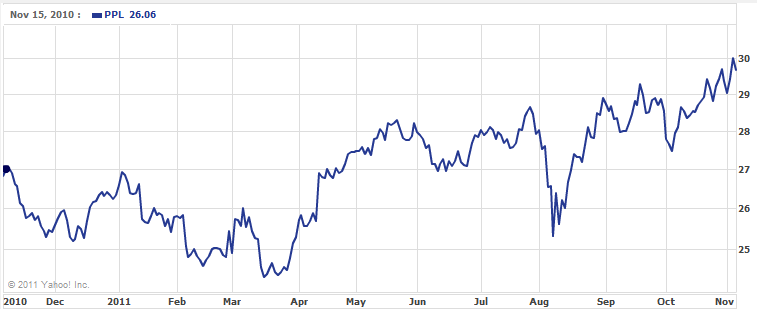 Earnings were $3.6BN on revenue of $9.4BN last year and the dividend payout ratio is only 52%, which is low by utility standards and means there could be room for higher dividends in the near future. Also important for dividend investors is the company's aggressive acquisitions in recent years, which is another good sign for higher dividends going forward.
Alliant Energy (NYSE: LNT) is a regional utility which generates and distributes electricity (and distributes natural gas) in Wisconsin, Iowa, and Minnesota. The stock currently sports a 4.2% dividend yield and good fundamentals but what really makes this story interesting is LNT's potential attractiveness as a takeover target for a larger utility. Wisconsin Energy (NYSE:WEC), in particular, would benefit from taking over LNT at an attractive valuation. The company has a $4.5BN market cap with earnings of $920M on revenues of $3.55BN.
This company is a solid dividend payer in its own right and is a great place to park long-term money (especially in turbulent markets) and the company offers a low-cost DRIP to make it easy for investors. I know investors who have been in this DRIP since 1960 (when it was Interstate Power) now earning multiples of their original investment each year in dividends…so don't let a "boring" old utility company make you forget the power of reinvested dividends.
So the bottom line is…
All these companies offer investors good, safe dividends that will steadily grow over time and each has its own compelling upside opportunity for growth. That said, these are pretty boring stocks which are great for long-term wealth building but not for cocktail parties…but leave that for the post-IPO investors in LinkedIn (NYSE:LNKD).
Disclosure: I have no positions in any stocks mentioned, but may initiate a long position in AEP, LNT, PPL over the next 72 hours.