Waste Management (NYSE:WM), on the surface, is an interesting recession dividend play. The country needs garbage services in all 50 states. The company has 8 years of consecutive dividend hikes. This is very positive to see. The stock price, however, has simply gone nowhere since 2004. Is now the time to take a position in this stock or to avoid the waste management sector altogether?
Based upon the current earnings' results, historical results, and present business model, I believe investors should avoid this sector. The basis is focused upon 3 core reasons
An economic climate focused upon finding the cheapest waste management provider, versus the best value.
An in proven management team which has not proven revenue, earnings, and dividend growth.
Better industry stock valuations from key competitors. Waste Management (WM) lacks any industry pricing power.
This article's conclusion is the current earnings, acquisitions, and dividends do not support an investment in Waste Management (WM). Here, in my opinion, is why Waste Management is not an attractive investment at current prices.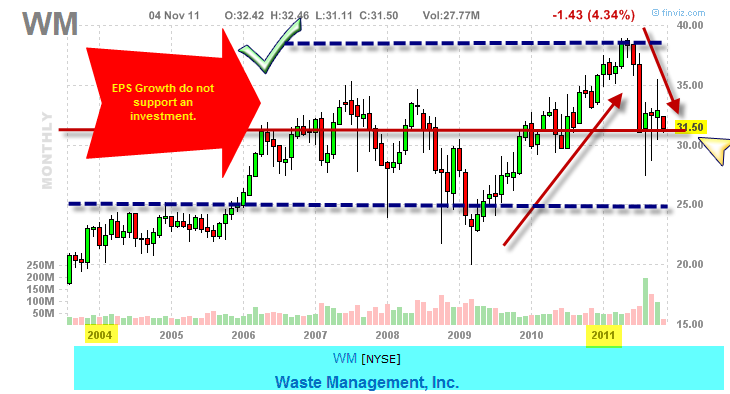 Business Summary
Waste Management (WM) is a company dedicated to preserving the earth's natural environment, and their chief goal is the reduction and management of waste, from collection to the point where it is disposed. They extract valuable resources from the waste, and convert it into clean and renewable sources of energy.
Waste Management is essentially a holding company, which delegates all of its operations and functions to its subsidiaries. The subsidiaries are responsible for the main process which is required to carry out the correct collection of the waste, its transfer and it's recycling along with disposal.
Waste Management is a leader in its field of creating recyclable energy as it fulfills the purpose of collection, transfer, disposal and operation along with owning several waste–to- energy and landfill gas to energy facilities. As Waste Management is an umbrella company, it talks about all of its consolidated subsidiaries along with its variable interest entities.
Waste Management employs over forty-five thousand employees, all dedicated to provide the best service possible to the environment. They aspire to do this by maximizing the value of their resources so that they can balance the survival of the economy along with survival of the environment, ensuring that development in one sector does not tip the scale unfavorably towards the other.
Waste Management serves over twenty million customers, which are residential, industrial, municipal and commercial consumers.
Business Model
As Waste Management deals with turning waste into renewable resources of energy, they have a very coherent business model, which separates each product and service that the offer by nature, and run different facilities to handle the varying types of the products they are dealing with. The products and services are divided as:
A. Waste Management's residential services include: curbside pickup; recycling; on demand disposal; other waste services and recycling; and portable storage.
B. Waste Management's small business services include: scheduled pick up; recycling; on demand disposal; and other services including hazardous waste services and product disposal.
C. Waste Management's enterprise services include: construction; health care facility solutions; commercial property solutions; city, state, and Federal contracts; and educational accounts.
Acquisitions
On November 3rd, Waste Management discussed their business model. The Oakleaf acquisition, as outlined on July 28t, 2011, is aimed to increase revenue and serve as a catalyst for earnings and revenue synergies. The Oakleaf purchase was intended to provide an asset lighter, higher profit margin business. This acquisition did not follow through on the SEC 3rd quarter earnings per share.
The company's income from operations of $543 million, equal to 15.4% of revenues, was lower than 2010's income from operations. The 3rd quarter from 2010 income from operations was $544 million. This equates to 16.8% of revenues, page 17 of the 10Q. Synergies should show clear higher income from operation percentages.
Positives
Waste Management does possess, on the surface, positive reasons to believe in the company's future. The current dividend yield is 4.3%. A competing investment alternative, the 10 year Treasury Bond, yields 2.06%.
On October 27th, Waste Management announced positive numbers. The 3rd quarter earnings per share were 58 cents. This compares to 51 cents in 2010. Revenues increased from $3.24 billion in 2010 to $2.52 billion in 2011.
Waste Management's stock buyback plan has reduced the outstanding share count from 570 million shares to 470 million shares. The buyback has been, for all intents and purposes put on hold due to the acquisitions. Debt levels remain at above 55% of the capital structure. Time will tell whether the stock buyback plan can be put back in full force. Oakleaf was intended to produce higher profit margins, which ideally would have provided additional net income per share to pay for the acquisition.
Negatives
2011 3rd quarter results indicated positive gains were due materially to a few non company specific reasons, page 20:

The business model focuses upon beating the consumer price index (NYSEARCA:CPI) by 50 to 100%. This is significantly lower than I am comfortable investing in. As the U.S. and global economies de-leverage, sources for the lowest cost provider are on the rise. State, Federal, educational, residential, and municipal outsourcing are determined to reduce costs based upon a lower revenue base in the struggling economic economy.
The 2004 revenues were $1,336 million. The 2011 revenues are anticipated to be $1,320 million for the year. The company is showing zero growth on the revenue side despite stock buybacks and acquisitions.
Competitor Republic Services, Inc. (NYSE:RSG) offers shareholders with a higher earnings per share and net income growth rate. Although the yield is 120 basis points lower, the prospects look brighter for Republic at least for the short term.
Summary of Recent Dividends and Earnings:
Waste Management is expanding fast over the year, and their acquisitions have served to be very profitable for them in the year 2011. Statistics show that Waste Management made $1.36 in cash dividends paid per share annually, which is a significant rise by $0.10 in 2010. The financial statements issued at the end of the second quarter of 2011 showed the Net income of Waste Management to be a total of $237 million or $0.50 per diluted share. The revenue increased by 6.0% due to recycling volumes, higher prices on commodities along with acquisitions and yield.
The net cash obtained from operating activities amounted to $478 million at the same time.
Historical Returns
The dividend increase from 75 cents per share to $1.36 cents per share, per annum, is a substantial increase. The payout ratio has topped out at current 64%. The 2004 thru 2011 total annualized rate of returns indicate Waste Management has failed to even beat the SP 500. Waste Management provided shareholders an annual 1.9% return versus the SP500's 2.4% over the same time frame.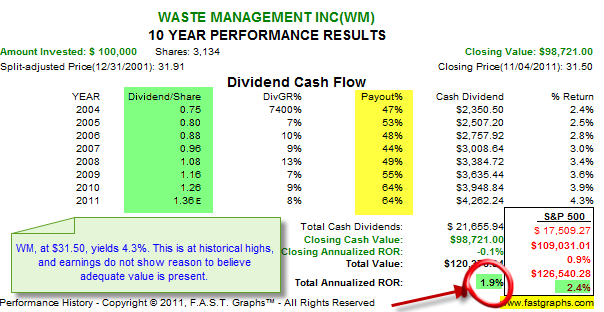 Summary
I have to evaluate a stock based upon the facts as they present themselves. If there are implicit factors to consider, I will clearly factor these into my decision making. Otherwise I have to be explicit in terms of why a stock is not worthy of investment at present prices. I have to be accountable to myself using common sense, facts, and reasonable assumptions.
I believe the best name in the waste management space is Waste Connections Inc. (NYSE:WCN). Although the dividend is lower, the growth rate and legacy expenses favor Waste Connections. I prefer to avoid this space as the lowest cost provider is placing pressure on providers who are required to reduce bids to satisfy 3rd party clients with tight budget programs.
Disclosure: I have no positions in any stocks mentioned, and no plans to initiate any positions within the next 72 hours.