Intel Corporation (NASDAQ:INTC) is the driving force behind much of the world's computerised technology. Its integrated circuitry, sold direct to equipment manufacturers, allows users' computers, CD and DVD players and networked workstations to work and talk to each other. Technology advances quickly, however, and investors would be wise to question the ability of Intel to continue to deliver the returns it has done to date.
INTC shares are currently trading around $23.75. Its last 12-month earnings per share of $2.31 places its shares on a trailing price to earnings ratio of 10.28. This compares with the sector average of 13.38. With earnings expected to be in the region of $2.56 for the year ending December 2012, its forward price to earnings ratio slips to 9.27. For a company that produces an operating margin of 32.77%, and with a return on equity of over 27%, this rating should look attractive to potential investors. Texas Instruments (NYSE:TXN), one of its major competitors, but far smaller in terms of market capitalization ($36 billion as against INTC's $123 billion), and trades on a trailing price to earnings ratio of 13.26. Looking forward, this ratio stays steady at 13.70, on earnings that are barely expected to move. Were INTC shares to be rated equally, this would see the share price move to around $31.50.
Like Advanced Micro Devices (NYSE:AMD), INTC's products are best known for their use in the personal computer space. AMD has recently announced a cut of 12% in its workforce as it re-focuses its direction. INTC is already moving with the times, and has recently announced plans to increase its sales to tablet manufacturers and for use within different industry sectors, such as healthcare and retail.
INTC is cash rich; its $15.20 billion dollars of cash in hand is giving it the financial firepower to take advantage of market opportunities, should they arise. Its debt to equity ratio of 15.49 is less than a third of TXN's (52.4) and an eighth of AMD's (118).
An added bonus for shareholders of INTC is the 3.5% dividend yield. The company has increased this for seven consecutive years, and paid dividends since 1992.
On 18th October, INTC's third quarter results delivered stronger than expected growth. Record revenues of $14.3 billion, an increase of 29% year on year, with net income of $3.7 billion increasing 24% over the same period all beat analysts' expectations. It was announced that its share buyback authorization had been increased by $10 billion (perhaps somehwre to spend the company's cash and increase shareholder value in the absence of other opportunities?). All areas of its business are growing strongly, except the Intel Atom microprocessor section, where revenue fell 32% year on year.
INTC is concentrating on what it does best, while seeking to enhance shareholder returns. This may be helped by share repurchase programs or by acquisition. Whichever course the company decides to take, it has plenty of cash to do so without making a call on the market.
Its revenues, and net income, are set to continue to grow. Sturdy margins, and a good level of dividend cover should enable the company to continue to offer sector beating dividend yields. It continues to operate globally with some of the world's most respected organizations. Indeed, it has recently extended its Openlab agreement with CERN, which will help to cement its unrivalled reputation.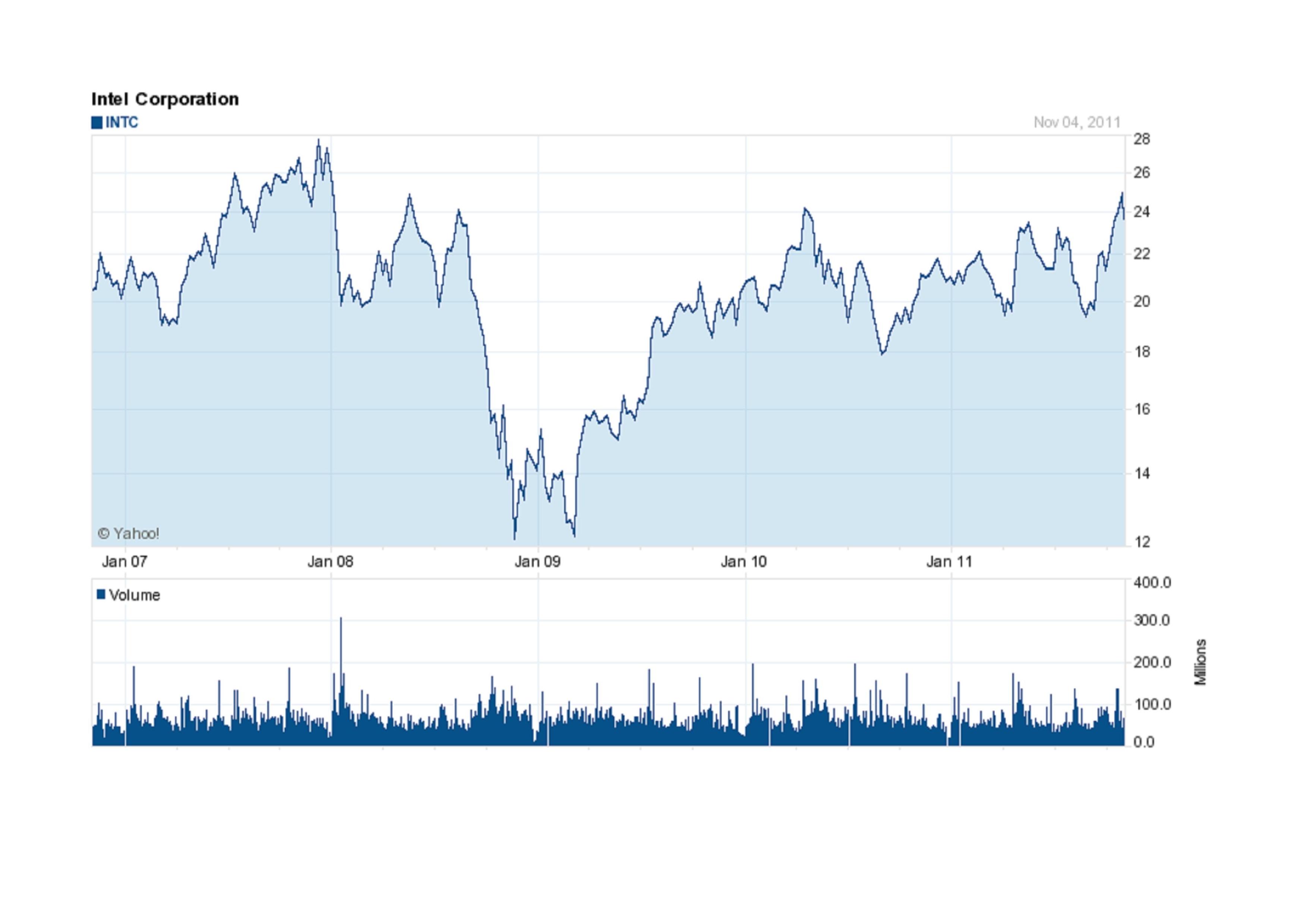 Though having slipped from their 12-month high of $25.20, I believe that on the basis of news and fundamentals, the shares are a buy. The five-year chart also points to a change of perception amongst investors. A price around current levels could become a strong level of support. There is no reason I can see for them to have a lower than average sector price to earnings ratio, and I expect earnings to continue to grow well. I rate this stock a buy.
Disclosure: I have no positions in any stocks mentioned, and no plans to initiate any positions within the next 72 hours.