So what is the story with silver – did the bubble burst? Is it headed for $50 an ounce or more? What about the gold/silver ratio: Is it headed towards new lows or new highs and what does it really mean? What is the real supply and demand picture for silver?
Silver remains a precious metal despite years of being the "bastard stepchild" to gold. An attempt to corner the silver market drove prices to historical highs in 1980 and more recently towards $50 an ounce based on several proven and unproven factors including short covering of a reportable massive JP Morgan (NYSE:JPM) short position inherited from the takeover of Bear Stearns, global economic concerns resulting from sovereign debt defaults to currency devaluations to political unrest.
Technically, I have a strong case that silver has been tracing a corrective pattern off of the 2011 highs which may be complete with the larger bull market advance in full force again. Fundamentally, the same story presents itself over and over again – silver is set to advance reaching new highs that will surprise and astound many.
HISTORY
Historically, silver has been an indispensable metal for over 5000 years. Evidence can be found in Anatolia (modern day Turkey) of the first major source of mined silver dates which back to 4000 BC and served craftsman throughout Asia Minor, the Near East, Crete and Greece. More sophisticated processing of silver was developed in about 2500 BC in what is now Armenia.
Fast forward eighteen hundred years to the Greek civilization where historical writings and physical evidence suggest the Laurium mines near Athens were producing about 1 million troy ounces a year. In fact, through the 1st century AD, the Laurium mines were the largest individual source of world silver production.
After the Greek domination in mining silver spread to Spain, the Punic Wars brought in Roman rule and the expansion of exploiting Spanish silver extended to other areas of Europe. Spanish mines provided for the domestic silver needs of the Roman Empire. Historical records though, suggest the actual production levels did not rise significantly even though mine production in Spain dominated the first 1000 years AD. Expansion in production took place in the 500 year period from 1000 – 1500 AD as mining locations increased and mining technology began to improve.
During the next 375 years silver mining and production was dominated by the Spanish as colonies were established in South America (Bolivia and Peru) and in Mexico. Eighty five percent of world production was attributable to Bolivia, Peru and Mexico. After 1850 production increased substantially as the United States and several other countries began mining and world production jumped from around 40 to 80 million troy ounces a year by the 1870's.
The 20th Century ushered in an explosion of technologies that enabled world production to jump again to about 190 million troy ounces a year. Major mines were established in the United States, Canada, Australia, Central America and Europe. Technology introduced steam-assisted drilling, mining, mine dewatering, and improved haulage enhancing the ability to handle ore and increasing the exploitation of ores that contained silver.
As the 20th century progressed improvements in electrorefining techniques ushered in easier separation of silver from other base metals which increased the sources of silver. Ultimately the increase in output of silver-bearing residue led to refined silver production.
HOW SILVER IS USED TODAY
The demand for silver can be broken down into three main areas: Traditional, Industrial, and New Technologies.
Traditional
Coinage
Photography
Silver Jewelry
Silverware
Industrial
Batteries
Bearings
Soldering
Catalysts
Electronics
New Technologies
Medical Applications
Solar Energy
Water Purification
The latest annual figures reveal that in 2010 over 487 million ounces of silver were used for industrial applications, 167 million ounces were used by the jewelry market, over 50 million ounces producing silverware and over 10 million ounces in minting coins and producing medals.
Industry continues to rely on silver's unique properties such as its strength, malleability and ductility. As well as its electrical and thermal conductivity, its high reflectance of light and the ability to handle extreme temperature ranges.
GOLD/SILVER RATIO
Under the direction and guidance of Alexander Hamilton as Secretary of the Treasury the U.S. Government set the first formal gold/silver ratio under the "American Act for Establishing a Mint" in 1792 at 15 ounces of silver for every one ounce of gold or 15:1 The act was put in place to facilitate at what ratio they would coin gold and silver. Based on the relative value that was present in Europe the gold/silver ratio was used to reflect the commercial value of each metal. While this may have been the case in Europe it did not extend further east where in India, parts of Africa and East Asia the gold/silver ratios were reported as low as 1:1.
Beginning in the 19th century gold increased in popularity in Europe and the U.S. as a more stable monetary asset. By the end of the 19th century the demonetization of silver was well underway and picked up speed in the 20th century as most countries discontinued their silver from currency circulation and began dumping their silver stockpiles driving the monetary demand even further into the abyss.
The early 20th century saw the gold/silver ratio drop to 100 ounces of silver to one ounce of gold. It should be noted that at that time the mine production of silver was not 100 times that of gold nor was the abundance of silver money 100 times that of gold. The prejudice of governments and mints during this time predicated or perhaps manipulated the gold/silver ratio from 15:1 to 35:1 and as high as 100:1 as government dumping of silver took place. Records indicate that between 1965 and 2000 government(s) sold 3 billion ounces of silver versus 150 million ounces of gold. Currently, it is reported that governments hold only 60 million ounces of silver versus 1 billion ounces of gold. It would appear that silver is now more rare than gold.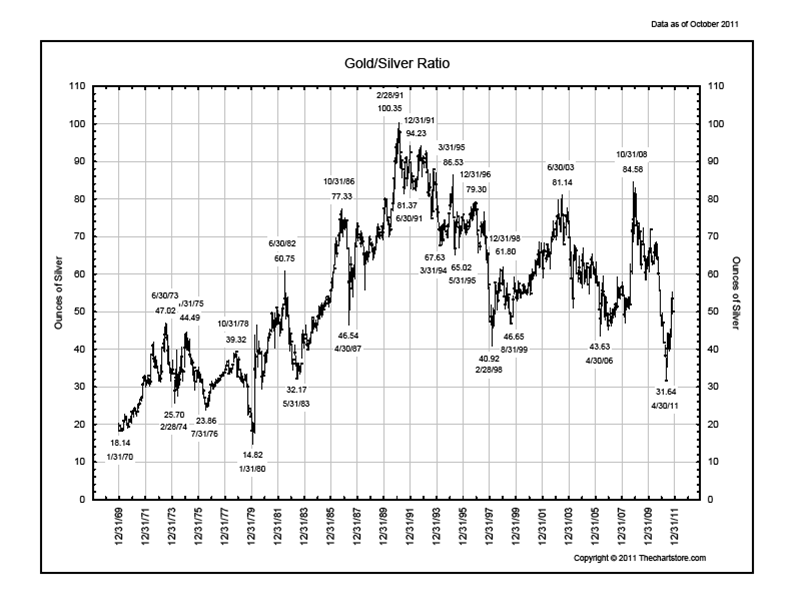 Source: thechartstore.com
Today, the gold/silver ratio is still used by many to determine which metal is undervalued or overvalued, which in essence doesn't make sense since the gold standard as a monetary system was abandoned and replaced by fiat currency systems around the globe. There are additional ratios between the precious metals such as:
Approximately nine times as much silver as gold is pulled from the earth each year. The majority of this silver is used by industry.
According to the United States Geological Service (USGS) the general belief amongst mining companies is that there is only about six times as much silver in the ground that is mineable, although there are published reports claiming there is 15 or 20 times more silver in the earth, (this ratio is the natural occurrence ratio and not the reserve base ratio.)
Over the past 10 years, approximately 40 times more silver was NOT earmarked for coins and bullion and this is what the price ratio of gold to silver tends to reflect.
9:1 is the silver to gold annual mine production ratio
6:1 is the USGS estimated gold to silver in the ground ratio
1:1 is the year to date investment dollar demand ratio
1:3 (more silver than gold) is the physical ratio of gold and silver coins/bullion
THE MID & LONG TERM PICTURE FOR SILVER
Supply and Demand
Undoubtedly supply and demand for any product will ultimately rule its price. That said the demand side for silver over the past year or so propelled prices to astounding levels. Investor interest and fabrication demand spurred by the industrial segment recovery easily offset the increase in supply.
Total silver supply rose by 15% in 2010 primarily on the return of producer hedging (61 million ounces), government sales (net sales increased with Russia being a major seller) and recycling where the decline in photographic scrap was balanced by a strong rise in industrial, silverware, and jewelry recycling. Mine production saw a very modest expansion of 2.5%.
Demand for silver was robust in 2010 as well. Industrial demand rebounded 21% and was the largest contributor to the 13% increase (879 million ounces) in fabrication (see inset for detail), which includes jewelry and coinage. Together the net increases in demand offset the continued losses in photography and silverware.
Net investment jumped by 47% to an all-time high of 178 million ounces (most of which took place within the last four months of 2010.) ETFs and physical bars ruled last year with the Comex seeing less of a commanding role via silver futures.
Pent up demand remains in the market as investors seek out "safe havens" when quantitative easing in the United States remains in the near term picture and European sovereign debt problems remain unresolved. The economic outlook thus far continues to support silver's safe haven status as monetary policies are unlikely to be significantly tightened anytime soon and the sovereign debt crisis grows.
Silver's Fabrication Uses

Industry: Silver is the best electrical and thermal conductor of all metals and so is used in many electrical applications. The most significant uses of silver in electronics are in the preparation of thick-film pastes, in multi layer ceramic capacitors, membrane switches, and silvered film in electrically heated auto windshields. Silver is used in the fabrication of photo voltaic cells, coating material for compact discs and DVDs, mirrors, and batteries. Jewelry and Silverware: Silver possesses working qualities similar to gold, enjoys greater reflectivity and can achieve the most brilliant polish of any metal. Photography: the age of digital photography has diminished silver's usefulness within this sector. Radiography, graphic arts and consumer photography though continue to use film manufactured with a very high purity silver. Coins: Historically, silver was more widely used in coinage than gold, being in greater supply and of less value, thus being practical for everyday payments. During the latter 19th century silver was phased out in favor of gold. Investors though remain buyers of coin and bullion especially in the U.S., Australia, Canada, Mexico and Austria. Source: GFMS Ltd. World Silver Survey 2011
Silver (Physical)
After a stellar rally to nearly $50 ounce silver put in a needed correction. The correction itself consisted of two steep and at times precipitous declines separated by a three month upward biased sideways move. The correction did fit the profile and it appears that off of the 26.15 (September intraday low) silver has resumed the larger advance. However, without strong upward momentum it leaves open the possibility for an additional down leg taking place before prices head higher on a more sustained basis.
Technically, the long term charts continue to support and suggest additional downside remains in the picture for now. The stochastic oscillator is pointing lower and is currently in neutral territory. The MACD is beginning to register oversold and the MFI oscillator continues to show money is stronger on the buy side rather than sell side.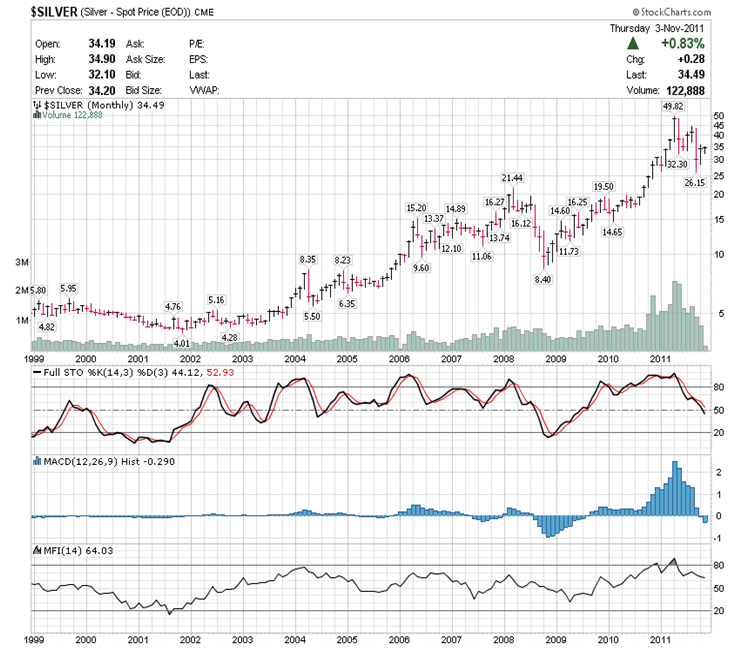 The chart below (courtesy of thechartstore.com) reveals silver's upside potential when prices have been adjusted for inflation (PPI) and suggests silver will reach $100+ levels over the longer term.
iShares Silver Trust (NYSEARCA:SLV)
In contrast the weekly chart for SLV reveals a more convincing picture that the larger advance may indeed be back in force. The stochastic and RSI oscillators support the advance continuing over the midterm with MFI oscillator being the caveat; pointing lower indicating money is exiting rather than moving into SLV.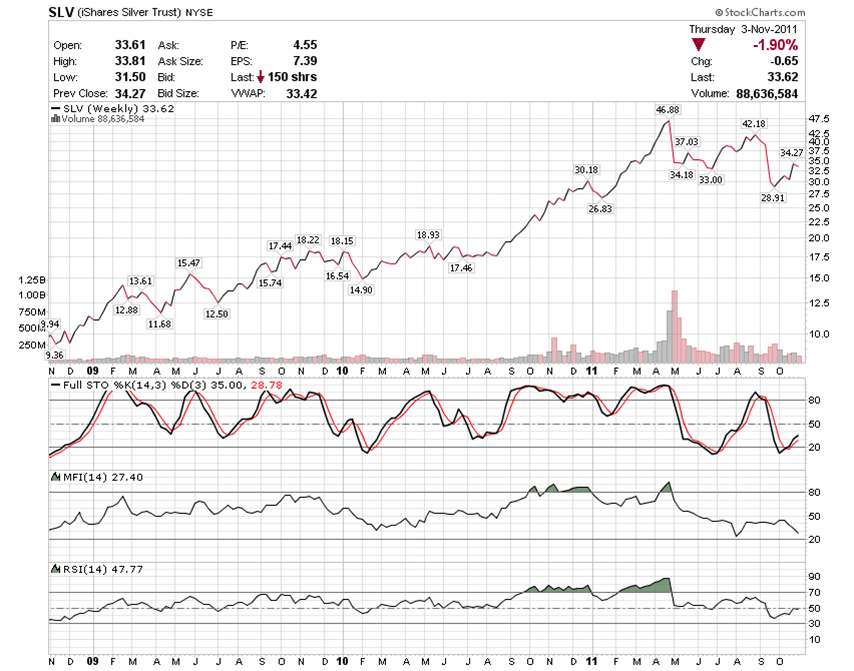 Silver Mining Companies
Some have argued that silver mining companies have lost their appeal (luster) and a check on the table below does show some dismal year-to-date returns. However, when compared to the outstanding and incredible returns on a two and three year basis the picture becomes much clearer. As in the physical metal itself, silver mining companies have been in the process of tracing out corrective patterns. The longer term supply and demand picture continues to support higher prices for mining companies as well. The companies included in the table below are focused (earn 50% or more of revenue) in silver mining and exploration with a market cap of $1 billion or more.
Coeur d'Alene Mines Corporation (NYSE:CDE)

Coeur d'Alene Mines Corporation is the largest U.S.-based primary silver producer and a growing gold producer. The Company has three new, large precious metals mines that continue generating significantly higher production, sales and cash flow. In 2011, Coeur will realize the first full year of production and cash flow from all three of its new, 100%-owned mines:
San Bartolomé in Bolivia;
Palmarejo silver/gold mine in Mexico,
Kensington Gold Mine in Alaska.
In addition, the Company is expecting new production from its long-time flagship Rochester mine in Nevada. The Company also owns non-operating interest a low-cost mine in Australia, and conducts ongoing exploration activities near its operations in Argentina, Mexico and Alaska.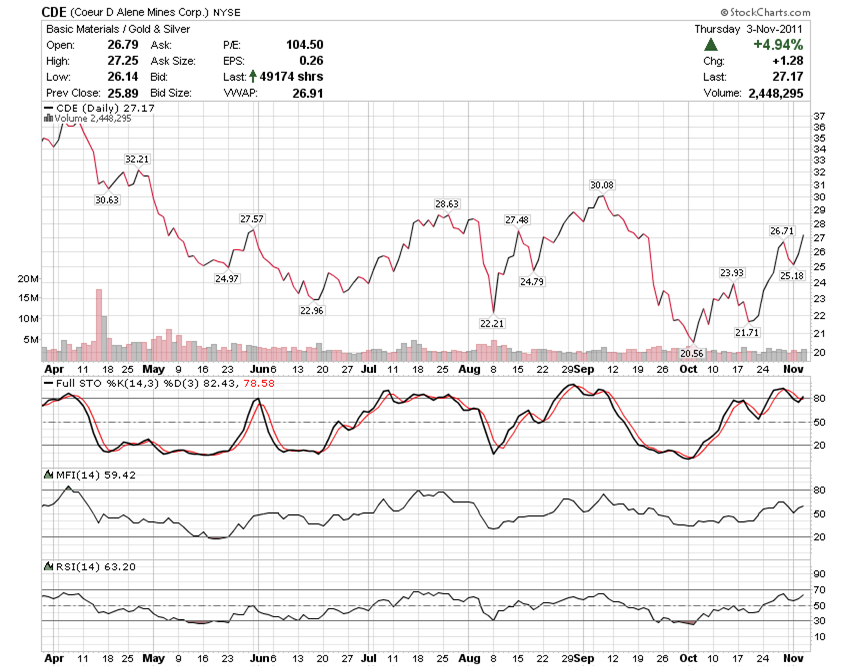 Pan American Silver Corp (NASDAQ:PAAS)
Pan American Silver Corp. was founded in 1994 with the mission to be the world's largest low-cost primary silver mining company. Achieving this by constantly increasing its low-cost silver production and silver reserves. Pan American owns and operates seven silver mines in Mexico, Peru, Argentina and Bolivia. In 2010, Pan American produced a record 24.3 million ounces of silver. In 2011, the Company expects to produce 23 to 24 million ounces of silver and 76,000 to 78,000 ounces of gold. Pan American operates the La Preciosa silver project, located in Durango, Mexico. Pan American also owns the Navidad silver project, one of the largest undeveloped silver deposits in the world, located in Chubut, Argentina.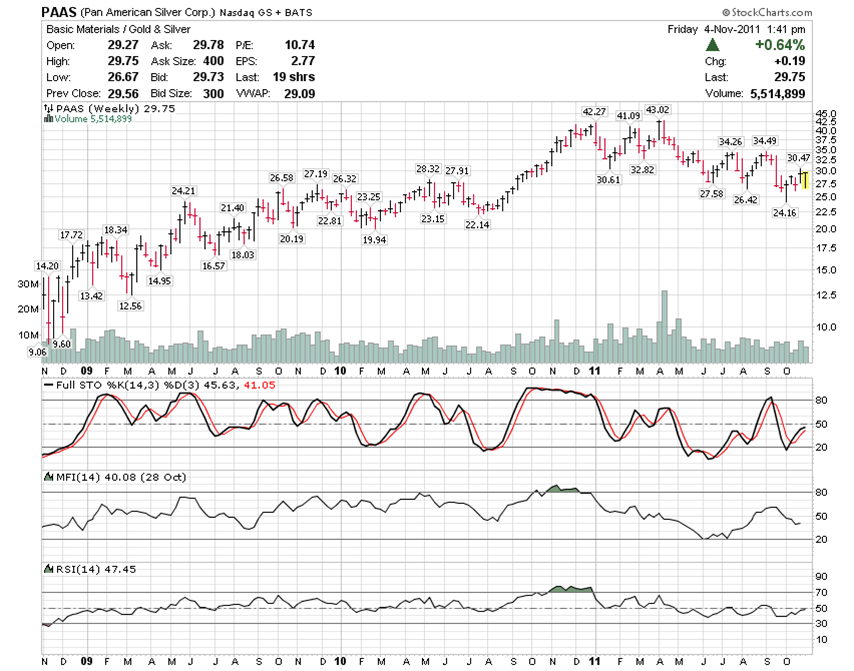 Silver Wheaton Corp. (NYSE:SLW)

Established in 2004, Silver Wheaton has quickly positioned itself as the largest silver streaming company in the world. Silver Wheaton has entered into a number of agreements where, in exchange for an upfront payment, it has the right to purchase, at a low fixed cost, all or a portion of the silver production from strategically selected high-quality mines. The company currently has silver streaming agreements covering 16 operating mines and three development stage projects around the world. Silver Wheaton's portfolio includes silver streams on Goldcorp's Peñasquito mine in Mexico and Barrick's Pascua-Lama project straddling the border of Chile and Argentina. With low fixed cash costs and unhedged silver sales creates significant shareholder value by providing considerable leverage to increases in the silver price while reducing many of the risks faced by traditional mining companies.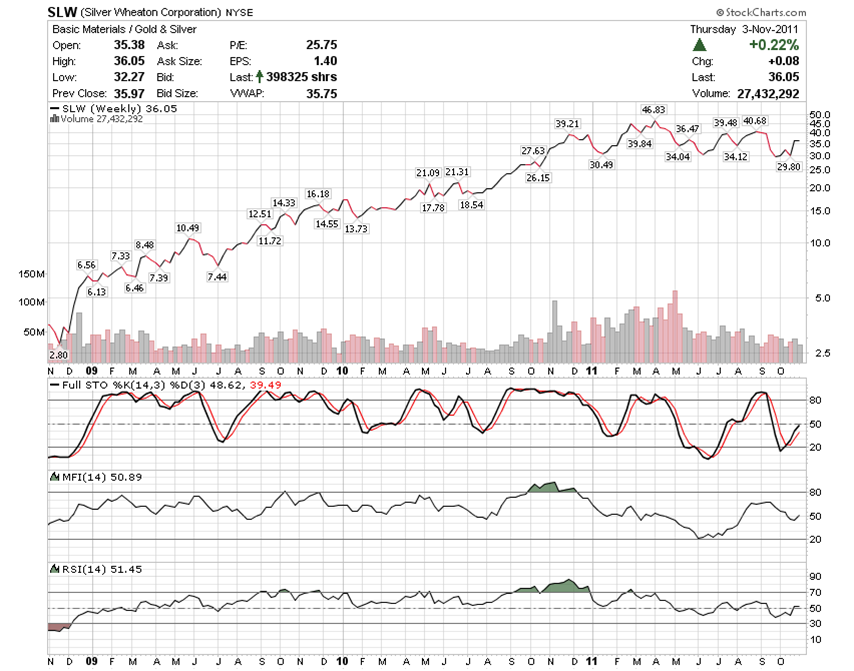 CONCLUSION
Silver may indeed still be in a correction with an additional down leg on its way, but the longer term picture continues to favor the trend remaining up. Due diligence remains important for each investor to perform in accessing whether silver is appropriate in diversifying portfolios. Should additional price weakness drop prices below $30 (basis silver futures or SLV) a long term buying opportunity would exist. Silver mining stocks are an additional way to add silver to one's portfolio. Here again due diligence is recommended in choosing which company is appropriate.
Both gold and silver remain important investment choices in protecting against the ongoing global economic calamity. Long term planning and portfolio diversifying should include the addition of both.
Again, I am drawn to quote an old Mercedes advertisement where the announcer states
"Perception is not always reality."
This quote continues to rule the day as speculators flood in and out of the markets taking their turns at controlling the price, albeit short term, since there is much more paper silver than physical metal to cover the commitments. The price of silver has dropped (within the context of a correction) as the fundamental picture favors higher prices. It can then be said that misconceptions weigh heavily as traders (speculators) move in and out of positions.