Asian Citrus (OTC:ACTFF)
Asian Citrus is a citrus fruit producer with operations in various parts of China. Based upon various research approaches, including discussions with local officials, industry experts, competitors and other related parties, we believe there is a strong possibility that Asian Citrus is fabricating its numbers to a considerable extent.
Our research focused primarily on two key subsidiaries of the company, Litian Xinfeng in Jiangxi Province and Litian Hepu in Guangxi Province. According to the company's annual report, the Xinfeng and Hepu plantations provided 100% of the company's citrus output in the year ending June 2011. Key issues emerging from our investigations include:
Key Issues
1. Questionable plantation size in Xinfeng, Jiangxi Province
2. Organic Claim
3. Hepu plantation output mystery
4. Low brand recognition despite company claims and untraceable sales channels
5. Biological asset valuations by third party are unreliable
6. Significant discrepancy in SAIC filings
7. Related party recently exposed as fraudulent
8. Conclusion
*Out of respect for privacy, we are not revealing the names of our sources. However, we can provide specific contact information to investors offering credentials.
1. Questionable plantation size in Xinfeng, Jiangxi Province
According to our contacts from the Fruit & Tea Bureau, Xinfeng County has a total of approximately 290,000 mu of orange plantations with a total output of about 180,000 tons annually. Our contact's quotation is consistent with the information on the Xinfeng County Government official website. The County's website also states that Xinfeng County in 2010 produced 150,000 tons of citrus products, generating about RMB380 million.
Click to enlarge figures
Figure 1: Citrus plantation size and output in whole Xinfeng County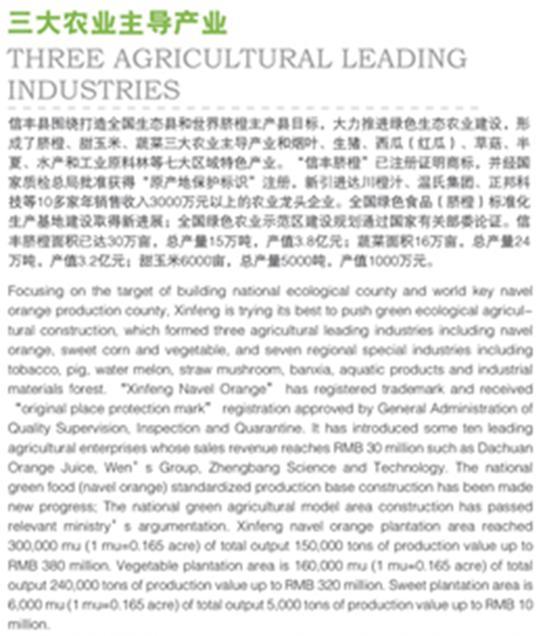 Source: www.jxxf.gov.cn/Item/1269.aspx
According to Asian Citrus, its subsidiary Litian Xinfeng has about 55,650 mu of citrus plantations in Xinfeng with an annual output of 93,181 tons, generating total revenues of RMB331 million in 2010. If true, that would mean Litian owns at least 19% of the county's citrus plantations and contributes 62% of total citrus output and 87% of revenues for the county (see Figure 2). It is unclear how Litian Xinfeng could contribute 62% and 87% of the whole county's citrus output and revenue when its citrus plantations amount to no more than one-fifth of the county's plantations by area.

Our findings do not support Litian's claim of a strong position in the local market. According to the government website and to our contacts from the local Bureau, Xinfeng was famous for citrus plantations and products years before Litian set up business and there are in total 38 companies and 86 collectives engaged in citrus plantations in the county. The largest producer, they said, is Yang's Fresh Fruit, which manages about 8,000 mu of orange plantation with annual output of 2,000 tons in 2010. Our local government contact, together with the Sales Manager of Yang's Fresh Fruit Mr. Zhang Junjie, and other traders, said they viewed Asian Citrus as a "shell company" that has only about 3,000-5,000 mu citrus plantation maximum. Zhang and our contact said the company does little work in terms of cultivating the trees, and that most of its citrus plantations are leased to local villagers. They also said that the maximum output of Litian Xinfeng would be around 50-80 metric tons compared to the 93,181 metric tons claimed by the company.
If local officials and competitors are convinced that Litian Hepu has only 3,000-5,000 mu of plantations in the area, where could the other 52,650 mu of plantation be located? Our local government contact told us that Asian Citrus signed a land lease "pre-agreement" for 52,000 mu for 50 years in 2002 when it set up its local subsidiary in Xinfeng. But he said the deal never went through as Asian Citrus did not invest the agreed amount of capital. He said the company now has less than 3,000-5,000 mu of land in Xinfeng. The motivation for signing the land lease pre-agreement for 52,000 mu was in his words "decoration" for the company's listing.
Comments from our local government contact were further supported by a file we obtained from Xinfeng Merchant Bureau, in which we see that Litian Xinfeng signed a RMB100 million contract in January 2005 to build a citrus cold storage warehouse and logistics center in Xinfeng County. Construction began in June 2006 but was aborted in February 2007 due to lack of capital and pending the retraction of the land agreement (See table below).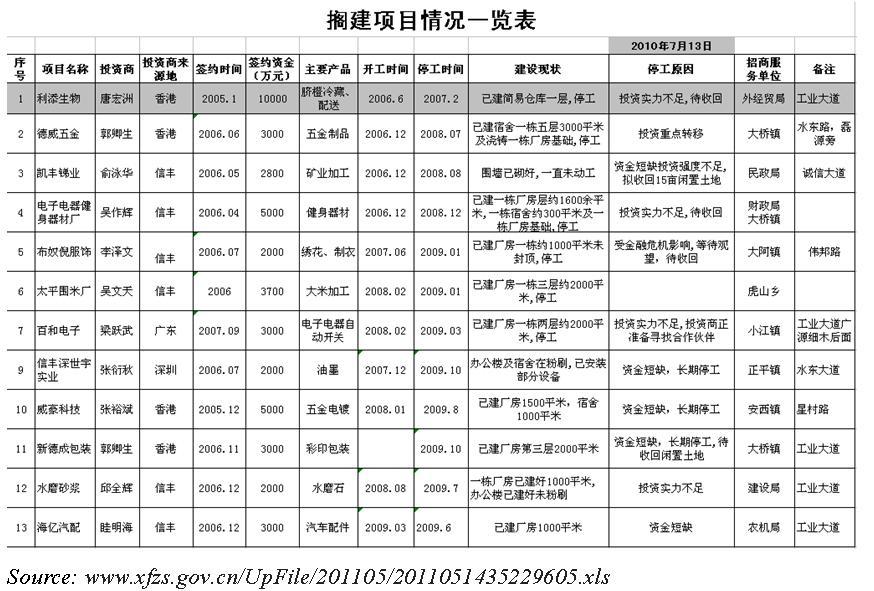 We spoke with Asian Citrus' CFO, Mr. Eric Sung, about our findings on the discrepancies in Asian Citrus' plantation size in Xinfeng. Mr. Sung said that we must have talked to the wrong people who do not know the situation well and therefore gave us incorrect information. When asked which local official we should talk to, he said the company can arrange a meeting with a local government representative, but the name of the representative was not given by Mr. Sung.
Before we release this report, we have recieved a report written by Macquarie, MacVisit - Asian Citrus (7 October, 2011), in which Macquarie said they had visited all three of Asian Citrus' orange plantations and had verified all the land lease documents. Macquarie's findings caught our attention and we wonder what could possibly cause the Macquarie's findings to be so different from ours.
Therefore, we talked to Macquarie and they told us that their research is more focused on the growth prospectus of the company rather than due diligence work to verify the actual business. They also said the company did show them the land lease documents signed in 2002. They have also met the representatives of local officials at Asian Citrus Operation offices. Macquarie stressed that they just verfiy the 2002 contracts are orignal and legal but do not verify whether those lease agreements are still valid or not.
This sounds strange to us. We have contacted all the relevant government departments that we could think of in Xinfeng County, from Land Bureau, Agriculture Department, Fruit & Vegetable Bureau to Forestry Department and etc. None of those government departments has confirmed such large plantation size owned by Litian Xinfeng. In addition, we have also talked to two Majors of Longshe County and Gupi County, where the majority of Litian Xinfeng's plantations are located. Both Majors confirmed with us that Litian Xinfeng does not own such large plantations. Therefore, we wonder who those government representatives actually are and why they did not meet Macquarie in their own government offices but at Asian Citrus' office.
2. Organic Claim
Asian Citrus said in its annual report and on its Chinese website (Link 1, Link 2) that all its citrus plantations have received "organic product" certification, with a formal Certificate of Conversion to Organic Products being issued by the China Organic Food Certification Centre (Hepu & Xinfeng Plantation). We contacted the China Organic Food Certification Center in Beijing and were told that the center had sent personnel to Litian's plantations to examine the size of the organic plantation but they usually only take one pre-determined size of land as a sample to estimate the actual size of citrus plantation land. The authorized amount of production output for organic products was indicated in the certificate. We obtained the authorized amount of organic product output for both Litian Hepu and Litian Xinfeng, which are 1,300 metric tons and 1,500 metric tons annually, respectively. (See figure below.) This number is significantly lower than what Asian Citrus has claimed.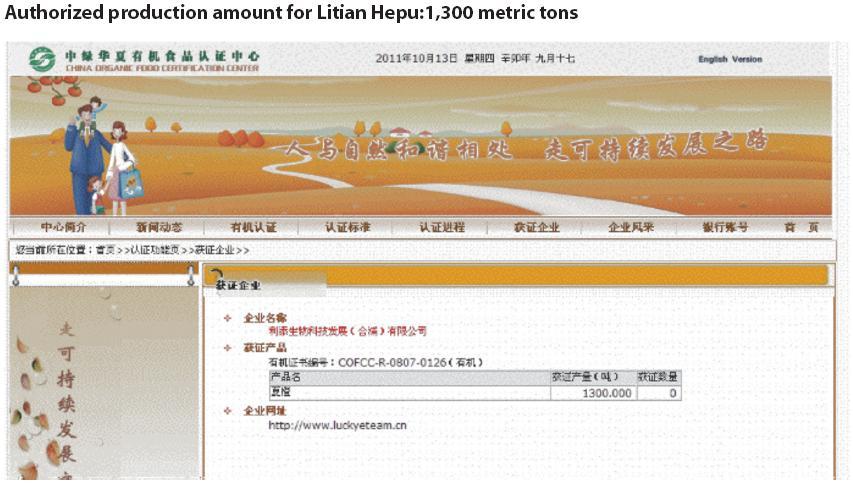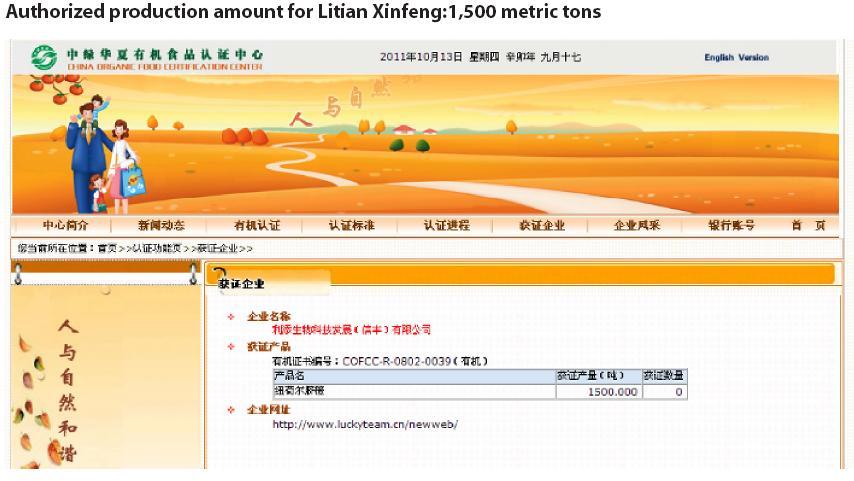 3. Hepu Plantation Output Mystery
With regard to Asian Citrus' Hepu operation (its subsidiary Litian Hepu in Guangxi province), information we collected from our local contacts from Fruit Bureau in Beihai City Agricultural Bureau, contacts from Fruit & Tea Bureau in Hepu County Agricultural Bureau, and contacts from the Guangxi Citrus Association, indicated that Asian Citrus' plantation size seems consistent with the area they claim in the company public filings. But local competitors, officials and other market players all said they were unclear on the plantation's output and productivity.
All the local contacts said the total citrus plantation area of Hepu County is about 55,000 mu of which Litian Hepu (Asian Citrus) has 46,350 mu, of which only 40% is developed and being commercially harvested. They said the trees on the other 60% are less than three years old and are not yet mature enough to generate sizeable yields. So it appears Litian Hepu actually has only 18,540 mu of plantation for commercial harvest. The three officials estimated this area could produce a maximum of 55,620 metric tons per annum based on an average of three metric tons per mu as opposed to 123,711 metric tons indicated in the company's annual report (Figure 3).
There are two elements in Asian Citrus' public filings that do not match the comments from the officials referred to above. First, the company says that Litian Hepu started operations in 2000 and that its plantations are mostly fully developed for commercial harvest. Second, Asian Citrus reported its Hepu operation has an annual output of 123,711 metric tons in calendar year 2010, 122% more than the estimated numbers by local officials (see Figure 3).
Figure 3: Hepu plantation development

Source: Asian Citrus 2011 Annual Report
Our local contact from Fruit Bureau in Beihai City Agricultural Bureau also told us that they run statistics on total citrus output in Beihai City every year and for the whole Hepu County, he said the total output to be around 15,000 metric tons in 2010, but this number did not include Litian Hepu output. He said the company refused to cooperate with the Agricultural Bureau for "business confidential" reasons.
We asked the Company CFO, Mr. Eric Sung, and he said they did report to local authorities about their citrus output every year. But that is to his knowledge and he is not sure whether the mainland operation has reported the number or not in reality. And Mr. Sung agreed to look into this case and will keep us updated once he has more information to share with us.
4. Poor brand recognition and untraceable sales channels
In Asian Citrus' public filings, it claims 20 supermarket chain customers contributed 39% and 40.8% of its total orange sales revenues in 2011 and in 2010, respectively (see Figure 4). Litian Hepu and Litian Xinfeng reported sales of 46,156 and 22,324 metric tons of oranges to supermarkets in fiscal year 2011 (see Figure 5).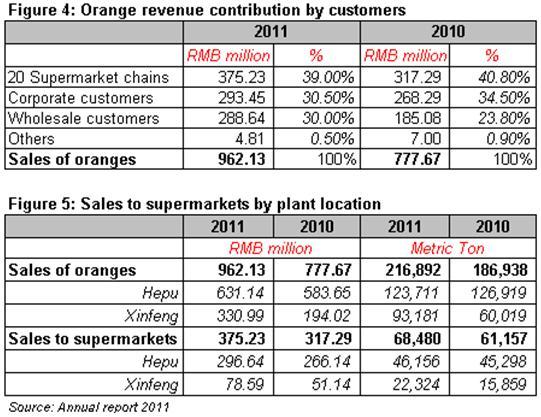 Asian Citrus did not disclose any information on the names of those supermarket chains. We are only able to detect three names out of those 20 in Litian Xinfeng's 2010 SAIC filing (see Figure 6), NGS supermarket, Heli supermarket in Guizhou, and A-best supermarket in Hunan. These three supermarket chains are classified in the accounts receivables category. The total accounts receivables was RMB10 million from these three customers. We telephoned these supermarket chains to find out whether they are selling Asian Citrus' products. None of the interviewees is selling the "Royal Star 新雅奇" orange brand, or have even heard of the brand.
Figure 6: Three supermarket chain customers identified in Litian Xinfeng's 2010 SAIC filing

We tried to identify Asian Citrus' other distributors in Beihai Guangxi, including A-best supermarket, Trust-Mart supermarket but we did not find any presence of the brand "Royal Star 新雅奇" in any supermarket chain. We asked our contact from Fruit Bureau in Beihai City Agricultural Bureau about the possible sales channels in Guangxi and we got a response that Asian Citrus always has excuses saying that they have certain ways to distribute their products and refused to disclose the names of their supermarket customers.
We telephoned Mr Huang, Sales Manager at Litian Hepu, and he said to us that "Royal Star" is a relatively new brand and therefore it is not really famous in the market yet. He refused to disclose the names of the supermarkets through which they sell their products and would only say their products are sold more to the wholesale market and processing factories for juice products.
Shanghai, Beijing, and Shenzhen were mentioned in the company annual report as its major markets. We worked to verify brand recognition through phone interviews with relevant employees from Wal-mart (NYSE:WMT), Carrefour, Trust market in Shanghai and none of the interviewees had heard of the "Royal Star 新雅奇" brand. We also had a telephone interview with Mr Yu (于经理), Sales Manager at one of the largest orange trading companies in Shanghai, Zhaoxin Trading Co., which has extensive business networks and a plantation in Xinfeng. He said he is not familiar with either Litian or Asian Citrus in Xinfeng, and did not know the brand "Royal Star 新雅奇".
We presented our findings with regard to supermarket customers to Mr Eric Sung who said that the company sells oranges to supermarket chains all over China with concentration on the southeast mainland markets. Specifically, he said Asian Citrus sells its oranges under the Royal Star brand to the Lotus supermarket chain in Shanghai, RT-mart (大润发) in Hunan province, JKL supermarket in Beijing (京客隆), Suguo Supermarket (苏果) in Jiangsu province, and Yong Hao department store (永好百货) in Hepu Guangxi Province. We contacted the relevant purchasing managers from these supermarket chains and the result was not encouraging. Fruit purchase manager of Lotus Supermarket Chain, said they are not selling any Royal Star brand oranges or know anything about Litian Company. Head of fruit distribution center at JKL supermarket said he had never heard of Royal Star or anything about Litian Company. He said none of its supermarkets is selling Asian Citrus products. Fruit purchase manager from RT-mart Central China Region said she had not heard of Royal Star brand or any citrus company called Litian or Asian Citrus. Suguo supermarket in Jiangsu province was difficult to reach as well but we managed to contact six branches and none of them is selling Royal Star oranges. However, in Hepu Guangxi Province, Yonghao department store confirmed that they sell Royal Star oranges and the sales volume is just average.
5. Biological asset valuations by third party are unreliable
Vigers has been carrying out biological asset valuation for Asian Citrus for more than four years. We contacted Vigers for information about how they value the citrus plantation, and what method they had applied in order to get a reasonable estimate of its actual market value. Our contact, Project Manager at Vigers, who has worked for the valuation project on Asian Citrus, told us that they hired a professor from China Agriculture University to produce the assessment report, and based on the report, they take a sample size of 50 sqm. for the different age groups of citrus trees depending on different location and species.
When we mentioned the discrepancy between reported plantation size and actual size of Asian Citrus in Xinfeng, our contact indicated that any discrepancy between the book number and actual number could be negotiated between Asian Citrus and Vigers. This increases the possibility of assets exaggerations. Our contacts also mentioned that the duration of the evaluation depends on how much information they get from the client, the more the better to save field trip time, but the maximum time spent on the site would be no longer than four to five working days, and the whole valuation report would be completed within 10 working days. Moreover, most of their valuation works are based on book figures, submitted by the client. Our conclusion is that the third party valuation is not reliable and it does not reflect the actual biological asset values of the company.
6. Significant discrepancy in SAIC filings
There are 12 on-shore subsidiaries in mainland China, among which only three subsidiaries are engaged in citrus plantation and citrus sales activities, which are Litian Biological Science & Technology Development (Xinfeng) Company, Lucky Team biotech development Yongzhou Limited and Lucky Team biotech development (Hepu) Limited.
Lucky Team Biotech Yongzhou has not achieved any commercial harvest yet. Therefore, we aimed to obtain the SAIC filings of the other two subsidiaries, Lucky Team Biotech Development (Litian Hepu) and Litian Biological Sciences & Technology Development (Litian Xinfeng). It turns out that it is very difficult to pull out a SAIC filing in Hepu for various reasons, primarily resistance from the local officials. But we managed to detect some key findings just based on the SAIC filings for Litian Xinfeng.
The fiscal year in Asian Citrus' annual report ends on June 30th while its SAIC filings' fiscal year is calendar year. To match the fiscal year problem, we have to make some adjustments to its annual reports by checking into interim reports. An overview of annual and interim revenues of Litian Xinfeng is shown in Figure 7. We noticed from the interim report that the citrus sales from Litian Xinfeng has strong seasonal features and there are no sales volume in the first half of each year, and all the sales activities are concluded in the second half of each year.

The sales figure in the Litian Xinfeng SAIC filing was a dramatically low RMB49,161 for calendar year in 2009 (see Figure 8), which is a huge discrepancy from its book figure of RMB194,016,000 for 2009.
Figure 8: Revenues and Costs of Litian Xinfeng in 2009 SAIC filing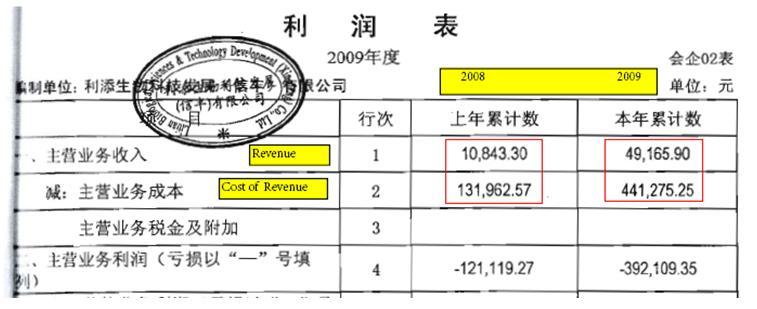 Figure 9: Revenues and Cost of Litian Xinfeng 2010 SAIC filing

Figure 10: Revenue and Cost of Litian Xinfeng 2008 SAIC filing

For 2010, the SAIC filing showed the revenue was RMB341,043,668 (see Figure 9), and the company-reported figure for Xinfeng was RMB 330,988,000. These two numbers are very close but we suspect Asian Citrus has manipulated the 2011 SAIC filing for the following reasons:
Litian Xinfeng commenced operations in 2003 and made its first commercial harvest in 2007. Litian Xinfeng reported only RMB49,161 revenue in its 2009 SAIC filing, while 2010 showed a revenue increase of 693,628% to RMB341,043,668.
The 2009 revenue and cost numbers in 2010 SAIC filing do not match with the ones in 2009 SAIC filings. Why are revenues and costs for 2009 significantly different in the 2009 and 2010 SAIC filings while the revenue and cost numbers for 2008 are consistent with the 2008 SAIC filing (see Figure 10) and 2009 SAIC filing? This raises for us the suspicion that Asian Citrus is in some way manipulating its 2010 SAIC filing.
From mid-2010 until now, investors have been scrutinizing Chinese companies listed overseas by checking their SAIC filings, worrying that these companies might be manipulating their accounting numbers. But companies are getting smarter and are able to manipulate SAIC filings by submitting a misleading document to SAIC in case investors check their SAIC filings. For Asian Citrus, we think they have spotted the recent events with regard to Chinese companies listed overseas and might have submitted a false SAIC filing to be consistent with its annual report.
It is rare for companies to have identical SAIC filings with their annual reports and usually, companies tend to report lower revenues and profits to SAIC for tax and competitive reasons compared with their annual reports. But the reduced revenue and profit numbers should still not be significantly lower than the actual numbers.
Given this situation, we wonder why Asian Citrus changed its domestic auditor for its SAIC filings in 2010 from 江西赣州君怡会计事务所 to 南宁金誉联合会计事务所. We checked with the accounting association in Guangxi and Ms. Tao, from the Internal Control Department at the association, told us that the association banned the accounting firm from undertaking auditing business from January 2011 to June 2011 due to violations of several auditing requirements. The question is how the 2010 SAIC filing was signed and submitted by this auditor firm in May 2011 when it was not allowed to do any auditing services. Second, Ms. Tao checked their internal filings and told us that the 2010 SAIC filing the accounting firm submitted does not have a laser anti-pirate label on it and it does not have a serial number stuck on it and that number is especially assigned to the accounting firm to audit one particular company. Therefore, the association raised the question of whether the documents were faked.
Mr Eric Sung said that their SAIC filings records were not the same as ours and we might have obtained the wrong SAIC filings through a different agent. He said he is not aware of the discrepancy of the 2009 revenues that appeared differently in 2009 SAIC filings and 2010 SAIC filings. In addition, he said they have been using the same domestic auditors, 南宁金誉联合会计事务所, in Nanning Guangxi for several years and they have not used any auditor in Jiangxi Province at all. But he said he would look into this issue.
* Complete SAIC filings for 2008, 2009 and 2010 are available upon request
7. Fraudulent related party recently exposed
Chaoda (0682.HK) is a related party, the main supplier of fertilizer to Asian Citrus. Its shares were suspended by the Hong Kong Stock Exchange on Sep. 26, 2011 on charges that it had fabricated its financials. Asian Citrus immediately announced it will terminate its purchase contract from Chaoda in June 2012, but we believe there may be abnormal elements in the business dealings between the two companies.
Based on our research, the brand "Royal Star 新雅奇" was launched by Chaoda Modern Agriculture (0682.HK) in 2000 as the new brand name of the company's citrus products. Asian Citrus is currently using this brand name as its trademark.
Coincidentally, Chaoda had 47,000 mu Citrus plantations in Hepu in 2000. Asian Citrus today has about the same amount as in Hepu. To our knowledge, Hepu has total plantation size about less than 60,000 mu in 2011, thus we believe that Chaoda either sold its Hepu base to Asian Citrus in Hepu years ago or Asian Citrus is in a some way a "secret subsidiary" of Chaoda.
Chaoda has been steadily disposing of its shares in Asian Citrus, its percentage dropping from 49% in 2001 to 19.09% in 2010 and to 13.34% in 2011. On the surface, this would not appear to make good business sense. According to the annual report of Asian Citrus, the company is making enormous profits year after year, and the gross margin remains at a level over 50%, a very good result compared with other players in the industry. Chaoda's financial performance and liquidity do not indicate any motive for disposing of its interest in Asian Citrus.
8. Conclusion
Asian Citrus appears to be exaggerating its biological assets in Xinfeng. The company claims to have 53,000 mu in Xinfeng, but our research indicates the actual plantation size is only around 3,000-5,000mu. The company's claims for plantation size in Hepu appear to be accurate, but there appears to be a large discrepancy on output volumes. In contrast to the company's claims, the brand "Royal Star 新雅奇" is not well known in the market. Company management was cooperative and timely with regard to our questions but provided no hard evidence or persuasive explanations to support its position on these issues.
Based on our findings, it appears Asian Citrus suffers from loose internal management controls, and there are strong indications that key information provided to shareholders on assets, output volumes and profits are not accurate. We await further updates from company management.
Disclosure: I have no positions in any stocks mentioned, and no plans to initiate any positions within the next 72 hours.