In a new bull market, small growth stocks are often the first to jump. In a bear market, these same price leaders become volatile droppers. The combination of market timing and aggressive growth can be a powerful duo that positions you in the little rockets during favorable weather.
As of Monday, November 7th, I am a market bull (the reasons are given in another article). However, if the S&P 500 earnings trend (or SPY) turns down or the 100 day moving average in the S&P 500 index is broken, this could change my sentiment, but for now I've moved my tent to the bull side of the fence.
How well has this aggressive growth strategy with market timing performed in previous bull markets?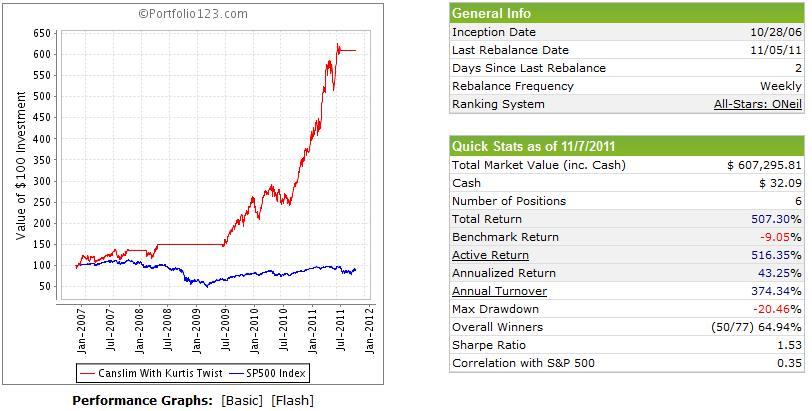 Over the past 5 years, it has resulted in over 40% annualized gains, and only 3.5 of those years saw active investing. What rules are included in the strategy and what are the current picks?
Aggressive Growth Criteria
First, I borrow a few principles from William O'Neil with his CAN SLIM approach. A ranking system that is provided at Stockscreen123, and Portfolio123 utilizes aggressive growth criteria to provide a good starting point. It includes company earnings and sales growth, industry growth, market conditions, margin ratios and more. It is not an exact replica of the CAN SLIM method, but it isolates a similar breed of high-growth stocks.
Next, I look for U.S. stocks priced over $5, with less than 5 billion in market cap, quarterly earnings at least 15% higher than last quarter and 20% higher than the similar quarter one year ago, and the trailing 12 months 20% higher than the 12 months previous. I include a filter that removes companies with volatile earnings histories.
My Top 6 Aggressive Growth List
Encore Wire Corp. (NASDAQ:WIRE) – Earnings and sales growth is through the roof in WIRE. Last quarter sales were up 31.5% and earnings were up 168.2%, and these are not the most impressive of the last 4 quarters. With 11% of the float short and a P/E ratio that is only moderately higher than the industry average, this could continue climb fast.
Under Armour, Inc. (NYSE:UA) – Although the earnings growth has slowed somewhat last quarter to 30.9% (quarterly yoy) from 71.4% last quarter, sales growth is on a steady march upwards at just under 42% growth. The next 5 years are expected to grow at over 20% per year, and the company has a decent record of positive earnings surprises. Some positive analyst upgrades over the last few months should be tempered with a high P/E ratio that is over 3 times the industry average. All the more reason to use these picks with strict market timing rules. New price highs are liable to attract more attention in this high-flying stock.
Twin Disc, Inc. (NASDAQ:TWIN) – Earnings on this stock have been relentless over the past 2 years. It has steadily risen from negative 4 cents in the December 2009 quarter to 84 cents in the September 2011 quarter. Over the same period of time, sales have jumped over 47%. A short ratio over 10% of the float gives this some short squeeze potential. Although the P/E is higher than industry average, the earning potential keeps the PEG ratio in line with the industry.
Tempur Pedic International Inc. (NYSE:TPX) – Short interest has increased to almost 19% according to Yahoo (Oct 14th 2011). This is another tale of steadily rising earnings and sales. The quarter increase (year over year) is 29.5% in sales and 45.3% in earnings. Despite the P/E ratio being twice the industry average, the high growth potential adjustment gives this a PEG ratio that is in line with averages.
Sally Beauty Holdings Inc. (NYSE:SBH) – This company is lower on the growth curve than some of our other picks, while still not a slouch. The last 7 quarters have seen quarterly sales rise by a total of 23.7% and quarterly earnings by 153%. Earnings are expected to grow at 17.4% annually over the next 5 years.
Robbins & Myers Inc. (NYSE:RBN) – At first glance this might seem like a lackluster pick, with only 8% earnings growth expected annually over the following 5 years. The PEG ratio is almost 2, which is in excess of the industry, sector and market. Sales have had a wild quarterly ride over the past 2 years, although the past 3 quarters have kept numbers promisingly high. Cash flows from operations have been strong the past 6 months, and liquidity is high in addition to no long-term debt. This company is well positioned in some regards. I also like the high insider ownership of 21.24%, which makes management have a vested interest in share price. Over the past month, one 'hold' rating was removed and one 'strong buy' rating was added. I think you'll notice that the lack of analyst coverage past a one-year time frame is skewing the forward-looking valuations to the down-side.
To be clear, these stocks could suffer steep share price losses if we dip back into a bad market. But as long as we are in the green according to my market timing rules, these could be some very hot stocks to own.
Disclosure: I have no positions in any stocks mentioned, and no plans to initiate any positions within the next 72 hours.