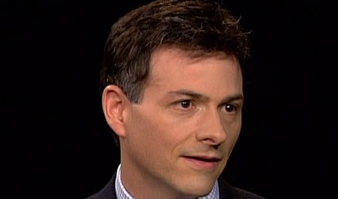 Gold miner stocks have bounced about 9% over the past month to outperform gold prices, raising hopes that miner exchange traded funds can make up ground after lagging bullion for years.
"The gains in the mining sector are outpacing the gains in the broader equity markets while on downside trips they are holding better," writes commodities trader Dan Norcini. "It would be a pleasant change if there were a growing group of investors who were viewing gold and silver shares as defensive holdings in the current economic climate."
Hedge fund manager David Einhorn has been reportedly shifting some of his investments in physical gold to gold miners by purchasing Market Vectors Gold Miners (NYSEArca: GDX). Other miner ETFs include Market Vectors Junior Gold Miners (NYSEArca: GDXJ) and SPDR S&P Metals and Mining (NYSEArca: XME).
"A substantial disconnect has developed between the price of gold and the mining companies," Einhorn said in a recent conference call, Bloomberg reported.
"With gold at today's price, the mining companies have the potential to generate double-digit free cash flow returns and offer attractive risk-adjusted returns even if gold does not advance further," Einhorn said. "Since we believe gold will continue to rise, we expect gold stocks to do even better."
Einhorn and other gold miner bulls are hoping the bounce since the October low can eventually propel the sector back to its 2011 high.
However, Joshua Brown at the Reformed Broker blog argues that miners are "almost universally atrocious as equity investments." He notes that Market Vectors Gold Miners traded at about $56 a share in the first quarter of 2008 — it now sits just below $62 — "an absolute joke when you consider that the metal itself…has doubled in value."
Brown concludes: "Now I'm not telling you that these stocks can't work, it's just that they always find a way not to just when they seem poised to really get going. I am long the sector through some active managers so, believe me, I'd love to be wrong here and see the group finally deliver."
Market Vectors Gold Miners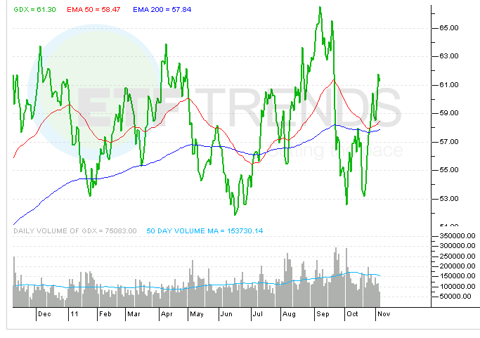 Click to enlarge