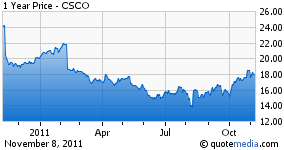 By Mark D Bern, CPA CFA
I will start out by explaining the purpose of this series of articles. I am trying to accomplish two objectives with this series:
1) Provide an easy-to-follow explanation of how to use call options to enhance returns on investments held for the long-term. I will use a specific analysis for a different company in each article for illustration purposes. Rather than reiterate the methodology in every article I will henceforth refer back to the original article in the series. If readers want a more detailed explanation of the overall strategy, they can find it in my inaugural article titled "Daily Call Sheet Focus: Bank of America" (click here). In that article I discussed why selling calls makes sense for long-term investors and provide a detailed explanation of the strategy along with a basic tutorial on call options including term definitions.
2) The second objective of each article is to provide a list of call option premiums of up to 20 widely held companies that present, in my opinion, a good opportunity to lock in a good return over the coming month(s). Again, details can be found in the article link above.
Today's focus company is Cisco (NASDAQ:CSCO), the global leader in networking for the Internet. However, competition is making it difficult for Cisco to maintain its market share and that is leading to pressure on margins. On the brighter side, Cisco is restructuring, shedding non-core assets and reducing executive layers to improve product development and time to market.
The company estimates that savings from restructuring efforts will provide approximately $1 billion per year in savings. The cost of the restructuring is estimated at $1.3 billion, much of which has already been recognized. Public sector sales are weak and I expect them to remain weak for the next few years as government budgets are being squeezed at all levels. I expect revenue and earnings growth to pick up by the end of 2012, barring a global recession beginning during that time frame. Consensus estimates are for revenue to grow at about 6.5% over the next year and gradually rise to 8% thereafter. I believe growth will be slightly more muted at 5% over the next 12 months, but agree with the 8% long-term expectation.
The consensus 12-month target price for Cisco is $19.37. The current price (as of the close on Monday, November 7, 2011) is $18.01. Unless the U.S. plunges into another recession in the next year, I believe that the multiple could expand slightly by year-end 2012 with an eye toward the future. For this reason I have a 12-month target on Cisco of $20.
I don't own stock in Cicso, but if I did I would consider selling the April $20 strike call at a premium of $0.76. That provides a return on the current share price of 3.7% and if called away at $20 the total received over the five months would be $20.76 for a gain from the current price of 15%.
And Now The Final Piece Of The Article
My favorite call premiums on widely held stocks as of the market close on November 7, 2011. These are not pure recommendations; rather this list is provided as a useful tool for those who sell calls to enhance their income from stocks that they own or plan to own in the near future. The list includes premiums that appear to present the best value of all widely held stocks for the day.
I have also included calls that meet my criteria on stocks that I have written about in another series that was begun on September 21, 2011 with the inaugural article entitled "My Long-Term Investing for Income Strategy," click here to read the article.
The list may include up to 20 selections, but may be less if there are fewer premiums that provide a decent return. I hope readers will find this daily list useful as a starting place in finding calls to sell for added income.
Top 20 List

11/7/2011

Symbol

Exp. Mo.

Strike $

Premium

Mar-12

$57.50

$1.15

Jan-12

$36.00

$0.80

Jan-12

$150.00

$3.40

Apr-12

$55.00

$1.31

May-12

$80.00

$2.07

Apr-12

$87.50

$2.38

Jan-12

$16.00

$0.56

Apr-12

$39.00

$1.30

Apr-12

$25.00

$0.85

Apr-12

$57.50

$1.96

Apr-12

$20.00

$0.76

Feb-12

$31.00

$1.26

Jan-12

$42.00

$1.71

Mar-12

$30.00

$1.25

Apr-12

$180.00

$7.30

Feb-12

$19.00

$0.94

Apr-12

$36.00

$1.78

Jan-12

$19.00

$1.03

Mar-12

$70.00

$3.80

Mar-12

$29.00

$1.86
Disclosure: I am long VFC, MMM, COP.