My long time readers are well familiar with the accuracy of my calls on gold (GLD) and silver (SLV). These calls are well documented here.
As a background for the new readers, I am neither a bull nor a bear on gold and silver. My interest lies in making money both on the upside and the downside.
New readers can gain background on my ZYX Change Method by reading my prior articles on Seeking Alpha listed below:
The chart shows that I recommended putting 20% of assets in silver when silver was at $17.73 and then took profits right at the top before a big fall.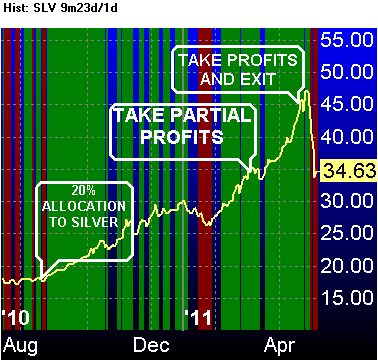 The next chart shows my recommendation to short sell silver right at the top. Most importantly when silver was hitting $50.00, I provided a target of $34.00 in a very short time.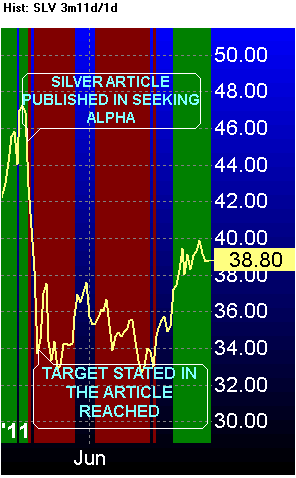 The next chart shows a perfect call on taking profits on gold at the very top.
In my recent article titled Draghi Changes The Game For Stocks, Gold, Silver And Oil, I stated:
Considering that eurozone is a major part of the world economy, Super Mario has changed the game for stocks, gold, silver, oil and currencies … After plugging in the rate cut, we are no longer inclined to short sell silver and gold. If there is a big dip in silver and gold, and all six screens of the ZYX Change Method are met that may be a time to buy gold and silver.
There has been pressure from The Group of Twenty (G20) finance ministers and central bank governors to sell gold to help with the European Financial Stability Fund (EFSF). G20 includes the world's 20 biggest economies.
There have been rumors that Germany will start selling gold. Now Economy Minister of Germany, Philipp Rosler, has just issued a statement emphatically denying any plan on the part of Germany to sell gold.
Rosler went one step further,
"German gold reserves must remain untouchable."
Bundesbank, the central bank of Germany has issued a statement opposing any gold sales. It is worth noting that in Germany, gold is kept under the independent oversight of the Bundesbank.
It is clear that Germany values its gold and refuses to sell it. Should you value your gold and refuse to sell it? At least for now the answer is that investors should hang on to their gold.
My plan now is to buy gold and silver on dips when all six screens of the ZYX Change Method are satisfied. At such time, I will also provide a buy signal on the Real Time Feed of the ZYX Buy Change Alert. In the meanwhile, I will stay long on the silver miner Coeur d'Alene Mines Corporation (CDE). The position is long from an average price of $15.46. The stock is at $29.40 as of this writing.
Disclosure: I am long CDE. Subscribers to ZYX Buy Change Alert may be long CDE from $15.46.