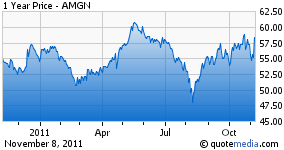 Biotech-firm Amgen (NASDAQ:AMGN) announced Monday that it would pursue a large $5 billion share buyback (under its $10 billion stock repurchase program) to scoop up its undervalued stock. We think this move is fantastic and reinforces our view that Amgen is significantly undervalued. We are maintaining our above-market $83 fair value estimate and are encouraged by management's actions that clearly are in favor of shareholders (over bondholders). In the spirit of transparency, we make available our full-report on Amgen here.
The company will lever up its balance sheet by issuing senior notes to fund the repurchase (at attractive yields). We're not concerned about Amgen's investment-grade balance sheet, given its robust cash-flow generation, and think this move is decidedly value-creative. The company will pay a price not greater than $60 nor less than $54, which pretty much bounds the lower end of our fair value estimate range, at $58 per share (we make available our DCF template here). The tender offer will begin tomorrow, November 8. The firm noted that if the offer is fully-subscribed, Amgen will retire roughly 10% of its outstanding common stock.
The move comes shortly after Amgen raised its 2011 guidance for total revenue and adjusted EPS to $15.6 billion (was $15.5 billion) and $5.30 (was $5.20), respectively, on the high end of its provided ranges. Plus, we're excited about the firm, as it continues to support late stage clinical programs including AMG 386 in ovarian cancer, ganitumab (AMG 479) in pancreatic cancer, talimogene laherparepvec — the firm's oncolytic virus therapy -- and AMG 145 through research and development expenses. Amgen also continues to speak highly of rilotumumab (AMG 102) in gastric cancer, though the antibody remains in Phase II studies.
We would not participate in the modified Dutch auction, as we think Amgen's shares have further room to increase based on valuation. We're currently evaluating them for addition to our Best Ideas portfolio. But this is a resounding signal to us that management thinks its equity is cheap and undoubtedly a positive.
Disclosure: I have no positions in any stocks mentioned, and no plans to initiate any positions within the next 72 hours.