Invesco Mortgage's (NYSE:IVR) third quarter earnings report last week unveiled some lackluster results. The most troubling part of the report was that book value has dwindled to $16.47 as of September 30, 2011, down 14.8% in three months. The decline in value was mainly due to the decline in the swap hedge value, as around $4 billion of swap was added in Q2. It is becoming clear that Invesco's management bet too heavily on a U.S. economic recovery and a corresponding uptick in interest rates, which was a huge mistake. What's even worse is that management has somewhat downplayed this and has not yet explained what specifically is being done to remedy the situation.
Dividend Yield
Given the lower quarterly earnings level of $0.79 per share and the fast plummeting book value, another dividend slashing is likely looming for next quarter. I expect the dividend to drop to $0.75 or even $0.70 per share.
During the third quarter of 2011, the company completed a follow-on common stock offering generating net proceeds of $362.2 million. Richard King, President and CEO stated
During the third quarter, we saw an opportunity to acquire high quality assets at attractive levels given the uncertainty created by the U.S. debt ceiling debate and the turmoil in Europe. We also took the opportunity to participate with WL Ross, Invesco Real Estate, and other partners in buying a package of commercial mortgage loans auctioned by a large financial institution.
Portfolio Allocations
The fair value allocations of Invesco's holdings as of September 30, 2011 are detailed below: (Click to enlarge)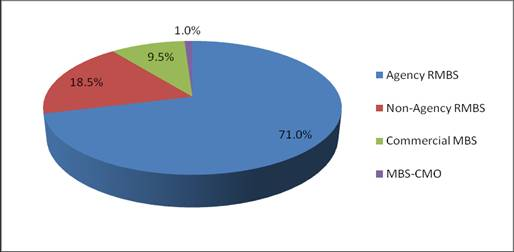 Stock Price Compared to Book Value
It is to be expected that a REIT's stock price would be higher than its book value. This was the case with Invesco but only up until the second half of 2011 when the relationship between the two reversed. This is an ominous sign which indicates that investors are losing confidence in the stock and that they expected book value to decrease even more. (Click to enlarge)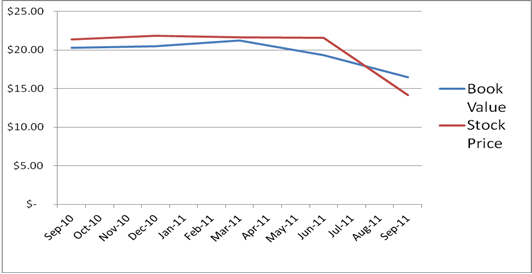 Competitors
As can be seen from the portfolio allocation chart, Invesco is a hybrid mortgage REIT. It competes with hybrid mREITs such as Two Harbors (NYSE:TWO), Chimera Investment Management (NYSE:CIM) and MFA Financial (NYSE:MFA). While Chimera is yet to report, Two Harbors announced its Q3 operating results, which indicated a book value of $9.30 per share. Similarly to Invesco, Two Harbors' stock price on September 30, 2011 was lower than its book value ($8.83 per share).
MFA just announced its Q3 earnings, reporting that net income available to common stock rose to $81.7 million, or 23 cents per share, from $75.1 million, or 27 cents per share, a year ago. The number of shares outstanding in the quarter increased to 355,591 from 280,481 a year ago. Book value per common share was $7.16 at the end of the third quarter versus $7.48 at June 30, 2011 due primarily to price weakness within the Non-Agency MBS sector.
So, we see that Two Harbor's and MFA's book values dropped 5% and 4.2% respectively, and in both cases due to the underperforming non-agency MBS holdings. Invesco's book value decreased much more than that and for a different reason.
As I had expected, Invesco's stock has underperformed all three of its peers over the last 6 months:
Overall, the entire hybrid segment of the mortgage REIT industry is not in great shape. But Invesco Mortgage is in worse position due to its management's unreasonable hedging strategy and uncertainty over its asset values and earnings going forward.
Disclosure: I have no positions in any stocks mentioned, and no plans to initiate any positions within the next 72 hours.