Disk drive-maker Seagate Technology (NASDAQ:STX) has taken a bit of a hit over the last five years, but it is, in my view, poised to experience improving market share in the next few quarters. Refreshing new product initiatives coupled with a relatively limited impact from the Thailand flooding puts the company in a favorable competitive position, at least in the short-term. Western Digital (NYSE:WDC) meanwhile has upside with the HGST deal and receives a similar "buy" rating on the Street.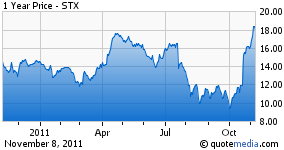 From a multiples perspective, Seagate is substantially overvalued compared to Western Digital. It trades at a respective 16.5x and 7.5x past and forward earnings; Western Digital trades at a respective 8.6x and 6.5x past and forward earnings. Western Digital also is more liquid with a net cash position of $3.4B, which represents 52.3% of its market capitalization. At the same time, Seagate tends to be seen as the stronger of the two companies and offers a dividend yield of 3.93% while Western Digital offers none.
On the most recent first quarter earnings call, Seagate's Chairman & CEO, Steve Luczo, noted corporate challenges:
We lost approximately 3 points of market share on the September quarter for 3 primary reasons: one, we elected to not participate in aggressive pricing in the mission-critical market especially at a time when we were attempting to pass through cost associated with the rare earth increases; two, in the notebook market, we raised prices based on anticipated demand. However, these price increases unexpectedly dampened demand for our notebook products; and three, aggressive pricing in the Asia distribution channel caused us to lose some share, which was offset by gains in North America.

Macroeconomic issues particularly surrounding the Eurozone debt crisis continue to create a high degree of volatility for global demand and resulted in additional stress on consumer confidence and spending in general. Despite these issues, the HDD industry shipped a record 177 million units and continued its record 45% year-over-year petabyte growth, reflecting the sustained fundamental demand for hard drive storage.
Next quarter shipments can be upwards of 55M units and will likely reverse the trend in gross margins. I am targeting gross margins of at least 23.2% by 2014 given a shift towards less expensive operations and higher prices. While the firm may have lost market share in the first quarter for HDD due to the negative impact of pricing policy, in the long-term, I believe this will pay off as the macroeconomy picks up and technology firms shift to higher quality.
Seagate's initiative with 300GB / platter mission-critical also represents a catalyst in the years ahead, as a driver for market share gains. The main issue, again, will be shifting towards higher-growth and higher-margin segments. Towards this end, it is fortunate that the transaction of Samsung's hard drive assets has recently won approval from the European commission. This acquisition will help unlock cost synergies and put the company on a more profitable footing. Normalizing rare earth costs are, however, out of control and causing stability. During the first quarter, they were at upwards of 8x historical norms and efforts to increase prices were admitted by management as being unsuccessful. The high beta of 2.21 coupled with concerns over the sovereign debt crisis and macro stagnation also add to the list of risks.
Consensus estimates for EPS are that it will increase by 60.5% to $1.99 in 2012 and then by 34.2% and 13.1% in the next two years. Of the 22 revisions, 16 have been gone up. Assuming a lower multiple of 13 and bearish 2013 EPS of $2.50, the stock's rough intrinsic value could be $32.50. This implies a substantial margin of safety that, in my view, more than justifies the risk inherent in the stock. With management reiterating its commitment to returning free cash flow to shareholders and new products in the mission-critical market to boost demand, I find myself in agreement with the "buy" rating on the Street.
Disclosure: I have no positions in any stocks mentioned, and no plans to initiate any positions within the next 72 hours.