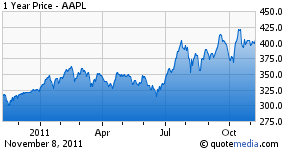 Apple's (NASDAQ:AAPL) fourth quarter earnings caught many investors by surprise.
While more than 17 million iPhones were sold the total was less than expected as consumers put off purchasing a new iPhone until the release of the iPhone 4S.
Enterprise adoption of the iPhone and iPad continues as Lowe's plans on adding 40,000 customized iPhones for its sales associates and airlines are using iPads as replacements for paper manuals.
CEO Tim Cook believes, rightfully so, that iPads are cannibalizing PC sales. One needs to look at weakness from Dell (NASDAQ:DELL) and HP's (NYSE:HPQ) flip flopping to understand that the PC is being relegated as the tablet is rapidly replacing the laptop and desktop in this replacement cycle.
The iPhone and iPad are leading to increased Mac adoption as Mac year-over-year growth was more than six times greater than the PC industry rising at a greater than 25% clip.
Overseas sales are becoming a major portion of revenues as for the first time China joined the United States as accounting for more than 10% of overall sales.
Internally, the iPhone 4S saw a major shift in chips as the memory chips which once came from Samsung (OTC:SSNLF) now come from Hynix Semiconductor (OTC:HXSCF).
Qualcomm (NASDAQ:QCOM) has apparently scored a major design win over Intel (NASDAQ:INTC) as Intel's share was reduced from $10 per iPhone to less than $1 with the chipsets now being produced by Qualcomm.
The switch from Samsung to Hynix underscores a major shift for Apple which is fighting Samsung globally through the court systems regarding its intellectual property.
Apple has won injunctions on many levels globally and Samsung has attracted the eyes of the European Commission regarding its standard-essential patents and litigation tactics.
Going forward the flooding in Thailand will affect manufacturers including Apple as a significant number of hard drives come from Thailand. We may see some slight margin erosion or a price increase in the coming months as this issue is worked through.
CEO Tim Cook has begun to put his stamp on Apple by handing out stock options to senior executives.
Hopefully, over the next few months Apple will address the stock price and $80 billion in cash on the balance sheet. I see two choices neither of which is mutually exclusive. On one hand, Apple may choose to initiate a dividend, opening up the stock to those investors and funds which focus on dividends. The second option would be a stock split, possibly on the order of 10:1 which may ignite a rally in the stock price as the stock becomes more affordable to small investors.
Investors should not be worried by the change in leadership at Apple as iPhone 4S sales are more than making up for this quarter's shortfall. Apple may just be the victim of its own success as analysts continually try to figure out what new features are coming from the iPhone and iPad. The rumor mill has hurt sales but those sales do not seem to be lost sales. Rather, they only seem to be postponed until the new products release which shows the stickiness inherent in Apple products.
The stock price has traded sideways for the past few months but it seems to have found support at the $400 level. The ability to hold this level indicates that the next move will be higher and investors will be rewarded for their patience.
Disclosure: I am long AAPL, QCOM.