Yet again, Newpark Resources (NYSE:NR) beat earnings and the stock is moving towards 52-week highs. We tried this trade back in August after the last earnings beat. In retrospect, the timing was not right as that week ended up being the beginning of the summer sell-off that put us in bear market territory. NR bottomed alongside the markets in October and has been on a relentless rally ever since. Now, we are just under the 52-week high of $10.09 with significantly more accumulation than previous attempts to break it, giving increased odds of a breakout to profit into.
Yahoo Finance describes NR as follows:
Newpark Resources, Inc., together with its subsidiaries, provides fluids management, waste disposal, and well site preparation products and services primarily to the oil and gas exploration and production industry in the United States and internationally. The company operates in three segments: Fluids Systems and Engineering, Mats and Integrated Services, and Environmental Services. The Fluids Systems and Engineering segment offers drilling fluids products and technical services to drilling projects involving subsurface conditions, such as horizontal, directional, geologically deep, or deep water drilling. This segment also offers completion fluids and equipment rental services; and sells barite and other industrial minerals. The Mats and Integrated Services segment provides mat rentals, location construction, and related well site services to exploration and production customers. This segment manufactures and sells DuraBase composite mat systems for domestic and international markets, as well as for use in its domestic rental operations. The Environmental Services segment processes and disposes waste generated by oil and gas customers; and non-hazardous industrial waste principally from generators, including refiners, manufacturers, service companies, and industrial municipalities. It provides onshore and offshore drilling waste management, and reclamation services. The company offers its products and services primarily in the United States Gulf Coast, west Texas, east Texas, Oklahoma, north Louisiana, Rocky Mountains, and northeast region of the United States, as well as in Europe, north Africa, Brazil, Canada, the United Kingdom, and Mexico. Newpark Resources, Inc. was founded in 1932 and is based in The Woodlands, Texas.
Fundamentally, NR is one of the stronger small-caps on my radar. The other week, NR posted an EPS of $.23, which beat expectations by 5 cents and is 4 cents higher from the same quarter last year. Yahoo Finance shows total cash of about $63 million and total debt of about $175 million. However, only about $2 million is short-term debt and the rest is listed as long-term debt on the balance sheet. The forward P/E is just under 10 and analysts price targets are $12 a share on average. As of October 14th, Nasdaq lists the short percentage as 10% of the float, which is about a five-day cover on a squeeze.
Technically, NR is in a strong uptrend since the beginning of October with the strongest accumulation levels of the year (see chart below). This strong accumulation and strong green volume days creates favorable odds of a breakout to new 52-week highs. However, just like last August, we must acknowledge the tough market environment we face. If the markets start to sell-off, NR will likely fall victim with most every other stock. Therefore, create an exit strategy and honor your stop-losses if they are triggered. You can always buy back later if the stock recovers, a strategy many individual investors forget about.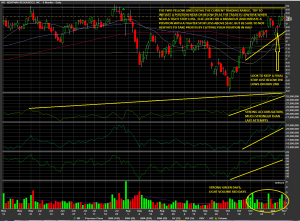 The trade is to initiate a position on a light-volume pullback towards the bottom of the trading range (see chart) with a stop somewhere near $8.50. This gives the ability to add aggressively to your position on a strong-volume move above the November 4th high of $9.87, which gives favorable odds we are on path to break to a new 52-week high. If you don't find a favorable low-risk entry near the bottom of the range, the other option is to initiate your position on a strong-volume move above $9.87 with tighter stops in case the breakout fails. If the breakout succeeds, I'll look to trim my position in half and ride the wave as long as I can while in search of the next swing trade. Let's see if the second time around in NR can pay-off.
You can follow my trades alongside the 36,000 plus market players who follow me on Seeking Alpha (shameless promotion). As always, do your own homework to see if you agree. Good luck out there.
Disclosure: I am long NR.