Thompson Creek Metals Company Inc. (TC) stands out in our search for the best investment opportunity.
Metal mining is one of the most undervalued industries by our calculation
Thompson Creek has outstanding financial strength in the metal mining industry
Thompson Creek has a diversified portfolio, including safe haven bets such as gold and silver, and growth bets such as copper, plus strategic metal molybdenum, which saw stable demand even during the 2008-09 crisis.
Our approach has three steps: first we look for the most undervalued industry; then we pick the company with the best financial strength in the industry; for the last step we look into the company to see what we, as well as other investors, would like and what might be the catalysts.
A cheap company may not be a good investment. A low PE ratio of a company could be distorted by various one-time items, thus may not reflect its real earnings power. But a low PE of an industry often indicates a structural opportunity. It could be that the industry has a superior business model; the macroeconomic trend favors it; or it is overly punished by investors' misperception.
Probability theory dictates that the "average" of a group of numbers resists the errors that may severely impact individual ones. One-time items will positively impact some companies in the industry while negatively impacting others. Those will cancel out one another. Likewise, some companies will adopt aggressive accounting schemes and others conservative ones. With less error, a low PE is more likely to reflect the industry's financial strength.
Instead of PE ratio, we use the more sophisticated ROE / PB to value a company and an industry. ROE is the return investors receive per share of shareholder equity. PB is the price investors pay for a share of equity. The ratio ROE / PB is then the return investors receive per each invested dollar.
The ratio ROE / PB is widely adopted by value investors and has various advantages. A company has to have a positive equity to have a valid ROE. If not, financial website will show its ROE to be NA. Thus the ratio automatically filters out companies with negative equity, which are more dangerous. The trailing-twelve-month ROE is the return divided by the average of current quarter's equity and that of one year ago. If a company's equity shrinks, often a dangerous sign, its ROE / PB will be punished.
We use our own method to calculate "average" ROE and PB for an industry. A standard practice, as adopted by Thomson Reuters, is to calculate a market cap-weighted average of the ratios in question. But taking an arithmetic average of ratios is fundamentally skewed.
Let's think about the PE ratio. Some investors elect to use PE while some others use its reciprocal, the Earnings Yield. This is only a personal choice on the flavor of numbers and shouldn't affect the final result of investment. Indeed, this isn't a problem for individual companies. Because EY = 1 / PE, the cheapest company always has the lowest PE and the highest EY.
But it will cause problems if an investor uses the arithmetic average of PE or EY to value an industry. In most cases, the reciprocal of average PE is not equal to the average EY. That is:
Avg(EY) ≠ 1 / Avg(NYSE:PE).
It's really an awkward situation when the cheapest industry measured by average PE is not the same one measured by average EY. For example, consider an industry with two companies whose PEs are 10 and 20, and another one with 14 and 15. The former has a higher average PE at 15, but the latter has a lower average EY at 6.9%.
Our method, as documented here, resolves such conflict. The most undervalued industries as of today are listed below.
| | |
| --- | --- |
| Industry | ROE / PB (%) |
| Jewelry & Silverware | 27.34 |
| Airline | 15.61 |
| Misc. Financial Services | 15.02 |
| Metal Mining | 14.62 |
| Oil & Gas - Integrated | 13.44 |
Metal mining only ranked the fourth, but we have reasons to skip the top three. Jewelry & Silverware has merely a handful companies within which only two have market caps larger than $200M. The industry is too small and the average ratio is sensitive to individual errors. Plus, we don't like to invest on micro- or nano-caps.
Airline is heavily regulated. Its profit margin is slim and sensitive to macroeconomic trend. Oil price is another uncertain factor. We'd just pass it up.
Misc. Financial Services is really an everything-else basket that contains companies that cannot be classified to well-defined segments. Companies within may not have a unified business model. The low valuation may not be anchored to any structural opportunity.
Within the metal mining industry, first we drop off everything whose market cap is less than $200M. We also remove companies whose average trading volume is low. Within the rest we look for companies with highest ROE / PB ratios.
| | | | |
| --- | --- | --- | --- |
| Company | ROE / PB | Debt to Equity | Current Ratio |
| Thompson Creek Metals Company, Inc. (TC) | 22% | 0.21 | 5.51 |
| Cliffs Natural Resources Inc (NYSE:CLF) | 21 | 0.69 | 1.47 |
| Vale (NYSE:VALE) | 19 | 0.31 | 2.24 |
| Anglo American plc (OTCPK:AAUKY) | 19 | 0.35 | 2.17 |
| Rio Tinto plc (NYSE:RIO) | 16 | 0.29 | 1.63 |
| Freeport-McMoRan Copper & Gold Inc. (NYSE:FCX) | 15 | 0.23 | 3.37 |
Thompson Creek has the highest ROE / PB ratio. Among companies whose ROE / PB is over 15%, it also has the lowest debt to equity ratio and the highest current ratio. Thompson Creek has not only the best earnings power per invested dollar, but also the strongest balance sheet among peers.
One concern we have with metal miners is that their performance is largely determined by recent volatile metal prices. But we believe Thompson Creek's diversified portfolio can help it resist any downside risks. Its portfolio includes safe haven bets such as gold and silver, and growth bets such as copper. The most promising opportunity is the strategic metal molybdenum, which saw stable demand even during the 2008-09 downturn.
(Click chart to expand)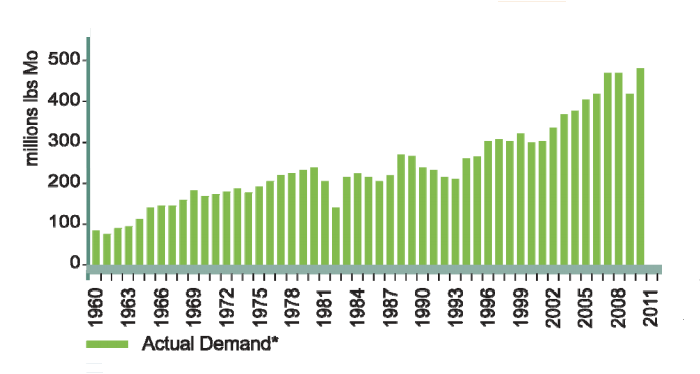 Click to enlargeMolybdenum is an essential additive to strengthen steel, resist rust, and help steel to perform well in extreme temperatures. It is an $8B industry and witnessed steady growth. By regions, China is the largest producer with a 31% market share, and the United States is the second largest one at 27%. But China is also the largest consumer whose consumption grew faster than did its production. As a result, China is tightening export quotas for 2012. We see those factors will continuously support the supply demand equilibrium for molybdenum.
Although Thompson Creek only ranked fifth by companies, there aren't meaningful differences between the top five players. Thompson Creek's output is about half of Freeport, the largest producer, and about three quarters of Codelco, the second largest one. The competition dynamics is benign and we don't expect to see big price swing because of it.
Adding it all up, we believe Thompson Creek is an attractive mid/long term investment.

Disclosure: I have no positions in any stocks mentioned, and no plans to initiate any positions within the next 72 hours.