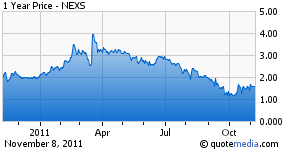 Nexxus Lighting (OTCPK:NEXS) is always an interesting earnings report to take a look at because they have that big deal with Lowe's (NYSE:LOW) to sell LED lights to consumers which provides a good read on whether the consumer is ready for the big upfront cost of an LED bulb in exchange for lower electricity bills and no replacement over many years. It would appear they are still experiencing sticker shock when it comes to LED bulbs particularly in an economy when many are just trying to get from paycheck to paycheck or having to dip into savings to survive. The costs of LED bulbs will have to come down significantly for the average consumer to consider them. We're probably a few years away from that, but the news out of China on Friday could really help drive down costs of LED bulbs. For now, CFL bulbs will be the choice for most until LED prices come down.
Ok, on to the quarter. NEXS reported an EPS loss of .06/share (vs. the estimate for a .05/share loss) on revenues that were well below estimates at $2.1 million (vs. the estimate for $3.75 million). While sales of its Array LED light bulbs tripled to $1.2 million it was still below what the company was expecting.
Mike Bauer indicated they will work with Lowe's to try to accelerate demand:
"While we do not provide specific information on consumer demand due to confidentiality and other obligations, overall sales of Array products to the consumer have been below what we had anticipated. In response, and in partnership with our major customer, we are exploring additional opportunities to increase retail sales and in-store inventory turns. These opportunities may include utility rebate programs, price concessions, sales initiatives, marketing programs, advertising campaigns, training sessions and point-of-sale educational materials."
Technically, I really like NEXS down here for a long term entry point. I believe we may be seeing a large double bottom base forming with this leg down eclipsing the previous leg down to shake out the last of the weak holders. I don't think there is any need to rush into this stock, but I personally like it here for scaling in slowly.
Disclosure: None