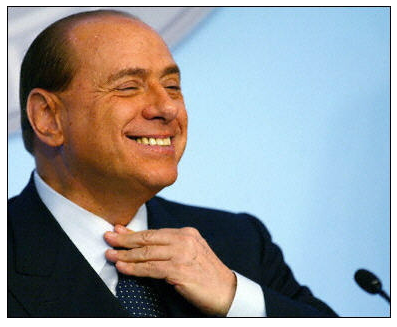 The market had another up day on Tuesday as relief came into the European markets with a key budget measure passing that will hopefully curb the current rise that Italian bonds are going through. The news helped push the euro up in afternoon trading, helping to bring the dollar down and give rise to stocks as well as commodities. The market also received well the resignation of Prime Minister Silvio Berlusconi from Italy. Without much news at home, the European market continues to dominate the scene.
Economic data was non-existent for the second day this week. Without much developing on the homefront, the market is mostly at the whim of what is occurring in the European and international markets. We will be getting wholesale and crude inventories tomorrow to help bring a bit of the U.S. picture back into our markets.

Earnings have started to slow as well. The big report was Priceline.com (NASDAQ:PCLN), which doubled its earnings and rose over 8% on the day. Additionally, Rockwell (NYSE:ROK) had a nice report. Retailers will be up for the rest of the week, which will be important to give us a better perspective of the consumer. Companies like Nordstrom (JWM), Kohls (NYSE:KSS), Ralph Lauren (NYSE:RL), etc. will give the markets a better perspective at what consumers are doing with their money.
We had a great day in the market as we locked in gains on a number of positions today. We bought back a Nov19 Apple (NASDAQ:AAPL) 350/345 bull put spread for an 11.5% gain. We bought and sold Ultrashort Proshares Financials (NYSEARCA:FAZ) for a 0.55% gain. We bought back some sold puts on Ralph Lauren (RL) and Sina (NASDAQ:SINA) before earnings for 4.5% and 7% gains, respectively. We also had traded Priceline.com (PCLN) stock overnight, and we exited that for a 3.5% gain this morning near the open after entering yesterday.
Currently, we are holding a $450/$440 Nov12 bull put spread on PCLN that should expire worthless. We are holding $25 sold puts on Tesla (NASDAQ:TSLA) that should expire worthless. We are in a 105/110 bear call spread for Nov19. We are holding USO bear call spread at 38/39 that we are looking to hold up for the weekly. We are holding Google (NASDAQ:GOOG) bull put spread for Nov19 at the 530/525 level we got into when GOOG was at 575. We have an Amazon (NASDAQ:AMZN) bear call spread at 195/190 that we are looking to hold up. We are in sold Cummins (NYSE:CMI) $80 puts as well as a bull call spread on Ralph Lauren (RL).
Moving into tomorrow, we are looking for more reaction to Europe as well as the market to start to decide what its next move is going to be. We think that some things are looking toppy, and that we rallied a lot on very little. So, it is either setting up for a breakout or some quick consolidation. The market may be a bit more volatile after today's big move.
Two positions we are watching moving forward are Broadcom (BRCM) and Hershey (NYSE:HSY). We believe the latter has done some nice consolidation and appears to be a nice buy right now. The stock is fairly slow moving, which may not be bad in this time of uncertainty. We think the best way to play HSY may actually be with a bull put spread with the 55/50 spread for Dec17 expiration. That is paying 12%. HSY has not been under 55 since August and appears to have set a low currently.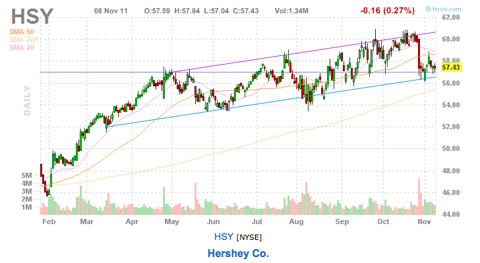 Click to enlarge
Broadcom has limited upside right now. It has a significant 200-day MA and 20-day MA above it, and the stock is an extremely poor performer in November. We think that the stock will have trouble breaking these levels after a poor earnings report. We would look to short them on signs of weakness.
Disclosure: I am long RL, TSLA, AMZN, GOOG, CMI, PCLN, COV.